Changing with the times
More Hungarians are coming to Romania to work, while fewer Romanians chose Hungary as a place for jobs, says Hungarian Ambassador, Janos Terenyi, as he talks to Ana Maria Nitoi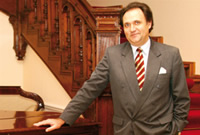 Neighbours, friends and sometime rivals, Hungary and Romania share a common recent experience: both countries are relatively new EU members and both Governments are seeing how they can co-operate on common interests in the 27-member bloc.
Opportunities are arising for the coordinated use of European funds in regional development and in financing of cross-border projects.
Soon after EU accession, some member states, like the Czech Republic, Hungary and Romania, have encountered internal political crises. Hungarian Ambassador to Romania, Janos Terenyi, argues that in all these cases, the expectations of what the EU accession brings have been a lot larger than the effects of membership. This expectation disparity is where conflicts start. But he does not believe Romania is witnessing a crisis.
"The internal political life of Romania is active, often spectacular and in some cases exalted, tinted with Latin Mediterranean exuberance," says Terenyi. "But the Romanian political class and public opinion should balance how all these events could influence the country's image abroad."
Romania hosts the largest community of Hungarians outside Hungary's borders - around 1.5 million people. They are represented in the Parliament by the Democratic Union of Hungarians in Romania (UDMR). However, a more radical organisation supporting the Hungarian minority's rights has arisen. The Hungarian Civic Union intends to run in 2008's local and general elections and replace the UDMR in Parliament. There is a five per cent threshold to enter the Parliament and if the two parties run on separate platforms there is the risk they will split the Hungarian vote and both fail to gain national representation.
"The Hungarian organisation whose programme, politics and candidates will be able to gain the sympathy of the overwhelming majority of Hungarians in Romania has a chance. At the same time it is necessary for Hungarians to participate in elections," says Terenyi. This Summer, President Basescu visited three counties where about 90 per cent of the Hungarian minority lives: Harghita, Covasna and Mures. The head of state criticised the immense lack of investments in this area, in comparison to neighbouring counties like Brasov, Neamt and Sibiu. He blamed the "self-isolation" of Hungarians in this region which functions like "a barrier" for the investors.
"I am glad that the President pointed out some of the problems that the region faces, for example the methodology of teaching Romanian as a foreign language," Terenyi says.
While more Hungarians are coming to Romania to work, fewer Romanians are choosing to go to Hungary. Last year, around 35,000 Romanians were working in Hungary.
This number was a significant decrease. Recently, western Romania has been developing, which brings more jobs, while eastern Hungary, a rural area, has a higher unemployment rate. "We are experiencing a greater interest to work in Romania from Hungarians who live in cross-border settlements," says Terenyi.
Exchange rises
Since 2000, bilateral trade between the two countries has increased and has doubled in the last three years. In 2006 this reached a record of 3.8 billion Euro in Hungary's favour with around 60 per cent. The official Hungarian FDI in Romania by the end of 2006 passed over 300 million Euro. "We estimate the real number is one billion Euro," says Ferenc Bogar, the head of the Commercial Office within the Hungarian Embassy.
Around 7,000 Hungarian and mixed-share capital firms are registered in Romania, most of which are small. Hotel group Danubius, Fornetti pastry chain, OTP Bank and oil and gas company Mol are among the largest. Bogar says that post-accession, Hungarian businesspeople are showing more interest to invest in Romania, but no large Hungarian investments are expected to come to Romania in the next few years.
But nothing can be counted on.
"The European Union is in a continuous movement," says Bogar. "The EU is not a train waiting in the station, but a train always moving and not stopping in any station. Every country, either an old or a new member state, has to find a well-suited place on this journey. The position and the alliances are found according to a certain policy or a problem. We cannot talk about ever-lasting partnerships."
Mol Romania: nine new petrol stations planned
Hungary's oil and gas giant Mol plans to invest 15.4 million Euro to expand its petrol stations network in this country, by opening nine new filling stations and greenfield investments, says Mol Romania CEO, Zsolt Szalay.
"We will keep up a sustainable growing pace of investment by 2010," says Szalay. In going greener, this July, Mol began offering bio-fuels, while the car wash installations recycle water.
Szalay says fuel sold at petrol station level grew by 24 per cent and car sales by 20.6 per cent.
"The retail fuels market rose by 17.4 per cent," he adds.
"A growth of purchasing power is estimated, meaning more families will afford to buy cars, thus a rise in fuels sales. Also the commercial relations between different countries in this region has grown stronger, which has generated an increase in the fuels market."
Mol Romania
Oil and gas company
■ Established in Romania: 1995
■ 2006 turnover: 524.4 million Euro
■ Petrol stations: 121
■ Long-term market share target: 20 per cent
OTP Bank: not dependent
on one option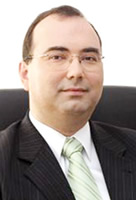 Bidding for the majority stake in state-owned Savings Bank CEC last year was an option for Hungarian-based OTP Bank Romania to expand.
"But we were never dependent on this option," says CEO Laszlo Diosi. "As the sale did not go through, we carried out our geographical expansion plans."
The bank now boasts a network of 76 branches in Romania and aims for 105 in every county by the end of 2007.
In his first year in the job, Diosi feels the country is "strangely over and under developed" in the banking sector.
"If you look both at the products range and the geographical position, you have almost everything in Bucharest, whereas in the countryside, banking services are not that widely used," he says.
"This is an over developed market in credit cards on offer and if you look at the level of services, Romania is on the map of developed systems, and you can find any product you need and people almost act like clients. But in other fields, such as mortgages and investment funds, this country is far from being developed."
Diosi feels Romanians have a limited choice of investment opportunities, and says his bank is in the final stages of getting permits to set up its own asset management company.
OTP Bank aims at a market share of between five and ten per cent and 200 units by 2012.
OTP Bank
Retail bank
■ June 2007 total assets: 815 million Euro
■ March 2007 market share: 1.5 per cent
■ Branches: 76
■ Employees: 278
Combridge: more active in telecom infrastructure
In its second year of operating its carrier selection service Eufonika, an alternative telephone service that runs on Romtelecom's infrastructure, Combridge now has a client base over 50,000.
"We also have a significant weight in the business area, which is constantly on the rise," says Combridge executive director Tudor Bosinceanu.
"We saw an increase in traffic lately also owing to a decrease in tariffs starting on 1 August, and we also see an increase in the number of clients who want a pre-selection type of service, without dialling the access code."
The executive director says the company is involved in important telecom and infrastructure projects at a regional level and intends to become more active in this area.
Although when it launched Combridge was using only Romtelecom lines, the company is now interconnected with the majority of Romania's important telephone operators.
"We offer integrated voice and data services to some local and regional operators, and we want to intensify activities in this area," adds Bosinceanu.
Combridge
Alternative telecom operator
■ Markets carrier
selection service Eufonika
■ Clients: over 50,000
■ 2007 forecast turnover: 50 per cent up on previous year
OTP Leasing: aiming for six per cent
Estimations are pointing to consumer purchase through leasing arising to at least four billion Euro in 2007, almost double the previous year, says Mircea Dihel, CEO of OTP Leasing Romania
"At these volumes, leasing companies must adapt their work flows and procedures to support the after sales business, part of which is not always fully covered," he adds.
For the moment, the one-year old company offers only financial leasing. "We have products for each category: vehicles, equipments and real estate and we tried to focus on customer needs and expectations, besides small prices," says Dihel.
In the next two years, the OTP Leasing's target is a market share between five and six per cent.
OTP Leasing Romania
Leasing company
■ 2008 plans: ten new locations in west Romania
■ Employees: 24
Business interviews: Corina Mica