Ford to build new small car model
in Craiova factory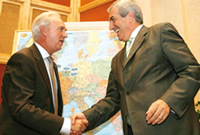 US giant Ford Motor Company will build a new small car model at its Craiova factory with a target of 90 per cent of vehicles for export.
The car giant could employ up to 9,000 at the plant in Dolj county which will see investments of 675 million Euro in upgrading the plant. The factory will produce 300,000 vehicles and 300,000 engines annually.
This follows Ford's agreement to pay 57 million Euro to Privatisation Authority AVAS for 72.4 per cent of state-owned Automobile Craiova. The US giant expects to be new owner by end-2007.
"We are acquiring a plant with a skilled and enthusiastic workforce and together we will work to transform the plant into an industry benchmark for vehicle manufacturing in central Europe," said Ford of Europe president and CEO John Fleming.
The car-maker will employ 7,000 - up from 3,900 currently employed at the former Daewoo Automotive plant and could hire 2,000 more.
By 2012 the company estimates it will be spending one billion Euro per year on the plant.
Modernisations will include an automated 1,000 tonne press line and a new body construction shop.
---
Swine fever defies nationwide vaccination programme
Classical swine fever has broken out at three farms in Timis county owned by US giant Smithfield, despite a national vaccine programme on all pigs in place.
"The vaccine was never anticipated to be 100 percent effective against the virus," said a spokesman for Smithfield.
The Romanian sanitary-veterinary state authorities are now conducting an investigation into the break-out. "At this time it is too early to reach any conclusions," he added.
The American firm slaughtered and incinerated all 55,000 pigs at its three locations. The company said the farms will now undergo rigorous disinfection and checking before being authorised for re-population. Romania has witnessed 174 outbreaks since the vaccination programme began this year, leading to questions over the efficacy of the vaccine.
These incidents occurred on small plots, with ten to 15 pigs per farm and led to the slaughter of 2,009 hogs.
This has led the European Union to extend its export ban on Romanian pig meat a further year – to 2009 at the earliest. But Romania will need to convince the EU that it is swine fever free before the ban can be lifted and pork export can begin.
Romania is now a net importer of pork so, in the short term, this is not expected to see a collapse in the industry.
---
Cathedral high-rise suffers further setback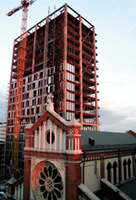 Construction of the 18-floor Cathedral Plaza office block opposite the HQ of Romania's Roman Catholic Church has stopped and may not continue until the beginning of 2008.
The Craiova Appeal Court has made a decision against the owner of the 38 million Euro development, Millenium Building Development and the City Hall of Bucharest Sector 1, who had filed a case against a decision to suspend construction in August this year.
In 2005, Millenium started construction of a building ten metres away from St Joseph's Cathedral, two minutes walk from Calea Victoriei.
At that time, the company did not have all the necessary legal approvals from the local authorities, according to Daniel Fenechiu, the lawyer hired by the Roman-Catholic Archbishopric.
The Church believes the construction of the new building endangers the integrity of the Saint Joseph Cathedral. The Roman Catholic Archbishopric subsequently decided to take Millenium Building Development to court in Dolj county to suspend the building work on the development.
Experts in seismology have also said that, in the case of an earthquake, the Cathedral Plaza building would destroy everything that stands 60 metres around the new construction, argued Father Ioan Robu, the Roman Catholic Archbishop, recently.
Since construction began, state institutions such as the Ministry of Culture and the State Inspectorate for Constructions have had the power to stop the constructions for Cathedral Plaza, but preferred to let the court decide over the dispute.
The Roman Catholic Archbishop considers City Hall of Bucharest Sector 1 the biggest responsible state authority, while mayor of the sector, Andrei Chiliman, has argued that the law forced him to give approval for construction.
---
Giant local electricity holding company to form
Romania has approved a 35 billion Euro energy overhaul and the formation of an electricity holding company to merge state-owned nuclear, thermal and hydro power generation firms.
Minister of Economy and Finance, Varujan Vosganian, said the administration will hold a stake of between 25 and 40 per cent in the new company, while investment fund Fondul Proprietatea will hold a 20 per cent interest.
According to Reuters, the remaining shares will be listed on the Bucharest Stock Exchange in a gradual process. Reuters also cited Vosganian as stating that: "Such a company in the future will be a private company."
Prime Minister Calin Popescu Tariceanu, has linked the firm to Czech utility CEZ and Italian counterpart Enel.
The new energy entity would combine Romania's power production, distribution and transportation activities. This way the country hopes to make its mark on the European energy sector after its recent accession to the EU.
Romania's energy sector overhaul is also intended to double its power output to around 100TWh by 2020, a figure that exceeds estimated domestic consumption requirements and would therefore allow for power exports, said Vosganian.
---
Short News
Petrom takes over general
contractor for 329 million Euro
Oil and gas SEE market leader Petrom has bought the oil services activities of Petromservice, related to the exploration and production activities of Petrom, in a deal valued at 328.5 million Euro. Petrom will also invest around 90 million Euro in Petromservice over the next few years in technologies and equipments, infrastructure and IT. The deal is pending Competition Council approval, expected by end-2007.
EBRD funds leasing development
The European Bank for Reconstruction and Development (EBRD) will provide a 15 million Euro loan to Raiffeisen Leasing Romania to support the expansion and further development of small and medium-sized enterprises (SMEs) in Romania. The proceeds of the loan will be on-lent to local companies to help them acquire equipment for the expansion of their businesses. Such capital investments include equipment, light commercial vehicles, trucks and trailers, cars for commercial use and real estate.
Dexia raises public finance stakes
Public finance bank Dexia Kommunalkredit last month announced it signed three more financing contracts with municipalities in Romania of almost 70 million Euro. The Austrian institution has signed a 9.5 million Euro financing agreement with the Alba Iulia City Hall, and a contract worth 47.8 million Euro with Bucharest's Sector 4 City hall, in addition to providing 6.5 million Euro to the Arges County Council.
Italians banks fuse locally
IntesaSanpaolo has notified the Competition Council with a view to entering the shareholding structure of CR Firenze Romania, in the wake of the takeover of CR Firenze Group, which also owned the Romanian subsidiary. As a result of the deal, IntesaSanpaolo will own two small banks on the domestic market: Sanpaolo IMI Bank and CR Firenze Romania Bank.
Yokohoma: not in Romania
Japanese tyre manufacturer Yokohoma will not open a factory in Calarasi, officials told The Diplomat. "We do not have a plan to build a factory in Romania now," said Kinoshita Hisatake of the Corporate Communications Department at Yokohoma in Japan. Company directors visited Calarasi last month to check out a prospective site, but have since decided against opening the facility.
Saint-Gobain starts new plant
Saint-Gobain Glass has started the construction of a factory that applies thermal treatment to glass used for production of window panes and glass in Calarasi in a total investment programme of 25 million Euro, said manager Cristina Paveliu. "We started to work on the plant's foundations last month and are involved in negotiations with equipment suppliers. The production facility will start operations in April next year," said Paveliu.
Ursus expands beer facility
Ursus Breweries, a subsidiary of SABMiller, will invest 50 million Euro in the expansion and modernisation of the beer plant in Timisoara. Following the investment, the weekly production capacity will increase by 200 percent. Company officials also included in the investment a new packing line following the sales increase for the Timisoreana brand. Ursus has also invested 50 million Euro last year in expanding the plant in Buzau. The company has an estimated market share of 24 per cent, and is the second largest beer producer in Romania.
Airport to neighbour offices
European Convergence Development Company (ECDC) investment fund and Romanian-based Dickau Investment will build an 82 million Euro Class A office on DN 1, near Baneasa airport. ECDC said it will stretch over 47,538 sqm and is scheduled for completion by 2012.
Great outdoors tackles Romania
Outdoor equipment retailer Jack Wolfskin last month opened its first local store in Sibiu, with plans to open this month in Cluj-Napoca. The Sibiu store is located within Promenada mall and covers 71 sqm. The Cluj-Napoca store will cover 123 sqm and will be located inside Iulius Mall.
Association of Energy Utility
Companies created
Representatives of five private and public operators of energy utilities in Romania have formed the Association of Energy Utilities Companies (ACUE), to represent and promote common interests with a view of further developments and improvements. ACUE includes CEZ Group (owner of distributor Electrica Oltenia), Distrigaz Sud (gas distributor member of Gaz de France), E.ON (owner of Distrigaz Nord and of Electrica Moldova), national power distributor Electrica and Enel (which owns Electrica Muntenia Sud, Banat and Dobrogea).
Braila real estate to see Red
Real estate developer Red Management Capital will invest 50 million Euro to build a shopping centre in Braila, stretching over 47,000 sqm, according to Mediafax. Company officials said French retailer Carrefour is likely be an anchor tenant.
CMU builds 12 million Euro hospital
Centrul Medical Unirea (CMU) will invest 12 million Euro in building a private hospital specialised in obstetrics and gynaecology. The unit will have 2,000 sqm and over 20 rooms and will be open in the second semester of 2008 in Baneasa.
Redevco and EMCT go together
Property developer Redevco Europe has set up a joint venture with French developer EMCT Romania, Romanian Retail Development (RRD). The new company will focus on developing retail projects of 25,000-100,000 sqm in some of Romania's important and attractive cities. Total investment over the next five years is expected to exceed 500 million Euro.
Ex-CBRE team turns corner
The local real estate company which acted under the CB Richard Ellis franchise will continue operating on the Romanian market under the Cornerstone International brand name, according to marketing manager Roxana Hapan. CB Richard Ellis, one of the largest real estate agencies worldwide, withdrew its operating license this last July from the Romanian company. Hapan said this will "not negatively impact" the company's operations.
Cluj-Napoca gets Siemens light
Siemens Austria has last month signed a 12 million Euro contract to modernise and expand the public lighting system in Cluj-Napoca. The contract covers 15 years, time during which Siemens will deliver, install and maintain the entire lighting infrastructure in the central-Transylvanian city.