Pierre Alain Bauer, AUSTRIACARD : "Proud of being part in the transformation process of the Group and shaping the exciting future"
Posted On November 8, 2023
---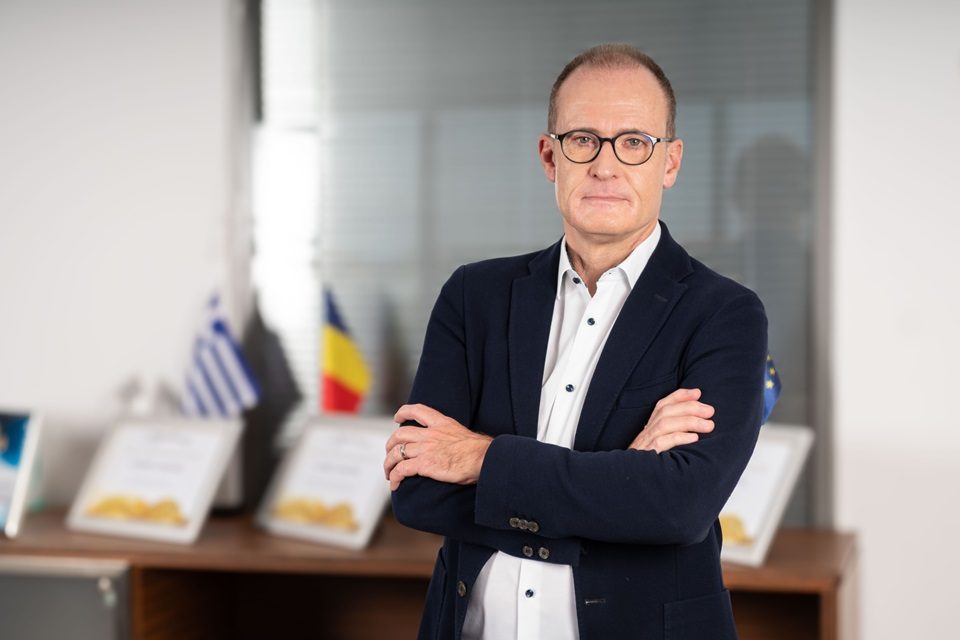 After six months from taking the new role within Vienna-based AUSTRIACARD, member of AUSTRIACARD HOLDINGS, Pierre Alain Bauer, a result-driven manager responsible for the group's geographical area in CEE, CIS, Italy  & Dach, took hold of overseeing the objectives and implementation of all commercial strategies within the  organization and enhancing the shareholder value of the company. Acting in a decision-making position, Pierre Alain Bauer says: 'It is highly motivating to have a voice at the table, to decide which direction to take and to shape a team.'
The Diplomat-Bucharest talked to Pierre Alain Bauer, Co-Managing Director/Chief Commercial Officer AUSTRIACARD Holdings, a professional with entrepreneurship profile, experienced company founder, over 27 years acting in the digital security world in Europe and in the growing market of Eastern Europe. From 2020, moving to a worldwide perimeter.
What are your goals and priorities as Chief Commercial Officer at AUSTRIACARD?
First, I am responsible for overseeing the objectives and implementation of all commercial strategies within our organization. Secondly, not less important, is the growth of our Group´s shareholder value which I assist by advising the business annual budget as well as a proposing a three (3) year growth plan to the board. The plan is based on market analysis data gathered over many years, our corporate goals, and historical figures. Finally, I am developing and implementing the objectives and goals and setting the expected performance standards for the sales and internal sales team. Of course, this can be only achieved through the support of my team
What are your main objectives in this role for 2023 and 2024?
AUSTRIACARD HOLDINGS is today a combination of many independent and successful companies, in the field of digital security and information management. However, it is not a given fact that our client, using for example our services in payment card production and personalization, knows that we do also deliver ID cards, or that we digitalize documents or even offer AI latest technology such as client retention model or that we also offer postal services. It is my main role to make sure, that our customers will understand the combined product ( I do not like it. It should not be the combined solution) offering and the benefit choosing AUSTRIACARD as a partner of choice.
Another very important objective is to be recognized as an IT services player.
Unfortunately, still our clients are not automatically reverting to us when they need IT solutions even if our portfolio is very exciting. Therefore, it is very important to communicate the message that we can be considered today as a one stop shop company.
We are one of the trusted security players in the market as we secure the most valuable assets such as: the identity with an ID document, the access to the personal bank account, the health credentials when visiting a doctor, a safe and seamless journey through public transportation tickets and so many more.
How would you describe your management style?
To achieve results, you need to be close to your team. The closer you are, the more trust you will build and the better result you will achieve. I can say for myself that I am a result oriented driven person, but at the same time I like to give to my team as much space as possible for them to become as creative as possible.
What is the most exciting aspect of working in a managerial position?
Without any hesitation, it is the fact to be able to participate in shaping and transforming the future of the company and thus supporting its growth development. It is also rewarding to manage and motivate a team and making sure that they are understanding which direction to take and so to sustain not only the growth of the company but also the development of each employee
To have a voice at the table, to decide which direction to take and to shape a team are highly motivating.
What are your three greatest professional strengths?
As I mentioned above, I believe in the common effort to achieve the strongest performance in a company, so, creating and motivating the right team, always focusing on objectives and be persistent is what characterizes me , I would say, in my professional live.
What event has had the greatest influence on your professional career so far?
I am coming from a family of entrepreneurs, both from my grandfather and father. I have learned that free lunch does not exist and if you want to eat you need to work for it. The competitive spirit is mostly coming from the time when I was a sailor participating in many worlds' championship. Finally, a very important influence has come from traveling. I have visited 70 countries, hopefully still many to come, and had the opportunity to work in many of them. The contact with so many different nations, habits and individuals is the most enriching experience that one can have. Being married to a great and lovely Romania lady is as well helping a lot.
AUSTRIACARD HOLDINGS AG, headquartered in Vienna, with an international presence is one of the leading providers of Secure Digital Technology Solutions in Europe.
AUSTRIACARD HOLDINGS AG is one of the leading B2B providers of smart cards, personalization, and payment solutions, as well as secure data management and digitalization solutions, in Austria, Scandinavia, Central and Eastern Europe and South-Eastern Europe, while also having significant market share in many other European countries and Türkiye. The company has a very strong pan-European operational footprint, reaching from the United Kingdom to Greece and Türkiye, with seven production facilities and seven personalization centers in Europe, as well as an additional personalization center in USA, employing currently around 2,500 people.
---
Trending Now