"Business Resilience Through Strategic Development" – event dedicated to the community of businessmen from Dobrogea
Posted On September 13, 2023
---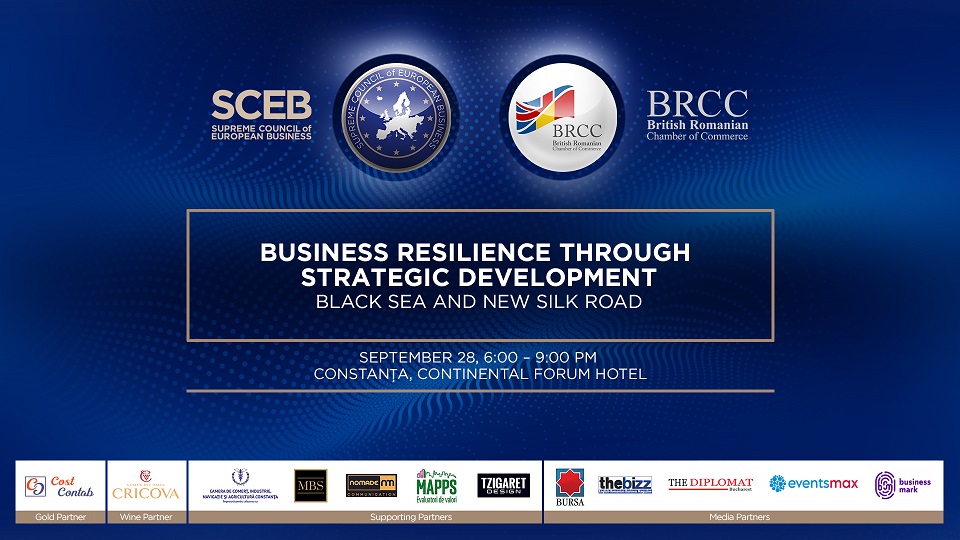 "Business Resilience Through Strategic Development. Black Sea and New Silk Road" is an event dedicated to the business environment of Dobrogea organized by the Supreme Council of European Business (SCEB) and the British Romanian Chamber of Commerce (BRCC), which will take place on Thursday – September 28, 2023 – at the Continental Hotel Forum from Constanța.
The purpose of the conference is to debate, with the speaker and participants, which are the most suitable strategies for business resilience and strategic development of a company at this moment, in the context of the Black Sea and the new Silk Road. Internationally, the world is facing a level of disruption and risk not seen for generations. Some companies disappear from the economic landscape, while others innovate, develop and even thrive.
Mehmet Sumeroglu, SCEB Chairman: "We are now in a favorable international situation that can bring important economic advantages for Romania thanks to the Black Sea and the new Silk Road. It is time for our country to start developing strategic economic partnerships through which Romanian companies can offer foreign investors the opportunity to make long-term plans in Romania and the region."
Mădălina Cîinaru – Director of the British Romanian Chamber of Commerce: "We are determined to open new horizons for Romanian businesses and to create strategic economic partnerships that allow foreign investors to develop their business in Romania and in this region of the Black Sea, full of opportunities. Together, we can build a resilient and prosperous business environment that serves and contributes to the sustainable development of our country."
During the panel conference, participants will discover new information and examples from Mehmet SUMEROGLU – SCEB Chairman, Ruxandra SERESCU – Director General, Constanţa Chamber of Commerce, Industry, Navigation and Agriculture. Along with the two organizations are, as partners: Cost Contab Group, Camele Cricova, Chamber of Commerce, Industry, Navigation and Agriculture Constanţa, MBS Holding, Nomade Communication, MAPPS – Value Appraisers, Tzigaret Design. Media partners include: Ziarul Bursa, TheBizz, The Diplomat, eventsmax and Business Mark.
The Supreme Council of European Business is an international organization that aims to create and develop business opportunities for the economic and educational progress of every citizen of the world. SCEB acts through sectoral councils from European and non-European countries and brings together business people, decision makers and experts from various industries. The entire community is working together to create an international business environment characterized by agility and better adapted to today's challenges.
The British Romanian Chamber of Commerce, a chamber of commerce with a presence in London and Bucharest, is the leading business-led organization promoting bilateral trade and investment between the United Kingdom and Romania since 1998. The chamber of commerce is actively involved in creating and sustaining an environment dynamic business environment, where free trade and investment support companies in their development process.
---
Trending Now