Business Excellence Gala reflects the diversity and depth of performance in the business world (P)
Posted On September 12, 2023
---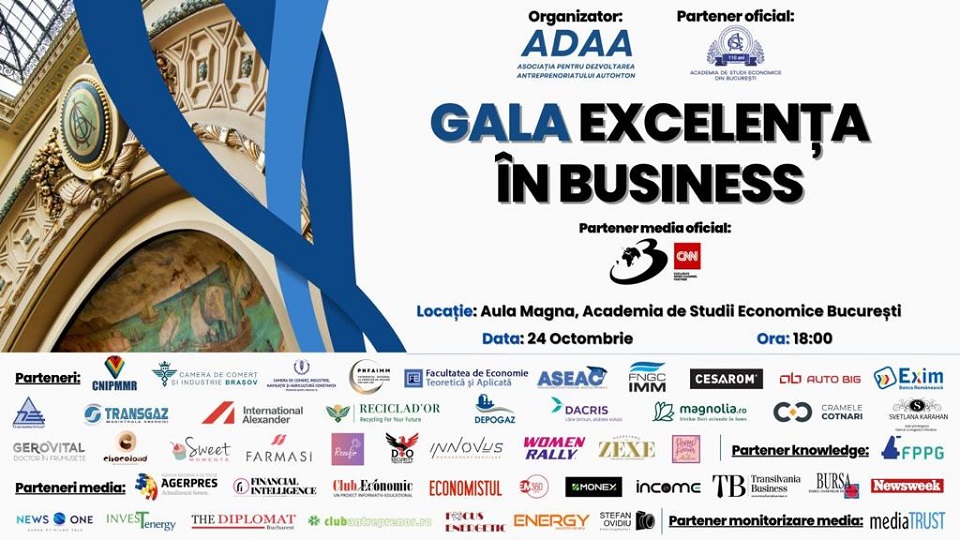 The Excellence in Business Gala, organized by the Association for the Development of Local Entrepreneurship ADAA, with the Bucharest Academy of Economic Studies as its official partner, will take place on October 24, starting at 6 PM in the Aula Magna ASE and represents an opportunity to recognize and to celebrate the significant achievements and contributions of leaders and companies in the economy.
"The Business Excellence Gala is not just an awards ceremony, but a reflection of the values and high standards we promote in our business community. Over time we have seen how excellence has shaped and influenced our world. Excellence continues to inspire and guide us today. It is important to remember that excellence in business is not just about impressive numbers or huge profits. It is also based on our core values. Business leaders who have invested in workforce development, supported local communities and promoted sustainable practices represent the fundamental pillars of excellence", said Andreea Negru, President of ADAA.
The awards will reflect the diversity and depth of achievement in the business world. Behind every nomination and award are incredible stories of perseverance and hard work. These stories are not only inspirational but also motivational.
"No matter what challenges we face, we can rise up and overcome any obstacle. The message of the Business Excellence Gala is simple: Let's join our efforts to continue to rise to the high standards of business excellence and contribute to a better and brighter future for all", concluded Andreea Negru, President of ADAA.
The following announced their participation at the event: the Head of the Representation of the European Commission in Romania, the Government of Romania, representatives of the National Bank of Romania, the Ministry of Energy, the Ministry of Economy, Entrepreneurship and Tourism, academia, business, civil society and the media. The Excellence in Business Gala will be moderated by Adrian Măniuțiu, entrepreneur and TV producer.
Partners of the event, so far, are: CNIPMMR, Chamber of Commerce and Industry Brașov, Chamber of Commerce, Industry and Agriculture Constanța, PNFAIMM, Faculty of Theoretical and Applied Economics, ASEAC, National Credit Guarantee Fund for SMEs, Cesarom, AutoBig, Exim Banca Românească, Transelectrica, Transgaz, International Alexander, Reciclad'Or, Depogaz, Dacris, Magnolia, Cramele Cotnari, Svetlana Karahan, Gerovital, Chocoland, Sweet Moments, Farmasi, Rosefir, DO Security, Innovus, Woman Rally, Zexe Herăstrau, Happy Forever by Andreea.
Knowledge Partner: Employers' Federation for Oil and Gas – FPPG
Official media partner: Antena 3 CNN
Media partners: Agerpres, Financial Intelligence, Club Economic, Economistul, EM360, Money.ro, Income Magazine, Transilvania Business, Ziarul Bursa, Newsweek, News One, InvesTenergy, The Diplomat, Clubantrepreneur.ro, Focus Energetic, Energy Industry Review, Photographer Stefan Ovidiu.
Media monitoring partner: Media Trust
---
Trending Now