Carpathian Single Malt Whisky going global: "Romanian & International wine casks, Romanian Single Malt Whisky, a uniquely Romanian story!"
---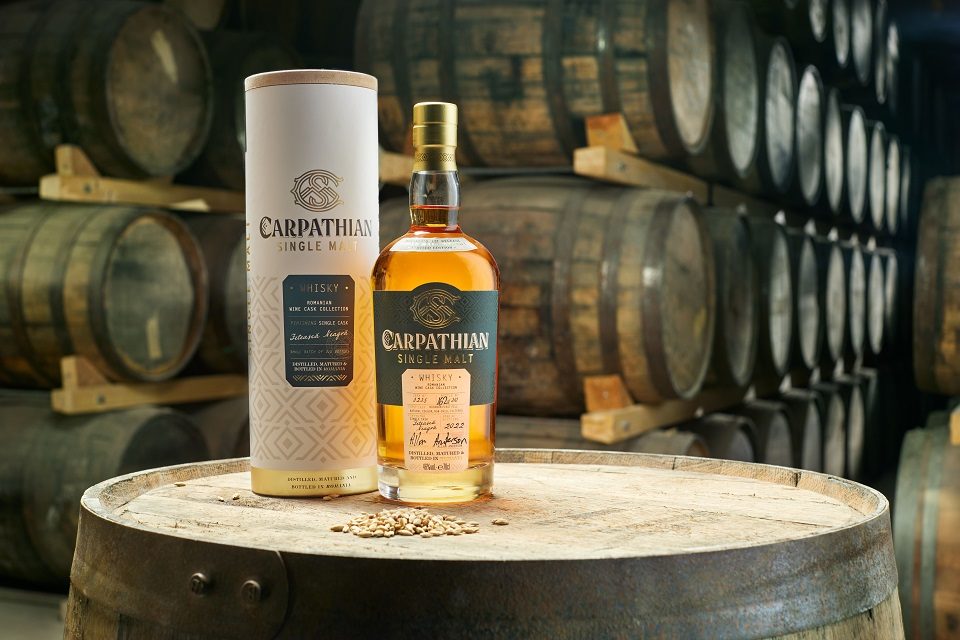 Sometimes innate intuition, entrepreneurial vision and the belief in the natural resources of a country can all combine to create a truly superior and premium product.  
Dr Nawaf Salameh, Founding Chairman of the Alexandrion Group has always been laser-focused on producing Romania's first ever single malt whisky, since initiating the project back in 2016 and holding the title of Keeper of the Quaich. He has gone on to achieve this goal, with the whisky going from strength-to-strength.
Having built the Alexandrion Group into the largest spirits and wines producer in Romania, already reflects his belief in the natural and cultural assets of the country, from which he found the perfect ingredients to be able to create Carpathian Single Malt Whisky. Using 100% Romanian malted barley, pure sub-Carpathian water, curated by a master distiller with decades of experience and whom shares his instinct for finishing whisky in different casks from different wineries and spirits producers from around the world, has resulted in the most exciting range of single malts.
A great advantage has been the group's very own vineyard – Domeniile Alexandrion Rhein 1892 Winery – providing a ready supply of wine casks which have held the indigenous grape variety of Fetească Neagră. Carpathian Single Malt was matured in Romanian wine casks, this fact itself is a world premiere in terms of single malt production.
"We have a strategic partnership which is quite rare in the whisky world: the collaboration between the Alexandrion Saber 1789 Distillery and the Alexandrion Rhein 1892 Domains Winery, where we source our wine casks from, both owned by the Alexandrion Group. Our Carpathian Single Malt Master Distiller & Whisky Director, Allan Anderson with decades of experience and knowledge in this area, created this single malt whisky which is rapidly conquering consumers all over the world. In fact the whole process has generated a vibrant synergy along with the contribution of our wine experts", said Dr. Nawaf Salameh.
Also Alexandrion Group is advancing the age-old use of wine and sherry casks for finishing to an entirely new level, with an extensive range of expressions.
"In the industry the number of single malt whisky expressions is generally limited. Our approach is innovative in that we aim to create up to 100 different expressions by sourcing wine casks from some of the best wine producers all over the world. So far, we have released 10 expressions that are part of different wine cask collections: Romanian, French, Italian, Spanish & Portuguese, Greek & Cypriot.
Alexandrion Group's Master Blender for Brancoveanu Vinars, Brandy and Wines, Jean-François Joumier, lives in the Cognac region of France. He has sourced the casks from that region for our Cognac expression" said Allan Anderson.
This positions the Carpathian Single Malt range as a truly unique brand that will touch the hearts and tastebuds of whisky enthusiasts all over the world, quite literally.
The absolute care and precision that goes into producing Carpathian Single Malt Whisky provides a special, one-of-a-kind character to every single bottle. Each one carries Allan Anderson's signature and a unique number identifying it as part of a particular batch, making it, truly, a collector's item.
"I am closely following international news about whiskies and noticed that other producers have started to see a lot of value in the general approach that we ourselves have had for several years now. They are even starting to implement it. I am happy about that and wish them good luck. I am also happy that our contribution to the evolution of the global single malt whisky market is recognized as truly significant" added Dr. Salameh.
Dr. Salameh also feels that an enjoyable, memorable whisky can also be a young whisky, because the quality of the casks and grape varieties adds a lot of complexity and flavour. In this regard a key factor is access to your own winery – Alexandrion Rhein Domains 1892 – where all processes are guided by quality and safety.
The Alexandrion Group has just opened their second distillery on the same site of the first, a clear indication of growth and ambition. These are very exciting times for Romania's Carpathian Single Malt Whisky, placing the country firmly on the global map of producers, but also holding its own as one of the best new world whiskies on the market. All of which confirms Dr Salameh's wisdom (and ability to take risk) to develop a product that had never existed before in Romania.
The foundations of this product, and the company's ethos, has always been authenticity and heritage combined with technology and innovation, which is always a very alluring mix. One that is so important in the world we live in today. It is what consumers are eager to focus in on, to understand the back story of a product, to find out the origins and roots of where it has come from, the people and places that have created it and hopefully to identify themselves with it.
"The Fetească Neagră finish is unique to the world of whisky. It is a grape variety that is only produced in Romania and is considered the best red wine variety in the country. We produce Fetească Neagră wines at our winery in Dealu-Mare and some of these wines, such as Hyperion Fetească Neagră, were awarded gold medals in very prestigious international competitions, such as Concours Mondial de Bruxelles. So the wine casks that we use to finish Carpathian Single Malt's Fetească Neagră, was originally home to some of the best Fetească Neagră wines in the world. A consumer from Romania or from any other country, who drank Fetească Neagră and liked it and wishes to try a single malt whisky with this finish, can only buy it from us" said Jean-François Joumier, Master Blender for Brancoveanu Vinars, Brandy & Wines.
Having spent its initial years in a charred first fill ex-Kentucky bourbon cask of white American Oak, this whisky was then transferred to a toasted European Oak red wine cask previously holding a Romanian Feteasca Neagra wine sourced from our own winery. It exudes elegance on the eyes and palate, with its clear amber color and intentsity on the nose offering hints of black pepper, cloves and candies. With tasting notes of vanilla, raisins, bananas and pineapple, all comes together for a sweetly rich and complex finish.
Carpathian Single Malt Whisky is an ambassador for Romania, an envoy of diplomacy, artisanal prowess and the latent potential of a country bursting with cultural and natural assets.
(P)
---
Trending Now