SUSTAINABILITY IN BUSINESS, ALESSIO MENEGAZZO, Head of Sustainability and Public Affairs at Enel Romania: Europe aims at becoming the world's largest hub in developing renewable energy technology and know-how
---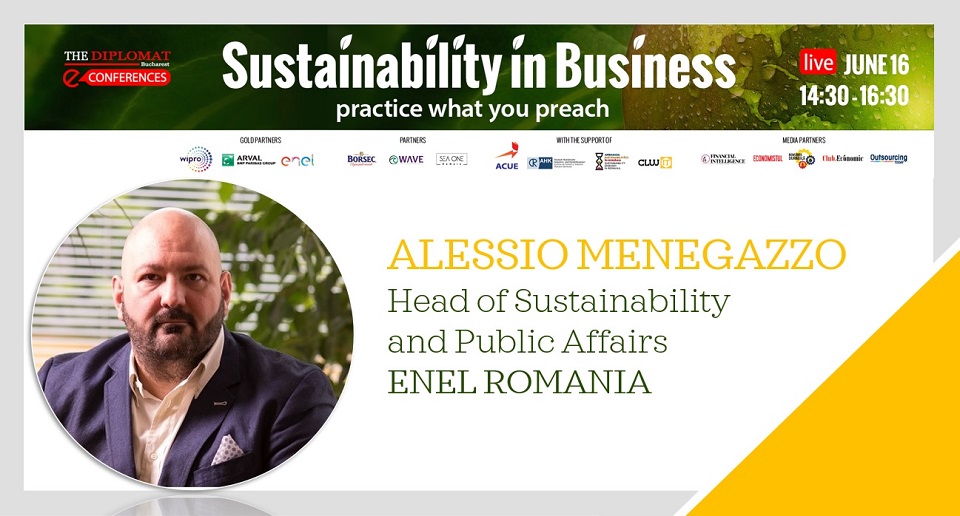 "We need to pay attention in avoid the past mistakes of European countries that implemented renewable energy solutions with technologies and know-how delivered by non-European countries, such as China. Through Green Deal, EU tries to balance this error so that it can become the world's largest hub in developing renewable energy technology and know-how. Otherwise, we risk in losing the competitive advantage and the industrial revolution's lead," stated ALESSIO MENEGAZZO, Head of Sustainability and Public Affairs at Enel Romania.
The statement has been uttered within today's e-conference dedicated to SUSTAINABILITY IN BUSINESS – Practice what you Preach.
The event benefits from the endorsement of Gold Partners Wipro, Arval, Enel, Telekom, Romgaz, Innova Project Consulting, MOL, Hidroelectrica, Electrica, Transelectrica, Partners Borsec, Sea One, Wave, Supporting associations Department for Sustainable Development of the Government, ACUE, AHK (German-Romanian Chamber of Commerce), BRCC (The British Romanian Chamber of Commerce), ASR (Sustainability Embassy in Romania), ClujIT, Media Partners Outsourcing Today, Financial Intelligence, Economistul, Romania Durabila, Club Economic.
 The e-conferences, powered by The Diplomat-Bucharest, are a brand new media product, designed to deliver easy and fast, directly to the core audience, the valuable insights of senior figures, experts and the most known specialists in the strategic industries, to discuss some of the most pressing aspects in today's economy landscape.
---
Trending Now
You may also like