Revitalizing the professional education system: interview with Sebastian Metz, AHK Romania
---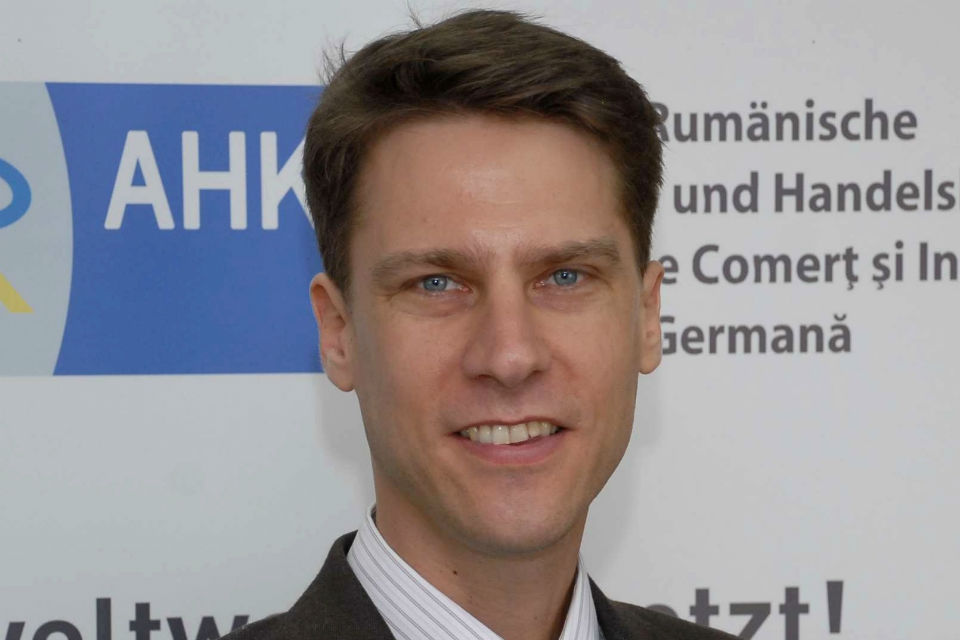 Germany has always been a strong partner with Romania and it remains one of the country's largest trade partners. German investors are confident and keep expanding their businesses within Romania. The Diplomat-Bucharest talked to Sebastian Metz, general manager and board member of Romanian-German Chamber of Commerce and Industry (AHK Romania), to find out more about what keeps a German company going in Romania.
What are the main aspects that retain German investors on the local market?
Romania and Germany have a very important and tight relationship. In 2018, we had 32.5 billion Euro in bilateral trade, more specifically 17 billion Euro in imports to Romania, up by 12 percent compared to 2017 and accounting for 20.5 percent of total imports. Exports to Germany amounted to 15.6 billion Euro, 8.4 percent higher compared to 2017, and 23 percent of overall exports. Approximately 7,500 German companies are active in Romania with 255,000 direct employees as of 2016, and likely even more so at the moment.
The first wave of German companies came to benefit from the relatively low salary for labour-intensive work, but since then, and for many years, the German companies are now investing here in the highly automated and high performing production sites. Many German companies such as automotive are currently in Romania and are continuing to expand their operations here. The investments from existing companies are significant and new companies are entering the market at a steady pace. Many German companies profit from the size of the market, as Romania is one of the biggest markets in the EU. Regarding investments, the proximity to Western Europe and the existing pool of skilled labour are very important. Romania has a good foundation based on industry, which is an advantage. There is a well-developed structure of university centres that provide highly qualified staff. And low wages are [still a significant advantage] added to these in comparison with those in Western European countries.
How do you see the economic environment evolve by the end of the year and what are the main growth stimulators, from your point of view?
Growth forecasts are below four percent, after significant growth of seven percent in 2017. Industrial production and the IT & C sector will contribute to this year's growth. In recent years, growth has been based on consumption, but the potential for consumption has diminished. Due to the fact that many products are imported, the current account deficit increases. Increasing imports also have an effect on the trade balance, with the trade deficit continuing to grow and negatively affect economic growth and inflation. In addition to internal factors, we must also take into account external factors to the same extent. It should be noted how the most important economies in Europe will evolve, being Romania's main trading partners – especially Germany – but also the rest of the EU. We need to look at everything in the global context: how relations with the US evolve, how trade with Europe and China develops, and likewise between China and the US. That is why predictions are hard to make.
What are the AHK priorities for this year?
One key initiative we are working on is in the field of professional education. It is common knowledge that there is a shortage of skilled labour. AHK would like to install some fresh breath into the professional education system, revitalizing the way practical and theoretical education is imparted to students. We are running projects such as "Scoala de Carte si Meserie" and "Caravana Meseriilor" and helping companies integrate themselves in the system. We feel that well-skilled workers are a priority in order for Romania to remain competitive in the long run, especially considering the dominant weight that the manufacturing industry carries for the country's economy and how impending digitalization is also changing the business environment.
Romania is truly blessed, looking at its geostrategic location and plethora of natural resources. As long as we can improve on the country's legislative and regulatory paradigms, instilling stability and trust, I believe the sky is the limit. AHK plans to intensify our work in green tech, with a twist – we wish to focus on sustainable city development. We need improved living standards in order to combat migration out of Romania and believe that mobility, energy infrastructure, and digitalization have pivotal roles to play. We will pursue our green energy initiatives further and also intensify our professional education initiatives throughout the country. Finally, we wish to provide better support to Romania's vibrant and rapidly developing start-up community and encourage their interaction with German companies.
What recent legislative changes have influenced the activity of German businesses in Romania?
Emergency Ordinance 114, for example, has led to strong turbulence that has affected many areas, including German companies, in energy, telecommunications, finance or insurance, which has led to the loss of companies' confidence. The way in which changes to the Tax Code are made is hard to understand for companies. The introduction of split VAT, changes in social security payments all came overnight without the necessary explanations and led to a considerable administrative effort on the part of companies. With concern I also followed the statements of some political leaders against the multinationals. They have not been transposed into legislation but they show anything but an open culture. There must be more openness for dialogue from the authorities. Overall, we need more clarity and cohesion in Romania's legal environment.
What are the main opportunities and challenges on the Romanian market for German companies these days?
German companies invest in the economy, especially where there is a need for investment in machinery and equipment, but also in infrastructure projects where they can provide their know-how and the technologies they have. There is, moreover, interest in collaborating with universities and graduates, especially in companies where digitization and mobility projects need to be continued. Building the knowledge pool is an opportunity for German companies in Romania.
Challenges include predictability, migration, demographics, poor investment – not only in infrastructure, but also in health and education. All this leads to dissatisfaction with the standard and quality of life of the population, which are much less attractive than in Western Europe and lead to migration. Many surveys confirm that the main reason why people leave the country is not wage differences but living conditions. Romania can rely on a modern, open, intelligent, young urban population that has good international connections and works in multinational companies. But quick solutions must be found for this population not to emigrate.
---
Trending Now
You may also like