Homeward bound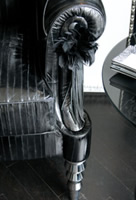 Exotic, expensive and pulling inspiration from centuries of European decorative arts, design store Interius offers customers imported furniture and accessories for living spaces, with Latin styles ranging from the homely to the sinister.
This includes small strips of dyed-black eel leather that form the skin of a neo-Gothic bench, resembling a church pew with a hint of sado-masochism. Manufactured by Italian brand IPE Cavalli, this extraordinary piece, ideal for the waiting room to Marilyn Manson's dentist, sets back a consumer about 10,400 Euro. It also comes in different colours, such as green, and textures, including elephant skin.
Introducing the medieval to the modern is also present in cushions and lamps which are covered in tiny links of metal chainmail, similar to dresses by Paco Rabanne. These armoured cushions, which would ensure victory in a pillow fight, can be sat upon without any noticeable injury to one's posterior.
Materials take a more outlandish route with an armchair made of beige and white pony leather for 2,500 Euro, together with a 700 Euro pony-skin pouffe. This tough item of furniture is ideal for intrepid couch potatoes who like to ride bareback when looking at the TV.
There are also traditional velvet chaise-lounges, papier-mache masks from the Venice carnival and Murano crystal chandeliers that use authentic Italian heritage to satisfy a high class clientele.
Interius is part of the Ideal Casa group, which has Bucharest showrooms on Ion Mihalache [1 Mai], Calea Dorobantilor and another due for Calea Mosilor. The group also plans to open a 'private' viewing space.
Designers in-store can also create 'virtual' rooms for customers and install everything from the kitchen to the coffee table. Thus the shop can make the perfect arrangement of eel benches with cookers, fridges, Venetian carnival masks and bedrooms, using embroidered blankets in a Moscovite style, made in France and designed for President Putin himself.
Meanwhile, all the customer has to do, is saddle up to his pony armchair and watch.
Michael Bird
Interius
54 Strada Dimitrie Gerota [AKA Strada Jean Louis Calderon ]