Everybody's gotta learn sometime
State and civil society need to combine to educate the public about the repercussions of xenophobic propaganda, argues Israeli Ambassador to Romania, Rodica Radian-Gordon as she speaks to Ana-Maria Nitoi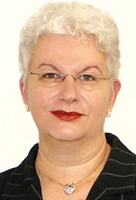 "The far right in Romania and Europe has been spreading and that should be alarming for
all Europeans."
Since the end of World War II many scholars and historians have attempted to pinpoint the moments leading up to the Jewish Holocaust to educate future generations about the warning signs that precede an attack on an ethnic identity.
Teaching and learning about this recent genocide is crucial for Romania – a country with a belated recognition of its role in the Holocaust and one which suffers from an under-resourced public education system.
Reducing the impact of extremist movements through education has been one of the aims of Ambassador Rodica Radian-Gordon in the last four years she has spent as Israeli Ambassador to Bucharest.
Born in Romania in 1957, she left the country during the 1960s when many from the nation claimed their right of return to Israel. Since then, she finished a PhD in biochemistry, gained diplomatic experience in Brussels and Warsaw and mothered three children, returning in 2003 to her birth-country to represent Israel.
The beginning of her mandate was marked by Romania's struggle to accept its role in the Holocaust.
The International Commission on the Holocaust in Romania, chaired by the historian, Holocaust survivor and Maramures-born Elie Wiesel, was set up in the same period. In November 2004 the commission showed that the country's wartime leader Marshall Antonescu was responsible for overseeing the deaths of between 280,000 and 380,000 Ukrainian and Romanian Jews on his territory, until 1943, when the forced deportations ended.
At that time, the Romanian Government promised to fund a project meant to set up a memorial to the Holocaust. Three years on and nothing is ready, except last year, when a stone was erected in a small park between the Dambovita River and hard rock club Expirat.
There are no plans for the Ministry of Culture to open a Holocaust museum, but general secretary in the Ministry Virgil Nitulescu tells The Diplomat that the first amount of money for the memorial will be paid by the end of May [2007] to the artist. The memorial will be constructed by 2009 on the site of the stone.
"Altogether, these efforts by the Romanian Government have determined Romania to be a model-state to many countries from central and eastern Europe," the Ambassador acknowledges.
Furthermore, the recognition of the conclusions of the Elie Wiesel Commission has developed a new stage of bilateral relations between Romania and Israel.
Getting back
The two countries have been close recently. During the last two decades around 350,000 Jews left Romania for Israel.
Now the Jewish community of Romanian origin in Israel is the fourth largest group of immigrants in the country, accounting for about 150,000 people. Today, fewer than 10,000 Jews live in Romania. Half are in Bucharest and the rest in cities such as Iasi, Suceava, Botosani, Cluj-Napoca and Timisoara.
But there is a global problem in anti-semitism, says Radian-Gordon. In 2006, anti-Semitic movements have been the strongest since the end of World War II. Eastern Europe, in particular Russia, has seen a rise in Fascist movements.
"We should all be worried by xenophobic, anti-Semitic and racist messages," says Radian-Gordon. "The far right in Romania and Europe has been spreading rapidly and this should be alarming for all Europeans."
The Greater Romania Party (PRM) is such a political party, which now has five members in the European Parliament. In Europe, PRM's political platform does not include overtly xenophobic intentions, but its leader made anti-semitic statements. Even if in 2004, PRM leader Corneliu Vadim Tudor called Yitzhak Rabin "a martyr of the chosen people", he said, in 1997: "I love Jesus Christ too much not to think every day of those who mocked him and spat on him and put him on the cross. The Jews did that. The Jews from 2,000 years ago and the Jews from all time."
Anti-Semitism has never been at the centre of PRM's campaign, but many argue it is part of the background. "A problem is that these parties have many sympathisers, who don't have much information about the history and the political current of the parties," she says.
Asked if such a party with extremist visions should be forbidden, the Israeli Ambassador says "Absolutely! Absolutely!"
"NGOs should give an alarm signal because of the messages these kind of parties send out," she adds. "Furthermore, the state has all the legal means to solve the problem. But unfortunately the legislation isn't implemented in the best way."
Keeping a low profile
The Israeli business community in Romania is strong, with around 3,000, mostly working part-time, in the country.
Prospects are positive and Israeli investments have breached the one billion Euro mark, according to the Israeli Embassy, which is higher than the official figures from the USA.
But this will not be apparent to the public.
According to Arnon Arbel, first secretary of the Israeli Embassy in Bucharest, many Israeli companies don't want to labour under the Isreali flag for marketing reasons.
"We have a problem determining the official FDI because most of the investments are indirect or they do not want people to know they are from Israel," says Arbel. "I think it all started over 20 years ago when there was an Arabic boycott on our products."
The major Israeli investment force in Romania are in construction, but the market also includes finance, law, accounting and the food sector by milk producer Tnuva, which will open a facility this year.
Arbel is "amazed" by the spectrum of investments in Romania, which includes industries from outer space to under the ground. "Israeli satellites provide services to Romanian televisions and we have big projects from infrastructure companies Tahal and Solel Boneh," says Arbel.
Elbit Medical Imaging:
Betting on luxury market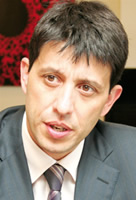 Worth over one billion Euro, Casa Radio Project will see hotel,aparthotels, shopping, offices and a roof-top swimming pool, says Yaron Ashkenazi, Centre Ville Aparthotels
Filling the gap in quality short-term lease with Centr Ville aparthotels has helped pioneer Elbit Medical Imaging (EMI)'s developments in Romania.
Now EMI plans to invest one billion Euro in one of the largest real estate complexes in Romania, with a location few competitors can match.
"In 2002 we examined the market and found that there are lots of business people coming to Romania to invest and the average stay was between 12 to 60 nights a month," says Yaron Ashkenazi, general manager of Centre Ville Aparthotel. "They were paying an average of 150 to 200 Euro per night for the good hotels. We said that if this was the average length of stay and the occupancy in the city is high in the middle of the week, let's offer them an apartment for 2,000 Euro per month. It was a revolution. After one day we were full."
In 2003 Centre Ville, located close to the intersection of Stirbei Voda and Calea Victoriei, finished its first year with 92 per cent occupancy rate and the next with 95 per cent.
After two years, Centre Ville aparthotel extended to another building, which it transformed into the luxury Elite Apartments, comprising 62 five-star flats.
"Here we host movie companies, Hollywood stars, IT companies and senior executives," says Ashkenazi. "They chose us because they have privacy and high service standards."
Next door to the Aparthotels is the 1970s-built Hotel Bucuresti. This was bought by EMI in 2000 and is now undergoing a life-changing experience. Managed by the Swedish Rezidor Group as a five-star Radisson SAS Hotel Bucuresti, this 424-room hotel aims to open at the end of 2007.
But the largest project on the books is due for completion in 2017. EMI has also bought 75 per cent of Casa Radio project – a giant Communist-era parthenon-style complex on the banks of the Dambovita at Eroilor Metro station. Ashkenazi says this will be one of the largest development projects in Europe, for which the Romanian Government is also a minority partner.
The Israelies will invest one billion Euro in the project, which will include a luxury shopping centre of over 120,000 sqm and a hotel. The area next to the complex, now a wasteland, will see an office building for the Government, a convention centre, leisure area and another Centre Ville Aparthotel of 120 apartments. This will also include a swimming pool on the roof. "We hope that the first project will be ready in three years from now," says Ashkenazi. "Most probably these will be the shopping mall and the hotel."
Elbit Medical Imaging - Part of Europe Israel
Projects: Centre Ville aparthotels and Radisson SAS, Casa Radio Project
Neocity: building homes on the Black Sea
Israeli developer Neocity Group plans to invest one billion Euro in the Romanian real estate market in a five-year timeframe, according to CEO Ben Ami Nimrod, with 200 million Euro invested so far.
The company recently won an auction for a residential project in the Ovidiu Black Sea town, worth 180 million Euro on a 320,000 sqm peninsula on the shore of lake Siutghiol.
In Constanta, Neocity is also investing over 50 million Euro in a mall scheduled for November 2007. "The mall plans a second phase that will probably double the investment," adds Nimrod.
In Bucharest, Neocity is focusing on the residential market. "We have plans to build almost 480 apartments on Calea 13 Septembrie [in the south] on a 10,000 sqm plot and we have a project of 1,000 apartments on a 30,000 sqm land on Sos Vergului, Pantelimon. In Saftica, north of Otopeni, we have 50 hectares where we will develop apartments and houses," he adds.
Neocity also plans to develop two office projects in Pipera and Dorobanti and targets Ploiesti and Brasov for two commercial projects.
Neocity Group - Real estate developer
Employees: 100
Projects include: City Mall Constanta, residential project in Ovidiu, Black Sea
Ashtrom: industrial and residential still hot
Israeli construction company and developer Ashtrom is working to finish a 13-level office building on the site of the Excelsior theatre near Piata Revolutiei. General manager Isaac Soffer says ten floors will be rented for an average of 18 Euro per sqm.
The company is also investing 60 million Euro in an industrial park on the outskirts of Bucharest for 100,000 sqm of rentable spaces for high-tech companies looking for out-of-city locations.
Ashtrom is also looking to buy for 16 million Euro an 11,000 sqm plot of land in the centre of the city where it plans to develop a middle class residential project of 400 apartments.
But malls are not on the firm's agenda.
"This lack of planning and competition in creating these shopping malls can lead to an oversupply," says Soffer. "I don't know how much the Romanian market can absorb, but at some point I believe it will be dangerous to invest in such projects."
Ashtrom - Construction company and developer
Total investment in Romania: 100 million Euro; plans to
double the investment in the next three years
Employees: around 70
Bank Leumi aims at discreet growth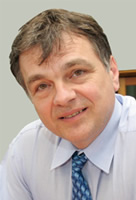 "We plan to promote our rebranding process like a Swiss watch: discreetly and with poise," Laurentiu Mitrache, Bank Leumi
Israeli's largest bank, Bank Leumi will target to have open 40 branches by the end of 2007 in Romania.
Last August saw the completion of Bank Leumi's takeover of Eurom Bank, and since, the new entity has witnessed an "impressive growth rhythm and restructuring process," according to Bank Leumi Romania CEO, Laurentiu Mitrache.
"We will soon start a re-branding process and we plan to promote it like a Swiss watch: discreetly and with poise," says Mitrache. New branches are on the agenda for this year.
"We are about to open new ones in Bucharest and Timisoara," says Mitrache. "Then we will open more branches countrywide to reach about 40 by the end of this year."
Reorganisation and restructuring the existing operations aim to make Bank Leumi better known in Romania. Focus will be put on the bank's retail division, which tackles upper income clients, as well as on the SME and corporate divisions. "A special real estate department has been created for which we brought in a specialist from Tel Aviv," he says. A new Israeli desk is also in the making.
Bank Leumi Romania - Part of Bank Leumi Israel since August 2006
2006 market share: 0.4 per cent
1Q 2007 total assets: 197 million Euro
2006 branches: 32
2007 forecast: 40
Employees: 430
Clal: looking at two digit growth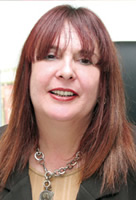 "There are plans to target the private pensions, life and health insurance," Zohar Morgan, Clal Romania
"This is one of the markets where you can still see two digits growth," says insurance firm Clal Romania general manager Zohar Morgan.
"I don't know that many countries where you have this growth. The rate here is tremendous."
Clal is the biggest Israeli insurance company, according to Morgan, and Romania is the first foreign country where it has set up a greenfield operation.
"When you are that big and you want to acquire more percentage in the market the wisest thing is to go abroad and eastern Europe was the best way for us," says Morgan.
In Romania, Clal acquired the license for non life products but also plans to target the private pensions, life and health insurance in the next stage.
She argues the increasing standards of life of Romanians will dictate higher demand for insurance policies.
"Romania is a country with a western oriented attitude with 45 per cent of people living in big cities who want to update their living standards," she says.
"It is a matter of human behaviour, after you fulfill all your material needs you start thinking about the security of your future."
Clal Romania - Insurance company
Invested to date eight million Euro
Operates 40 service branches
Employees: 150
New Kopel: fixed-term renting of cars
to take over from hire-purchase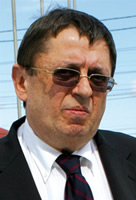 "People in Romania are now more confident about renting cars" says Dudy Perry, SIXT New Kopel
Car leasing company New Kopel believes Romania is already moving towards a mature market for operational leasing, or hiring out for a fixed-term, which follows the example of Poland, Czech Republic and Hungary, according to the firm's CEO, Dudy Perry.
This could be seen as a more attractive solution to financial leasing, or hire-purchase, because the leasing company assumes much of the risks involved in vehicle ownership.
"We believe that in Romania the financial leasing product will diminish relatively fast, because tax advantages associated with financial leasing almost do not exist anymore," says Perry.
"Those who will not want operational leasing will probably take bank credits or will use their own financial resources."
In Romania, operational leasing is in its infancy, but Perry believes the market will reach 20 to 30 per cent of the car leasing market by 2012.
"Operational leasing is a complete solution for fleet management starting with the financing, transferring of all the tasks and the risks involved in running the fleet to the leaser, such as maintenance, insurance, replacing the car, paying the taxes, accidents, for a period of three years," he says.
In April 2006 New Kopel obtained the franchise for the SIXT rent-a-car business.
"The rent-a-car companies have provided until now a low level of service with a high level of prices, so incoming tourists preferred using a taxi," says Perry.
"The infrastructure in Romania is improving, more hotels are opening and people are more confident about renting cars," he adds.
SIXT New Kopel Group - Operational leasing and rent-a-car company
Offices: Iasi, Cluj, Timisoara, Constanta and Bacau
Two more offices to open in Sibiu and Brasov.
Main clients: UTI Group, Pepsi Cola, Tuborg, E.ON Moldova
Number of contracts in 2006: 3,000 cars
Forecast for 2007: 6,000 cars
Ludan: waste treatment no longer a choice
Ludan Engineering is involved in an environmental project at the Viromet chemical plant near Fagaras, where the company is modernising the water treatment station.
The firm is also promoting a Dutch-financed project to clean gas emissions from a Iasi thermal power station.
The technology will produce fertilisers from a mixture of natural gases.
"The project in Iasi is a first for us as we are implementing our own technology at a industrial level," says Dmitri Militescu, managing director of Ludan Engineering.
"We are interested in demonstrating the efficiency of this new global technology and promoting it. We hope it will be a success and apply it to other customers,"
Militescu says environmental projects are mandatory for the existence of such companies.
"Any environmental program is non-profit making, but if you don't treat your firm's wastes, you take the chance of being shut down," he adds.
"Finding solutions to solving this problem is more easy now Romania is a EU member, but the constraints are harsher. Today you cannot make industry unless you deal with your waste."
Ludan Engineering - Engineering services for the process industry
2006 turnover: seven million Euro
2007 forecast: seven million Euro
Employees: 50
Sano invests in logistics park
Israeli cleaning products producer Sano is investing four million Euro in a logistic park for warehousing and a distribution center scheduled for completion by July this year.
"It is possible that we could invest another two or three million Euro in the coming years in a production facility next to this," says country manager Doru Iosef.
"We want to reach a total investment in Romania of eight million Euro in the next three years."
Sano has been active in Romania since 1994 through a local dealer and in 2003 the Israeli company bought this dealer. Now Sano has 40 distributors across the country and sells eight category of products with 300 goods.
"In the next two years we want to reach 15 categories with 1,000 products," he adds.
Iosef says the market for cleaning products is increasing by 15 to 20 per cent per year, in proportion with the improving lifestyle of Romanians.
Sano - Cleaning products producer
Turnover forecast: 20 million Euro for the next two years
Employees: 45 (100 after distribution centre is finished)
Market share: three per cent
Forecast for 2007: five per cent
By Mihai Alexandrescu
Additional reporting by Corina Mica