Deadlier than the male
Cuban-born Surrealist Wifredo Lamís works on paper are a frank expression of fear of women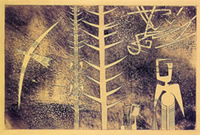 Exposing the full breadth of their sexuality, horned, decapitated or fused into a hybrid with an abstract beast, women in the work of Wifredo Lam terrify the viewer.
One of the bit-players on the 1930s Surrealism circuit, Lam created primitive and violent images of sexual anxiety, which are now on display at the Romanian National Museum of Arts.
Cuban-born Lam (1902 to 1982) was friends with Frida Kahlo, Yves Tanguy and Pablo Picasso and his works from the early 1940s are derivative of these better Surrealist practitioners.
But by the end of the decade he had settled into a signature style that combines figurative distortions of the midget Spanish genius and the play of elongated shapes present in the work of Tanguy.
Lam's collages show bright objects at the centre of the work, mirrored by menacing figures in the background. There is always an undercurrent of violence which seeks to destabilise the main protagonists.
With a father who was Chinese and his mother of mixed Indian, African and European heritage, together with a lifetime spent between Europe, USA and the Caribbean, Paris, Madrid and Havana, Lam's wanderlust is ever-present. Few objects are grounded, most lie at the centre of the paper, with out-stretched wings, pulsating organs or the shape of arrows or tools. All the actors in his works are in transit or under threat.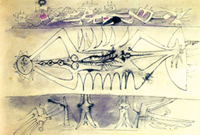 There is no hope of rest or intimacy and females are portrayed as weapons. The 'Sketch of a woman with apple' (1942) recalls Picasso's vision of a woman as an object of sexual play, but also of terror. But Lam goes further than his Spanish compadre, reshaping the female sex organs into the dimensions of an axe and then merged into the abdomen of a spider.
At its best, this work is a frank autopsy of sexual fear and revenge: this is a man who has picked every petal from the rose, burnt each of them one by one and then embraced the thorns until there is little left in him to bleed.
Michael Bird
Wifredo Lam
Cartografie Intima [Intimate Maps]
Romanian National Museum of Arts
49 - 53 Calea Victoriei