BCR launches corporate venture capital company to invest 5 million Euro in local tech start-ups
Posted On November 21, 2023
---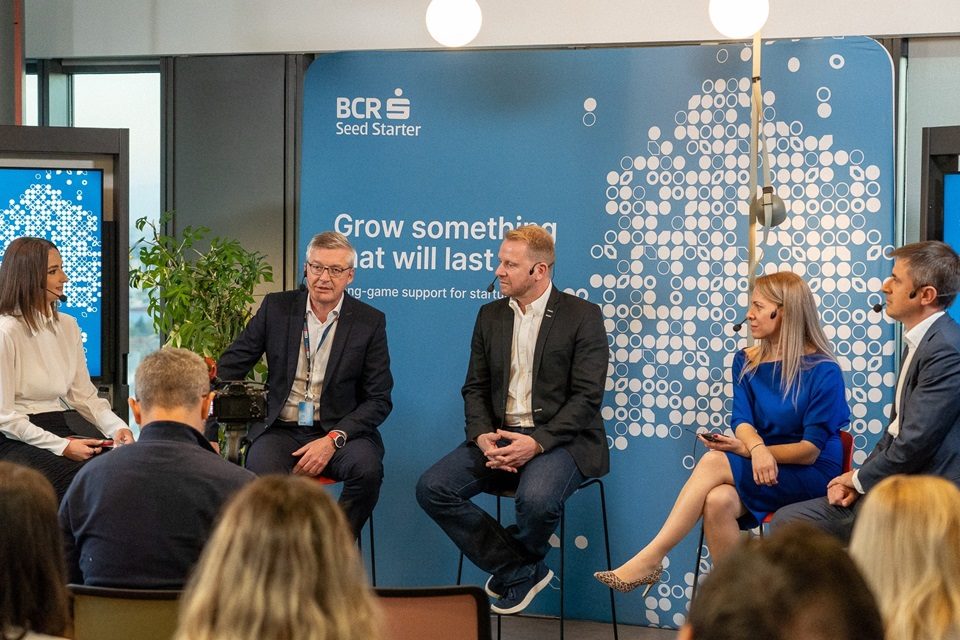 Banca Comercială Română (BCR) announces the launch of BCR Seed Starter, a fully owned subsidiary, the first corporate venture capital company (CVC) incorporated by a bank in Romania, aimed at investing in technology startups from January 2024 onwards.
With a financial commitment for investments totaling 5 million Euro in the next five years, BCR Seed Starter is set to provide equity to a portfolio of innovative start-ups that have the potential to optimize internal banking processes, enhance the portfolio of services offered to BCR clients or support its ESG goals.
"BCR Seed Starter empowers us to further BCR's dedication to technology and innovation. Through strategic investments in corporate venture capital, primarily in companies leveraging financial technology that bolster our business, our goal is to generate innovation within the bank, while adding value for BCR's clients. Moreover, we target strategic value for the local start-up ecosystem by enabling growth and success. Beyond money and resources, it means providing in-depth financial industry know how and access to an extended base of potential clients and investors. It can easily be said that BCR Seed Starter brings a fresh approach to Romania's CVC landscape, with more flexibility, and long-term support, accelerating entrepreneurial development and reinforcing our role in European innovation," stated Thomas Kolarik, Vice President IT & Operations at BCR and Chair of the Board of Directors at BCR Seed Starter.
In exchange for a minority stake in the invested startups, BCR Seed Starter aims to stimulate sustainable growth by diversifying the available capital sources for start-ups, while offering a flexible alternative to the traditional bank financing model.
"We are proud that BCR Seed Starter opens a new chapter in the Romanian banking sector, becoming the first corporate venture capital company launched by a bank. This endeavor leverages BCR's corporate assets to not only tap into new markets and build new business models, but also to enhance the innovation made in Romania.
BCR Seed Starter will give start-ups the opportunity to develop, test, adapt and offer value-added products to the BCR and Erste ecosystem or directly to the bank customers. The collaboration will be on a non-exclusive basis, as our goal is to help startups grow in their target markets. Our aim is to invest an average ticket size of EUR 500,000, in exchange for a maximum of 24,99% non-controlling equity stake", said Carmen Dibus, CEO BCR Seed Starter.
While venture capital activities in Romania have increased significantly from virtually nil in the last decade, it still lags behind the EU average and other CEE countries. Romania has placed as the fifth country in CEE for VC funding raised in 2022, behind Estonia, Czechia, Croatia, and Poland, which collectively account for 70% of the total funding volume in the region, according to Romania Venture Report 2022. Moreover, Romania has a funding shortfall of nearly EUR 7 billion for startups compared to its Central and Eastern European neighbors, raising only EUR 128.2 million in the period 2018 – 2021. This figure is overshadowed by a robust regional performance, as a study conducted by ROPEA and Deloitte highlights, which is based on data provided by Invest Europe, one of the largest global associations of PE and VC. BCR Seed Starter is thus positioned as a strategic partner in changing this dynamic, amplifying the innovative potential of Romanian startups, in a moment when the tech startup capital is scarcer.
What should startups know when applying?
The funding comes entirely from BCR. Equity investments in startups will be made from BCR Seed Starter's own funds, two strategic investments being targeted in 2024.
BCR Seed Starter opens the door to the entire Erste Group ecosystem and potentially to its clients, offering not just financing via equity contributions but also a strategic partnership with its counterparts in the group, Seed Starter České spořitelny and Seed Starter Slovenskej sporiteľne, thus amplifying the impact on startups in the early, "pre-seed" and "seed" stages. With BCR Seed Starter entering the shareholding structure, startups will have the opportunity to collaborate directly with the BCR Group, benefiting from trust, expertise, network, and growth opportunities.
What is the schedule, and how is the selection made?
The application process for funding is open to any interested tech startup, with the note that BCR Seed Starter is looking for synergies with the banking industry, exploring business opportunities and emerging technologies that stimulate growth within the financial services sector or improve ESG performance.
Startups can submit applications starting with the first quarter of 2024 on the dedicated website, www.seedstarter.ro
The investment decision will be based on a structured and coherent process that includes due diligence, with particular attention paid to the startup's growth potential and alignment with the values and strategic directions of the BCR Group.
---
Trending Now