DEER organizes the first edition of the Energy Cyber Security Forum, in Cluj-Napoca, on November 24-25
Posted On November 15, 2023
---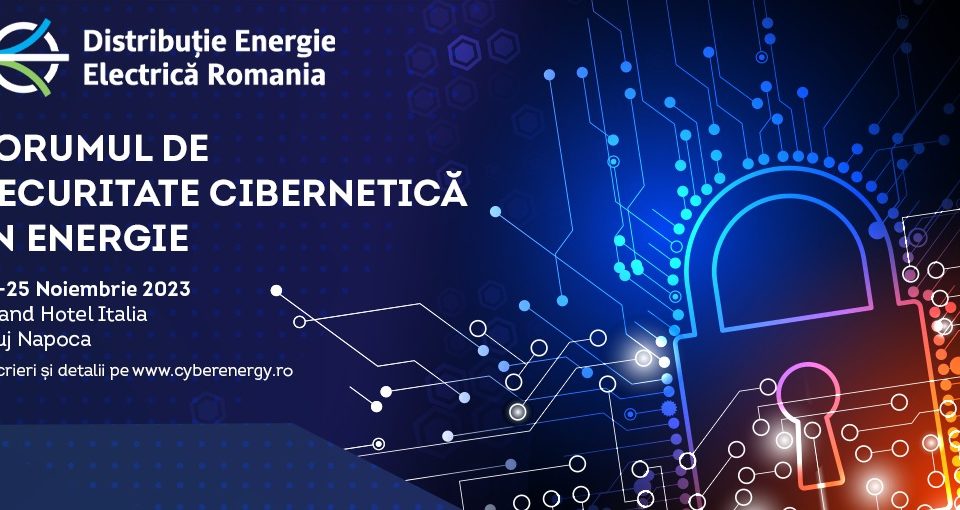 For two days, Cluj becomes the hub of cyber security.
Cyber security has become a priority for companies and institutions in the digital age, and especially for companies in strategic sectors such as energy. Between November 24-25, Distributie Energie Electrică Romania – DEER organizes in Cluj-Napoca, the first edition of the Energy Cyber Security Forum. Thus, thanks to DEER's approach, the city at the foot of Feleac becomes, for two days, the host of the most important players in Energy and Information Technology.
Representatives of the most important national and international institutions – Government, Parliament, European Parliament, ANRE, ministries, national and international companies, specialists, analysts, representatives of universities and professional associations and journalists have announced their participation in this far-reaching event, with a current theme and maximum interest.Until this date, the following speakers have confirmed their participation:
Mircea Abrudean, Secretary General of the Government of Romania; • Sebastian Burduja, Minister of Energy;
Bogdan-Gruia Ivan, Minister of Research, Innovation and Digitization; • Daniel Buda, member of the European Parliament;
George Niculescu, President of ANRE;
Nicoleta Pauliuc, President of the Commission for Defence, Public Order and National Security, Senate of Romania;
Istvan-Lorant Antal, President of the Energy Committee, Senate of Romania;
Sabin Sărmaș, President of the Digitalization Commission, Chamber of Deputies;
Sandor Bende, President of the Commission for Industries and Services, Chamber of Deputies;
Alexandru Chiriță, General Electrica S.A. Director;
Alexandru Apetre, Manager of the Investigations and Assignment Directorate, National Directorate of Cyber Security;
Yugo Neumorni, President of the CIO Council;
Dragoș Diaconu, Chief Executive Officer Arctic Stream;
Cătălina Dodu, Head of Consulting Cybersecurity Leader for EY South Cluster and Technology, Consulting Leader of EY Romania;
Dorin Pena, Managing Director Romania&CIS Countries;
Sabin Posea, Business Development Director Eximprod Group SA;
Petru Rușeț, Managing Director at Siemens Energy Romania;
Cătălina Niculăță, System Engineering Manager CiscoRomania;
Cristian Cucu, CIO Council Member;
Miri Varbitzky, VP Sales Central&South EMEA.
Alexandru Tofan, Business Unit Manager Cyber Security Ingram Micro Romania
"Continuously evolving technologies force us to be more and more adaptable, and that at an alert pace, regardless of the field. Revolution 4.0, the digital revolution is in full swing, and Revolution 5.0 is knocking at our door, and this evolution also involves a more intensive interaction of us with advanced technologies and Artificial Intelligence. But with this unprecedented development comes numerous threats. Especially in the field of energy, cyber threats are real and pose major risks to national and global security. Precisely for this reason, we proposed to bring to Cluj-Napoca prominent personalities of these fields, decision makers, experts in the energy and IT sector, government organizations, universities and the cyber security industry to share knowledge and experiences, as well as to to develop critical links to combat cyber threats in the energy sector. It is a necessary event, a must of the present, in which we believe and which we rely on to increase the degree of awareness regarding cyber security, especially in the energy field", said Mihaela Rodica Suciu, the general director of Distribuție Energie Electrică Romania, the organizer of the event
Among the topics that will be addressed during the Forum are: Global and European trends in the regulation of the cyber domain; cyber security policies and strategies (at user, organization and state level); cyber security versus users' rights and freedoms; cyber threats versus cyber intelligence; peculiarities of cyber security in the energy field; protection of critical infrastructures in the field of energy and E-governance, open data and cyber security culture.
The moderator of the first edition of the event is Moise Guran, a respected voice in the financial and economic community, with extensive experience in profile journalism, producer in the past of established radio and TV shows, such as Biziday and Romania in Direct, in which he put the first place public education in useful fields. The organizers aim to provide participants with access to the latest information in the field of cyber security.
DEER also relies on the experience and involvement of authorities and experts in the field of Information Technology and Energy to develop solutions and practical applications, but also to build strong partnerships in order to secure the national energy infrastructure. For more information about the event, please visit the website: https://cyberenergy.ro/
---
Trending Now