Murat Büyükerk, Arctic CEO: "Full integration of sustainability into the DNA and strategies of the company is what defines Arctic"
Posted On October 4, 2023
---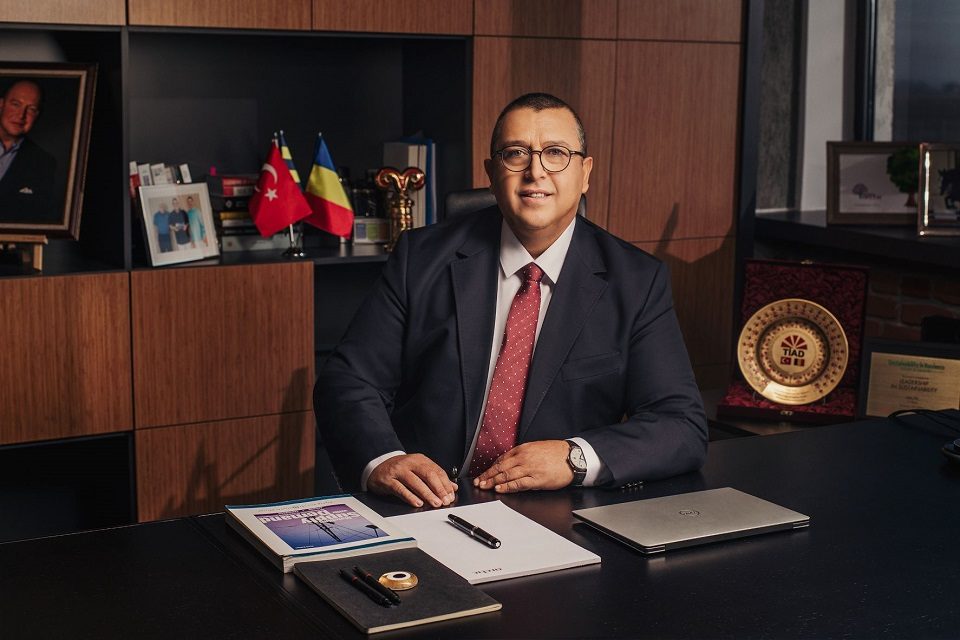 Sustainability is the only possible development strategy for the companies of the future, according to Arctic CEO Murat Büyükerk in an exclusive interview with The Diplomat, detailing the initiatives undertaken by the home appliance company to align with this vision.
How do the company's business objectives align with its sustainability mission?
Sustainability is Arctic's first and foremost priority, being at the center of our business strategy. We are proud to be able to offer Romanians advanced technological solutions that support a sustainable lifestyle and to be able to contribute to the local economy. Romania has huge potential in many sectors, including smart manufacturing, and it gives me great satisfaction that Arctic has played a significant role in this respect. Understanding the need for a change in the production paradigm towards net-zero factories, we chose to build the first Industry 4.0 factory in Romania in Ulmi and increased the automation of the factory in Găesti. The complete integration of sustainability into the company's DNA and at every stage of the entire value chain is a reality that defines Arctic, from the initial phase of research and development to production and up to the last step, the disposal and recycling of household appliances at the end of their life cycle. This comprehensive approach is reflected in all our activity from the innovative products we bring to market and in the way we produce, but also in our values and projects – whether it's promoting education and sustainability education, community involvement or developing programs for employees.
We have reached the point where business objectives can no longer be in isolation from the responsibility that the business community has towards the planet and society. At the same time, consumers are increasingly interested in sustainability and increasingly aware of the impact of their consumption choices. The vision we share at Arctic and inside the group we are part of, Arçelik, is focused on sustainable growth that meets the needs of the current generation, without compromising the future of those who come after us.
Innovation and eco-design are crucial for the home appliances industry, given that the design phase determines the environmental impact of a product throughout its life cycle. The group Arctic is part of, Arçelik, has 30 R&D and design centers around the world, which are home to more than 2,300 researchers. The R&D departments are constantly looking for innovative solutions to reduce the environmental impact and natural resource consumption of household appliances, both in the production phase and when in use. We also address the issue of plastic overconsumption and work towards increasing the durability and recyclability of products so as to contribute to a circular economy.
How does Arctic position itself as a brand in terms of sustainability?
In line with our holistic approach, for the Arctic brand, we have embarked on a new communication path – one focused on sustainability education and encouraging responsible consumption. Building a sustainable future is everyone's job, and Arctic has taken on the responsibility, as changing habits and behaviours is crucial. With the launch of the two major campaigns for the Arctic brand in 2022, Forgotten – Rediscover your wardrobe with ExtraSteam technology and Food from local producers deserves Arctic built-in appliances, we have created an open dialogue with Romanians on sustainable development issues. Our messages have been very well received by consumers, and thus Arctic has become an increasingly relevant brand in the sustainability landscape. Efforts in terms of production, communication and marketing resulted in Arctic being the number 1 best-selling large home appliance brand in Romania, as shown by the Euromonitor International Limited study that measures volume units sold in retail according to 2022 data. We have continued to be, for the forth year in a row, the most powerful domestic brand, according to the study carried out by the research company Unlock Market Research and BIZ in 2022.
The Forgotten campaign, the first sustainability-focused brand campaign that fully reflects Arctic's vision, has enjoyed both national and international recognition. It was shortlisted at Cannes Lions, in the Media section, Excellence in Media – Use of Integrated Media in 2022, and in 2023 it won a Gold Effie in the Durables category at the Romania Effie Awards 2023. We were also awarded a bronze medal at Webstock and a gold one at Internetics for the same campaign.
How is sustainability addressed inside the company?
Employees are central to our sustainability journey, and to achieve our environmental targets we need knowledgeable and skilled staff. Accordingly, we have developed training sessions so that all colleagues and partners, including interns, subcontractors, and temporary employees, can contribute.
Sustainability, as a defining element of Arctic's corporate culture, is reflected inside each and every department, as well as in our conduct and decisions. A deep love for Romania and a firm commitment to sustainability motivates us. I feel honoured to be part of a team of dedicated professionals, with whom I share not only the same vision on performance, but also on giving back to the communities we are part of.
Creating an inspiring, safe and healthy work environment that promotes diversity and inclusion is essential to Arctic. We support the movement for gender equality in technology and innovation through the Women inTech or Arctic Women Community projects. At the same time, we participate in numerous educational initiatives, from dual to postgraduate level. We also organize internal events and projects that bring sustainability to the fore, without neglecting the well-being component. In October 2022, inside the Arçelik group, we organized a global plogging marathon – that is picking up rubbish while jogging – which took place for 24 hours non-stop and was attended by colleagues from 30 countries, including Romania. The program also included an ideathon, to encourage everyone in Arçelik to share their vision related to sustainability at work.
The Arctic Foundation was recently launched. What is its mission and what changes does it aim achieve?
The Arctic Foundation was born out of the desire to take our commitment towards education for sustainable development to a new level. Its mission is to raise awareness and to facilitate education on the subject. According to a study we carried out together with Ipsos, a global leader in market research, 4 out of 5 Romanians are willing to do more in this direction, but say they lack easy access to information and personal resources – time or finances. This is why we have undertaken a long-term partnership to facilitate behaviour change. The first step was the launch of the Reshaping the Romanian Pride campaign, awarded in the Education Hero category at the BIZ Sustainability Awards 2023. Through this project, we drew attention to some problematic consumer behaviours that are widely encountered, while offering handy alternatives, related to sustainable fashion, supporting local producers, reducing plastic waste and water consumption or fighting food waste. We are proud that this campaign has had an echo that has exceeded even our most optimistic expectations, a sign that we are moving in the right direction.
---
Trending Now