Transelectrica: The Electrician's Trophy has named its winners of the 2023 edition
Posted On September 25, 2023
---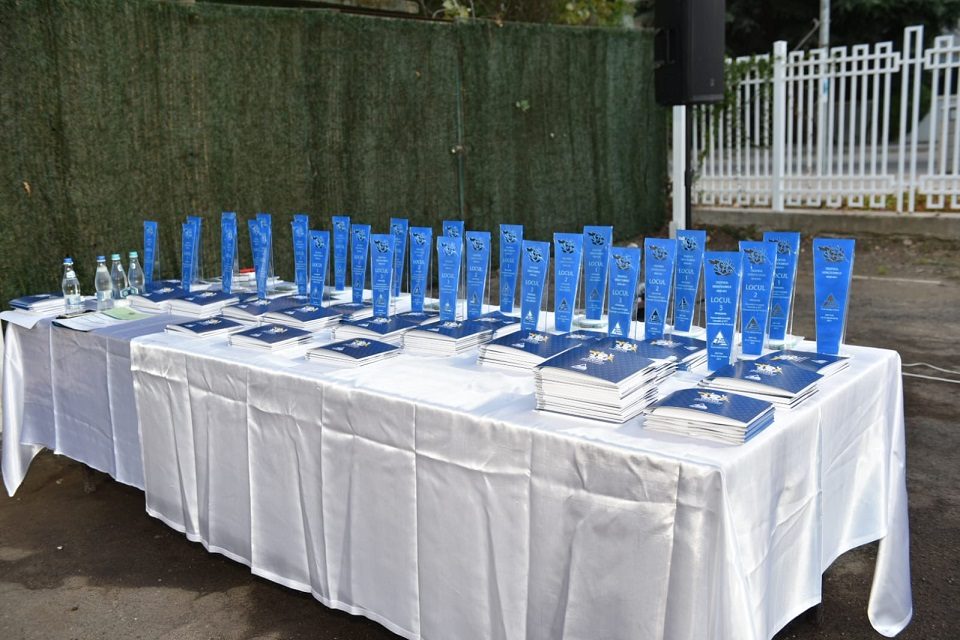 The most important professional competition organized annually by the National Electric Energy Transport Company Transelectrica SA and the National Federation of the Electricity Trade Unions "UNIVERS" – the Electrician's Trophy – has announced its winners. Of the 71 competitors qualified for the final stage, the top 31 have gone up on the podium.
At the awards ceremony hosted by the Chairman of the Company's Board, Ștefăniță Munteanu, together with the members of the Directorate Florin Cristian Tătaru and Cătălin Nadolu, were present as guests Mihai Păun, member of the Supervisory Council of Transelectrica, and Gabriel Andronache, vice-president of ANRE.
This year's edition was hosted by the Constanța Territorial Transport Branch, during September 18-21, 2023, meaning three days full of tests: theoretical, practical and the test with public within 10 categories of expertise specific to Transelectrica's activity.
"We congratulate the winners and participants of this year's edition of the Electrician's Trophy for excellence demonstrated in such a complex and challenging job! Beyond the spirit competition specific to these days, we are convinced that the level of performance demonstrated by our colleagues define the usual way of working of the entire Transelectrica team from all over the country which means hard work, continuous improvement and consummate professionalism", is the message sent by Ștefăniță Munteanu, the president of the Directorate.
The winners of the 2023 Edition of the Electrician's Trophy are:
DEN-DET Operational Management Category
1st place – Adrian Florian Vlada (Bucharest Territorial Energy Dispatcher)
Second place – Paul Lucian Farcaș (Timișoara Territorial Energy Dispatcher)
Third place – Adrian Costel Avram (Cluj Territorial Energy Dispatcher)
CTSI Operational Service Category
1st place – Eugen Mihai (Pitesti Territorial Transport Branch)
Second place – Ioan Alexandru Tofan Gherghina (Cluj-Napoca Territorial Transport Branch)
Third place – Mihai Burtea (Territorial Transport Branch Craiova)
Operative Service Category Refurbished Stations
1st place – Vasile Telcean (Territorial Branch of Transport Cluj-Napoca)
Second place – Constantin Burtea (Territorial Transport Branch Craiova)
Third place – Szabolcs-Rezo Balint (Sibiu Territorial Transport Branch)
Operational Service Category Untechnological Stations
1st place – Victor Vlad Vlădia (Timișoara Territorial Transport Branch)
Second place – Liviu Bălan (Pitesti Territorial Transport Branch)
Third place – Valentin Cristea Niță (Constanța Territorial Transport Branch)
Category Reception Works Primary Equipment Stations
1st place – Ionuț Adrian Pichiu (Bacău Territorial Transport Branch)
Second place – Costache Tăbăcaru (Constanța Territorial Transport Branch)
Third place – Marian Dan Mic (Bucharest branch)
SCPA Category (STT Specific Activity: SCADA Protections)
1st place – Adrian Dinu (Constanța Territorial Transport Branch)
Second place – Nicolae Claudiu Marian (Sibiu Territorial Transport Branch)
Third place – Viorel Popescu (Territorial Transport Branch Craiova)
LEA Reception Works category
1st place – Corneliu Vlădulescu (Pitesti Territorial Transport Branch)
Second place – Luigi Voicu (Bucharest Branch)
Third place – Ștefan Simanovsky (Cluj-Napoca Territorial Transport Branch)
OMEPA category
1st place – Cristin Ilea (Sibiu Territorial Transport Branch)
Second place – Andrei Voinea (Timișoara Territorial Transport Branch)
Third place – Flaviu Zaharia (Cluj-Napoca Territorial Transport Branch)
Budget, Finance Accounting category
1st place – Camelia Pustan (Cluj-Napoca Territorial Transport Branch)
Second place – Adina-Maria Badea (Pitesti Territorial Transport Branch)
Third place – Daniela Mihaela Dragu (Territorial Transport Branch Craiova)
Investment Category (Project Management)
1st place – Liviu Muntean (Timișoara Territorial Transport Branch)
Second place – Natanael Moldoveanu-Lazar (Sibiu Territorial Transport Branch)
Third place – Constantin Zamfir (Territorial Transport Branch Craiova)
---
Trending Now