Deloitte Romania consolidates its Tax practice by appointing four new directors
Posted On September 8, 2023
---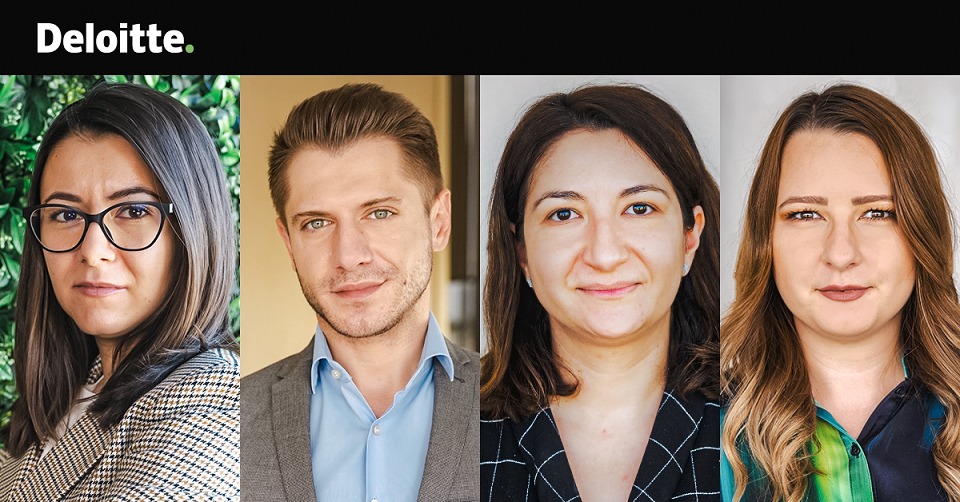 Deloitte Romania consolidates its Tax practice by promoting Ana Sabiescu, Daniel Grigore, Loredana Ilea and Simona Mergeani to the position of directors, as of September 1st, 2023.
"Our Tax practice lives up to our global aspiration of leading the profession through quality, as acknowledged by international directories, innovation, most obvious when we help clients transform tax compliance through technology, and impact in the business and society, visible in both market share and complexity of projects. I am grateful to Ana, Daniel, Loredana and Simona for their steadfast commitment to quality, innovation and impact and I am very pleased to welcome them to our extended leadership team," said Alexandru Reff, Country Managing Partner, Deloitte Romania and Moldova.
Ana Sabiescu began her career in advisory in 2011, when she joined Deloitte. She is specialized in VAT and customs duties, has coordinated projects related to implementing or restructuring business models, tax reviews and due diligence, tax optimization, litigations and she also represented clients in front of the tax and customs authorities. She provided tax assistance in important transactions, in obtaining VAT refunds for significant investments, as well as in implementing and undertaking import and export transactions with goods subject to special customs rules. Ana is involved in the coordination of the Deloitte Romania's SAF-T reporting solutions and in their implementation for clients. She is a certified tax consultant, a member of the Romanian Chamber of Tax Consultants and has an Advanced Diploma in International Taxation (ADIT), a professional qualification and credential offered globally by the UK-based Chartered Institute of Taxation.
Daniel Grigore joined Deloitte Romania in 2013 as a graduate and, since then, has been involved in complex tax projects for companies across various industries, especially in financial services and life science and healthcare. He has coordinated reorganization projects which required working closely with other departments in Deloitte, both from Romania and from other jurisdictions. Daniel has also assisted clients during tax inspections and appeal processes. He is a member of the Romanian Chamber of Tax Advisors.
Loredana Ilea is a member of the Deloitte Romania team since 2012, when she was a graduate. She specializes in VAT and has been involved in numerous tax advisory and dispute resolution projects for local and multinational companies operating in various industries, with a focus on pharmaceutical and consumer goods sectors. In the past years, Loredana had a key role in developing and implementing Deloitte's solution for SAF-T reporting. She is an authorized tax consultant, member of the Romanian Chamber of Tax Consultants, and holds an Advanced Diploma in International Taxation (ADIT) issued by the UK-based Chartered Institute of Taxation.
Simona Mergeani has 13 years of experience in taxation, being specialized in transfer pricing services. She joined Deloitte in 2016 and, since then, has worked with multinational companies active in sectors such as energy and resources, industrial products, retail, life science and healthcare. Her broad expertise covers a wide range of transfer pricing areas, including business restructuring and controversy. She played a key role in adopting in Romania the global digital solutions that Deloitte uses within the transfer pricing projects. Simona is a chartered certified tax advisor and judicial tax expert and a member of the Romanian Chamber of Tax Advisors.
---
Trending Now