Forum by ARIR 2023: Listed companies innovate through digitization, artificial intelligence, and green initiatives for the sustainability of the business
---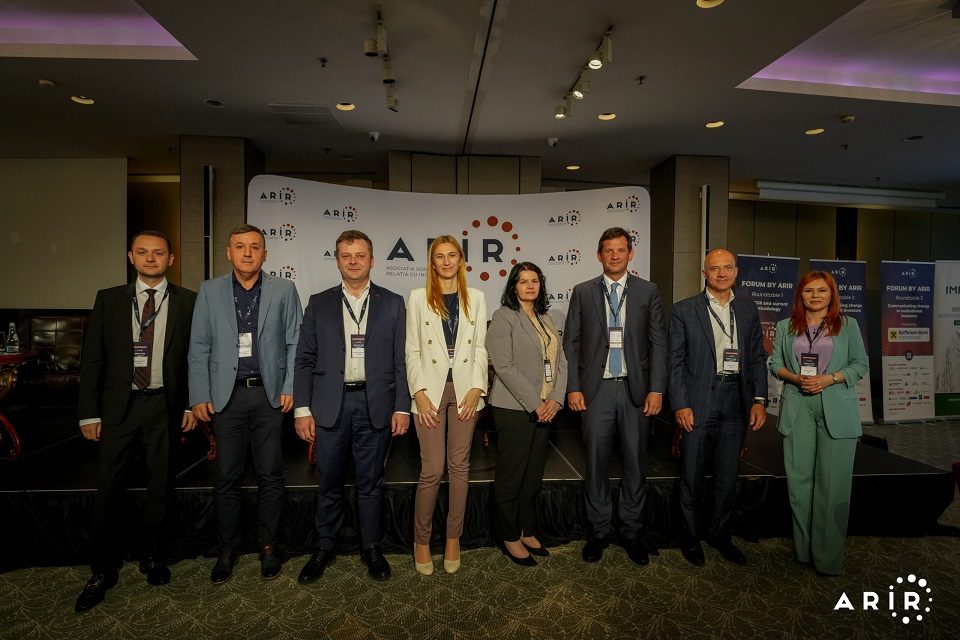 ARIR (Romanian Investor Relations Association), the promoter of the Investor Relations (IR) concept, organized the fifth edition of the Forum by ARIR. The topics of utmost interest discussed revolved around the individual and collective efforts of listed companies and of the Bucharest Stock Exchange to develop the capital market and foster business growth. Under the central theme "Romania's capital market joining forces. Aligned towards innovation," the event brought together over 30 speakers and 100 participants from the capital market and business environment.
Daniela Șerban, ARIR President, MD VERTIK Group:
"The representatives of over 30 listed companies gathered together, in the ARIR community. Liquidity and attracting new investors trends were the topics of interest, alongside a series of roundtable discussions involving institutional and individual investors, as well as international participants. We observe the growth potential of companies listed on the Bucharest Stock Exchange and we are ready to support it."
The main messages conveyed by the representatives of the companies listed on the Main Market regarding the topic "Innovation in troubled times. How we grow businesses through multiple crises " were:
Claudiu Cercel, Deputy CEO BRD: The future of the banking system is significantly influenced by technological trends and the transformations they bring. Examining the post-crisis period between 2008 and 2012, we can observe that there were several pioneers – early adopters of technology – who gained a long-term competitive advantage by adapting to these changes. Another crucial factor that will shape the evolution of the banking system in the future is the significant geopolitical opportunity that Romania possesses. We have access to considerable resources from the European Union and investors to take advantage of the relocation or shortening of value chains from other regions.
Adrian Tănase, CEO Bucharest Stock Exchange: In the near future, we have an extremely important listing ahead, which marks a significant event for the entire community. The listing of Hidroelectrica brings numerous implications, both directly affecting the liquidity of the stock exchange and in terms of the practical functioning of the largest company in Romania. This initiative will open new perspectives. We also have other important technology initiatives underway, such as the Central Counterparty project, which BVB is developing, and we hope to obtain its authorization and functionality in the near future.
Monica Ivan, CEO BRK Financial Group: Innovation is in BRK's DNA, and to succeed in this direction, we need courage. Our colleagues propose innovative projects, and we have a strategy until 2028, approved by shareholders, that focuses on process automation and we aim to achieve a nearly 100% digital environment. We are working on a large-scale project in collaboration with licensed external sources, namely a trading platform that will enable the listing of derivative financial instruments, ranging from international stocks to commodities and indices.
Alexandru Chiriță, CEO Electrica: Our future is connected to investment in green energy, a key focus in our strategy. To support these activities, we need to invest in our current operations. Human effort plays a crucial role in this regard. At Electrica, we aspire to implement technological solutions in all aspects of our company's activities, not just in the implementation of smart metering technology, but also in corporate governance and operational processes.
Alina Popa, CFO OMV Petrom: We are certain that the future is green, and the transition to eco-friendly solutions is absolutely essential. The more we focus on innovation, the more success we will achieve in future technologies, be it hydrogen, carbon capture, and storage technologies, or biofuels. It is crucial for these technologies to be economically viable, satisfying both our investors in terms of dividends, and bringing profitability to the company. We have made very clear promises to the capital market, committing to projects with a minimum of 9% return on investment. Hydrogen technology is not yet economically viable without non-reimbursable funds.
Alexandru Stânean, CEO TeraPlast:. One of our main objectives is to integrate an increasing amount of recycled materials into our products. We have the 5th largest capacity for recycling rigid PVC in Europe. We are committed to continuing on this path of using recycled materials as it reduces carbon footprint and, let's admit it, it is also a more cost-effective solution compared to traditional materials.
Cristinel Dobrotă, Deputy CEO Romcarbon: In our field, we face constant challenges, and innovation is a crucial component of our progress. For us, innovation also means the ability to anticipate future changes. It is important to note that we are under the Green Deal umbrella, with the objective of reducing carbon emissions by 2050. This will lead to significant changes in economic, professional, and household behavior.
Other topics of interest on the Forum's agenda:
Romania in OECD: estimation for accession within 5-7 years and the listing of at least 3 new companies;
Country IR: the success behind attracting a new class of investors for government securities, individual investors;
Upgrading Investor Relations: a greater focus on the proactivity of IR representatives;
Listing on the AeRO market: increased visibility for new companies with the potential for attracting funding.
The event brought together high-level representatives of Romania's capital market, representatives of listed companies, as well as representatives of the Government, the Financial Supervisory Authority (ASF), and the Bucharest Stock Exchange (BVB). The video recording of the event can be watched here.
The strategic partners of Forum by ARIR: the Bucharest Stock Exchange (ARIR founding member), Banca Transilvania (ARIR associate member), IMPACT Developer & Contractor (ARIR associate member), BRK Financial Group (ARIR associate member), Romcarbon (ARIR associate member), Nuclearelectrica (ARIR founding member), Antibiotice (ARIR associate member), and Mazars (ARIR affiliate member).
The main partners of the event: Raiffeisen Bank International, Transelectrica, Purcari Wineries, S&P Global.
***
About the Romanian Investor Relations Association (ARIR):
ARIR is the promoter of the Investor Relations (IR) concept in Romania and we believe that by following standards of transparency, corporate governance and proactivity in communicating with investors, our members will benefit from added value, attract funding more easily, have the reputation and trust necessary for the continued development of their business.
The Romanian Investor Relations Association – ARIR was founded at the initiative of Daniela Serban in November 2018 together with the founding members: Bucharest Stock Exchange (BVB), ALRO, Electromagnetica, Franklin Templeton Management – Bucharest, Hidroelectrica, Nuclearelectrica, Teraplast, Transelectrica and Tony Romani. The following companies have joined the community: Electrica, OMV Petrom, Antibiotice, Purcari, Idea Bank, BRK Financial Group, Banca Transilvania, Transgaz, MedLife, Romcarbon, Farmaceutica REMEDIA, Autonom, IMPACT Developer & Contractor, One United Properties, Transport Trade Services, Patria Bank, Connections Consult, BRD – Groupe Société Générale, Rompetrol and Agista as Associate Members. INNOVA Project Consulting, ENVISIA, RTPR, Mazars, Marsh Broker for Insurance – Reinsurance and Dentons became Affiliated Members.
---
Trending Now
You may also like