Entrepreneurship and financial education for a modern Romania
---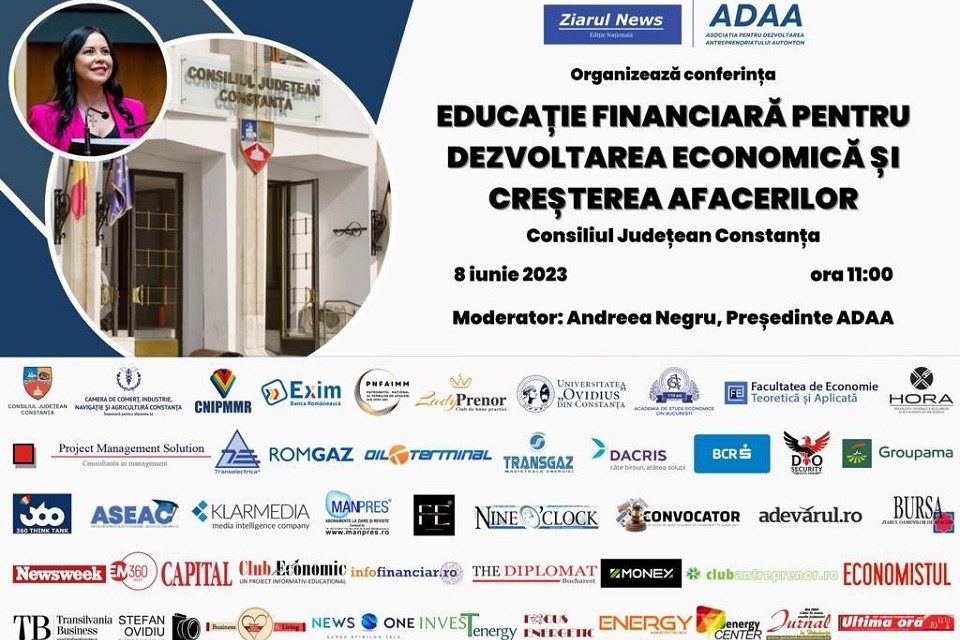 Entrepreneurship and financial education are two essential areas for the economic and social development of a country. An integrated approach to these aspects can help increase entrepreneurial skills and improve the management of personal and professional financial resources.
The Association for the Development of Local Entrepreneurship ADAA together with Ziarul NEWS started the national project "Financial Education for Economic Development and Business Growth" which promotes entrepreneurship and financial education. Started in Bucharest, the series of debates arrives in Constanța, on June 8, under the patronage of the Constanța County Council, with the Constanța Chamber of Commerce, Industry, Navigation and Agriculture as institutional partner.
The discussions are focused on solutions to support economic development based on the stimulation of entrepreneurship and the development of financial knowledge.
Andreea Negru, president of ADAA: "Entrepreneurs need financial education. By understanding financial concepts, they can avoid losses and increase the profitability of their business. Financial literacy helps them understand the financial concepts and tools needed to make informed decisions. Financial institutions and investors are looking for entrepreneurs who demonstrate solid understanding and skills in managing finances. The project started at the national level is a good opportunity to encourage the business environment to support financial education in order to have an integrated understanding of risks and to develop effective business growth strategies".
Started in Bucharest, the project continued in Brasov and Constanta, bringing together representatives of local public authorities, entrepreneurs, the academic environment, banking financial institutions, government institutions, employers' organizations, the press.
---
Trending Now