Leonardo Badea (BNR): Sustaining the increase of labor productivity in Romania
---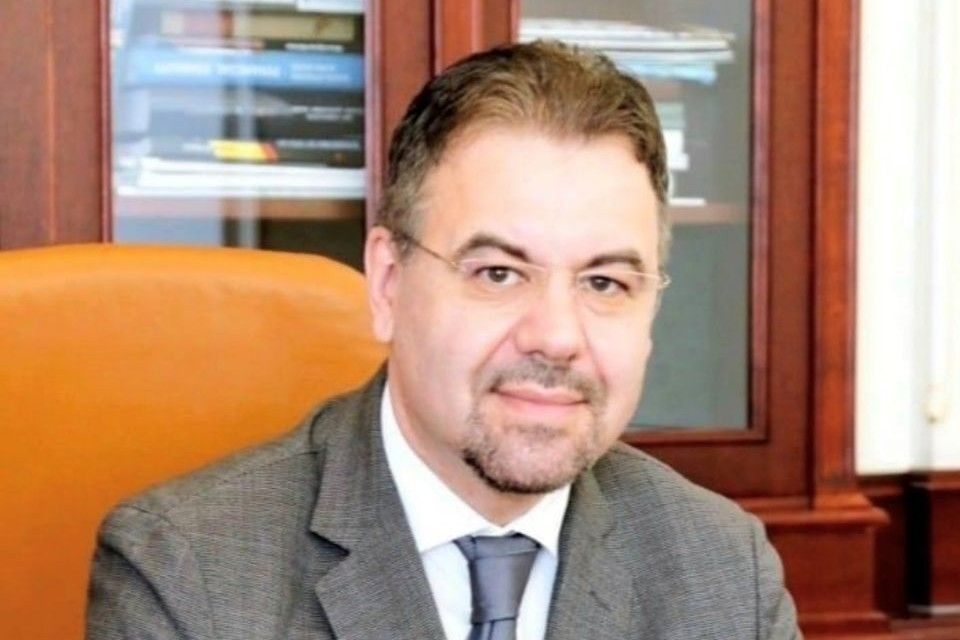 The numerous challenges and crises faced by the world's economies in recent years require a sustained effort to consolidate, increase their robustness, and adapt to new conditions.
Improved competitiveness is a vital component of sustainable economic development because it supports exports and the efficiency of internal market mechanisms, contributes to price stability, improves the financial results of companies by increasing their internal financing capacity and access to external financing, and it is a component in the wide panel of factors that facilitate the increase of income and purchasing power of employees, supporting their consumption. In fact, a higher level of productivity also leads to an increase in the competitiveness of the respective economy, with an important impact on macroeconomic balances.
Thus, a virtuous circle is closed at the level of the entire economy and at the level of society, because economic growth driven by increased efficiency generates additional resources, both for the private and for the public sector. These can be directed towards research, education, health, culture, public safety, with the effect of further increasing the level of technological capital and the well-being of employees, generating new premises for further increasing competitiveness.
Labor productivity is one of the important determinants of competitiveness (along with technological level, cost of financing, etc.), mainly influencing production costs, which allows companies to consolidate or gain market share by having cheaper products at a comparable level of quality relative to the competition.
At the global and European level, there is concern for continuing the increase in productivity, including in economically advanced countries and even more so in developing economies, as is the situation of Romania. From this perspective, Romania still ranks lower than the EU average, as we will see from the data presented below. At the same time, the stimulation of productivity and the development of human capital are among the objectives mentioned by the OECD in the process of Romania's accession to this organization.
In order to trigger and maintain a favorable dynamic of work productivity, it is necessary to first see what level we are starting from, what possible barriers need to be removed and by which measures this process of gradual and consistent accumulations can be maintained over long time horizons.
The Eurostat data processed and illustrated in Figure 1 below show that in 1995 Romania had the lowest level of hourly productivity in nominal terms expressed as a percentage of the European Union average, namely 23.7 percent. During the next 6 years, until 2001, the level of hourly productivity in Romania compared to the EU average even registered a slight decrease, reaching around 23.6 percent.
However, starting with 2002, an improvement in relative terms of productivity is visible in the data and on the graph below, probably also as an effect of the economic transformations supported by the programs from the pre-accession period to the European Union (PHARE, ISPA, etc.). These, together with the strengthening of the foundations of market economy, the opening of the economy to foreign investment, the import of technology and numerous other factors helped trigger an accelerated upward trend in productivity that continued for two decades. Thus, in the following 6 years, hourly productivity in Romania compared to the average of the European bloc doubled, reaching 47.6 percent in 2008 (one year after the official accession to the European Union). At the same time, over a 20-year horizon, labor productivity compared to the EU average increased three times, standing at 71.7 percent in 2022.
Also in Figure 1 we observe that in 1995 and even until 2001, the gap in terms of the level of hourly productivity compared to the EU average between Romania on the one hand and Bulgaria, the Czech Republic, Hungary and Poland, on the other hand, was very large. Since 2001, the accelerated and consistent pace of productivity growth registered in Romania, corroborated with some unfavorable developments in certain periods recorded by some of our neighbors, meant that in 2017 this gap had already been mostly recovered, and Romania's relatively better performance continued after this year. Thus, in 2022, the level of productivity in Romania was higher than those of Bulgaria and Poland, but also compared to Greece, Croatia, Latvia or Portugal, being also close to those of Hungary, Lithuania, Estonia, and Slovakia (according with the data of hourly productivity nominal terms, at purchasing power parity standard, as a percentage of EU-27 average, published by Eurostat).
Figure 1. Hourly productivity in nominal terms expressed as a percentage of the EU-27 average (at purchasing power parity, period 1995 – 2022)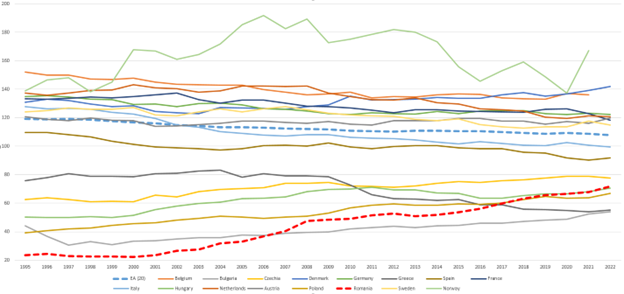 Source: Eurostat
The favorable dynamics of labor productivity in Romania is also highlighted by Figure 2 below, in which it is observed that over the entire 27 years for which Eurostat publishes this information, the increase in average hourly productivity in real terms in Romania was the second highest in the EU after that of Latvia, significantly higher than that of Poland, and at a considerable distance from those recorded by the Czech Republic, Hungary or Bulgaria.
Figure 2. Dynamics of hourly productivity in real terms (1995 = 100)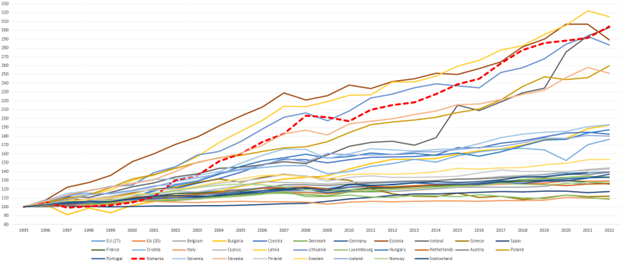 Source: Eurostat, own calculations
The above observations are also confirmed by corroboration with another relevant indicator for this field, namely the average productivity per employee, which increased in real terms in Romania by about 41 percent during the last 10 years (from 2012 to the end of last year ), the fastest rate among all member states of the European economic bloc, except Ireland. An accelerated growth trend but of a smaller magnitude is also observed in Poland (32.2 percent), while in Hungary and the Czech Republic the increases were 15.1 percent.
Figure 3. Variation of average productivity per employee, in real terms, in the last ten years (2022 vs 2012)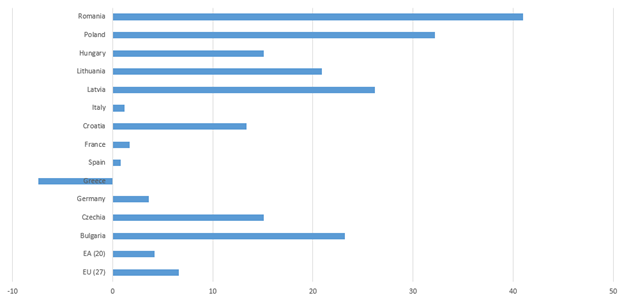 Source: Eurostat
In this context, it is interesting to note that the average number of hours worked per year by a Romanian employee (1808.2 hours in 2022) has not fluctuated much during the last 27 years and has remained somewhere in the middle range of values ​​recorded for the other EU states, taking for example the levels recorded last year in the case of Poland (2032.9 hours) or Greece (1989.9 hours), on the one hand, and the Czech Republic (1754.1 hours), Hungary (1699.5 hours) or Bulgaria (1618.7 hours), on the other hand.
Figure 4. Average number of hours worked per year by an employee (1995 – 2022)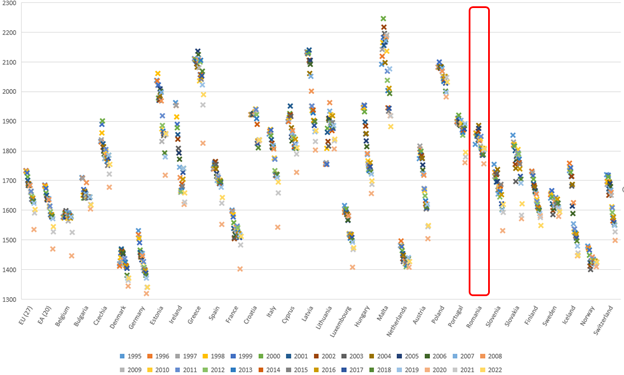 Source: Eurostat
The favorable developments presented above are remarkable for their dynamics, even if they relate to a very low initial base level. In fact, it is a remarkable performance the very fact that, starting from the lowest level in the EU and from a large gap in relation to the economies of the region, labor productivity in Romania is currently at around 71% of the EU average and stands at the same level or even a higher level in relation to many of the neighboring countries with which we frequently compare ourselves.
Personally, I believe that this performance is largely the merit of the efforts of the private sector as a whole, as well as of the legislative, institutional, and economic convergence programs and policies developed in Romania during the pre-accession process and after becoming a member state of the European Union. Foreign investments that have been attracted by the gradual improvement in business conditions over the past 20 years have also played an important role.
Further detailed analysis of the particular factors which influence labor productivity in Romania could be useful in country strategies aimed at economic growth. Until we have these data that allow us to draw more detailed practical conclusions, I think it is beneficial to try to review, from a theoretical point of view, various ways of increasing productivity, aiming at both institutional and private economy actions.
Several actions that governments can take to increase productivity can be identified, as follows:
Investments in education and workforce development: Education and training programs are constantly needed to help workers acquire new skills and keep abreast of changing technologies, because economic and workplace realities are in a continuous dynamic, and without a continuous effort of professional training and adapting the curricula of these programs to the latest trends, the workforce loses its productivity and adaptability.
Promoting innovation and entrepreneurship: I believe the era of tax incentives for foreign investors is coming to an end as there is, rightly, growing pressure for a fair approach and a level playing field within the economic ecosystem. Therefore, the stimulation key sectors must no longer be centered on tax facilities granted to companies or employees, but on the state's contribution to the development of the infrastructure (transport, telecommunications, energy systems, water networks and sewage) that companies use, on the financing of scientific research in priority areas, on creating and supporting the operation of business incubators and accelerators, supporting access to financing, strengthening the enforcement of laws on the protection of private property and intellectual property, etc. States can create opportunities for businesses, government agencies, and academic institutions to collaborate on research and development projects that can lead to innovation and increased productivity. All these lead to an endowment with superior technological capital, as well as better working conditions, stimulating productivity.
Updating and simplifying regulations: it is important to strengthen the reporting carried out by companies to eliminate redundant and burdensome reporting, along with simplifying legislative provisions that may be unclear or contradictory, which generates costs for companies with legal assistance, but also with losses following lawsuits. Regulations that support a more dynamic, but fair and inclusive labor market, combined with greater predictability and fiscal flexibility, play an important role in ensuring that companies have a workforce that is adapted to their needs and which they can retain. Complex benefit packages offered to the employees that include insurance and private pensions, health subscriptions, meal vouchers or other benefits required in the labor market must not represent an excessive burden from a legal, administrative, and fiscal point of view. Most entrepreneurs insist on simplifying the tax framework and increasing predictability, not so much on granting facilities. Digitalizing as much as possible all administrative processes (from obtaining approvals to establishing and paying taxes) is also very important.
From the perspective of the private sector, I believe that free entrepreneurial initiative is able to constantly stimulate the identification, testing, and adoption of solutions to increase labor productivity. Several important directions have been highlighted by the practice so far:
Technology continues to advance rapidly, and businesses that keep up with the latest developments are more likely to be productive. That is why it is important to adopt automation, use cloud services or implement artificial intelligence. At the same time, modern management and decision-making IT tools based on the analysis of large volumes of data available from public or professional sources, as well as real-time collection and interpretation of data on production technological processes must be used to identify areas where they can be optimized. This may involve tracking key performance indicators, customer feedback or other relevant data sets.
Reviewing, simplifying, and optimizing existing processes can help identify inefficiencies and streamline workflows by automating tasks, reducing administrative procedures or consolidating the steps of a process.
Investments in employee training are necessary to complement the basic training they have acquired through public programs, and concern for employee well-being has a positive impact on productivity. Employers can invest in wellness programs, flexible work arrangements or other initiatives mentioned above, as long as they do not create additional complications for companies from a tax and regulatory perspective.
The role of management and effective organization and communication between company structures is crucial. Setting clear and quantifiable goals and expectations can help employees stay focused and motivated, increasing their productivity. This may involve setting goals for individual employees or teams and periodically reviewing progress. Also, encouraging collaboration and teamwork can help stimulate new ideas and innovation.
Labor productivity remains a critical factor in stimulating economic growth and competitiveness in the face of overlapping crises and the structural changes they generate. Eurostat data show that in the last 20 years, Romania has enjoyed a remarkable dynamic of labor productivity in comparable terms at the European level and a consistent convergence towards the average values ​​of this economic community. As we continue to navigate the current challenges, it is important to constantly try to identify solutions to maintain this trend and further progress.
This brief analysis shows that although it has increased significantly during the last 20 years, Romania managed to reach comparable or higher levels of labor productivity only in relation to countries in the region, while remaining below the European Union average and below the OECD average. This gap shows that there is still much we need to improve in order to have a more robust economy which in turn supports a higher quality of life and continues to converge towards the European average. The challenge to further improve this process is all the more important as it is natural that as productivity growth progresses, its pace should diminish relative to the previous period (in a manner similar to the law of diminishing marginal returns). From this perspective, the establishment of the National Productivity Council can represent a significant support in our combined efforts to further improve productivity.
---
Trending Now