Constantin Mareș, DCEO Digital Division of OTP Bank: Banking sector has engaged in a digital transformation overhaul, as it became a main strategic priority in recent years
---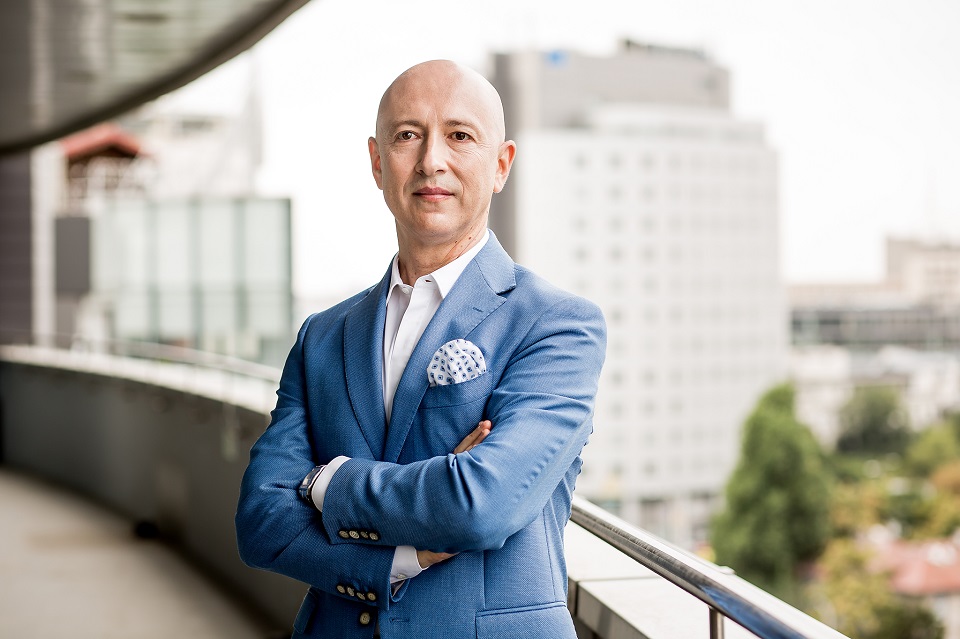 The investments needed in the banking system
Banking sector has engaged in a digital transformation overhaul, as it became a main strategic priority in recent years and has invested heavily to build all the digital development that now supports the way customers interact with the bank and carry out their banking business day by day. We witness a true change, a leap forward in technology and in customer approach, which will have to continue in a more focused way. Much of the infrastructure is in place, and future additional investments will be directed towards new digital platforms, customer relations systems and interaction.
Even more than until now, the digital development path will be guided by the way clients choose to move forward with their banking. In terms of volumes, the last three years show us that the use of digital channels has jumped from 20% to 50%, with a slight recent decrease, which shows part of the customers continues to visit the bank branches, alas not so frequently. That is why the priority lies in further diversifying the customer journey, the digital banking instruments and provide a full customer experience. To achieve this part, banks will continue to invest in developing internal capabilities, which have the potential to yield long-term benefits, such as acquiring expertise in risk modelling, sector depth, or product range.
One other important investment effort is about protecting the customer's data and its sensitive information. It will need substantial support, to put in place superior data security systems and secure any operational risks against the increase in cyber incidents, which is becoming a European wide concern.
At the same time, in certain areas, it may be more beneficial for a bank to obtain best-in-class products or capabilities from external sources and partners, which can complement their portfolio, resulting in a cost-effective and comprehensive solution for its clients.
How digital solutions and platforms help increase customer interaction and relationship development
There are several ways in which the use of digital platforms improves customer connection and relationships, which begins with the increased convenience of use that they bring. The customer may access its account and manage their finances at any time and from anywhere, which enables banks to communicate more frequently and engage more often.
Moreover, since the customer makes use of the services exactly how and where he wants to, digital platforms can gather information, interests, and particular requirements to produce a tailored banking offer. So, the relationship between the bank and client can be strengthened by this personalised experience, which can also boost customer loyalty and their activity. For instance, last year we had a 35% increase in the number of users for the SmartBank service (mobile banking), and a 45% increase in the total value of transaction volumes recorded on digital channels.
Then, there is the accessibility and security aspect. Customers can simply obtain information about their accounts, transactions, and financial products thanks to digital platforms, and make financially sound decisions because of this accessibility. It enables banks to offer superior customer care and support while making all their transactions and operations safe, because digital platforms include advanced security features, like multi-factor authentication, encryption, and fraud prevention. Overall, by delivering greater convenience, personalized experiences, improved communication, accessibility to information, and improved security, digital platforms can help banks expand relationship with clients.
The stage of development and digital transformation in which OTP Bank is. Plans for the next two years
The digital development progress has been quite fast in the last years and determined us to take a huge leap as well, as 44 key initiatives were delivered as part of our digital transformation, changing the customer experience, and increasing process effectiveness.
It represents a highly significant part of the bank's plan for regional growth, impacting the overall activity, and that is why more than a year ago we have established the new Digital Division, which leads the way and is in charge of bringing the digital environment and banking solutions of OTP Bank Romania closer to the customer. In this setting we have built and launched a full array of digital solutions, starting from the mobile banking apps platform, support chatbots, full digital payment solutions and all the way to online enrolment procedures or contracting loans entirely online.
Digital development is customer centric, so we have started putting a lot of effort into first improving the product portfolio, and customer experience and interaction. On top of our considerable 50 million lei yearly investments for digitalization, we have also attracted and started collaborations with specialized tech partners. We developed this at group level, through strategic partnerships like the one with SambaNova, aiming to build the fastest AI supercomputer in Europe, or the one with FLOWX.AI platform for our ecosystem transformation, and also locally, as we have become a partner of the Romanian Fintech Association. Next years will have to continue on this path of optimising customer journey and reshaping digital experiences, while the physical and operational frameworks will adapt to accommodate new capabilities and services.
How did OTP Bank transform itself to get here: organizational culture, profile of new employees, team growth, the opening of new generations to digital banking services, etc.
Digital transformation is important, but it is only a part of the organizational change, as it has no prospect of success in the absence of a context for transformation, which for the banking sector came mostly from the pandemic crisis effects and fintech increasing competition.
When the pandemic struck, we had already begun this change, and this context overlapped with our local development strategy plan, which included a company-wide culture change going beyond systems and new technologies. Cultural and mindset change is crucial in the digital revolution because it is a matter of technological adoption, which happens on many levels. These changes determine transformations and new needs, such as the requirement to develop employees' digital skills or gradually alter the profile that is sought after for employment.
We had a series of top management changes, a lot of new colleagues coming on board as we designed new teams and workflows, and our approach in managing all this was the new style of working that puts the employee in the centre, prioritizing communication and collaboration.
With all this dynamism, increased team autonomy and decision, this centric approach was the solution for the general mindset change and for getting rid of the culture of fear, a plague that affects operations everywhere. When employees are afraid to make mistakes, it prevents creative approaches and limits their ability to take innovative initiatives and learn.
After this great journey, we are not done. We are moving on to the next challenge, and we are planning further changes, which might generate tension and frustration, as any important change should. However, it is important to note that these changes also bring a high level of satisfaction as employees adapt and learn to utilize new systems and processes that improve their work and facilitate their professional development.
The level of digitization in local banking, the result of the last two years of investment in the evolution and growth of the online area of OTP Bank Romania. What innovations should we expect?
Although banks in Romania are rapidly becoming more digital, as they have improved the digitization of their processes and offerings, particularly in the areas of online, mobile, and electronic payments, there is a lot of room for new projects and improvement. OTP has gone through this process by first completely reinventing its IT infrastructure. Then, in a very fast pace we moved from old technical platforms that used to be common in the banking industry, to new technologies that have helped us to reduce the time needed for the development stage and constantly launch new banking instruments in the last years. Step by step we have furnished an entire portfolio of digital services that make whole our balanced digital and physical network approach.
As for the next years, to match the escalating customer demands, additional investment is still required in digital infrastructure, cybersecurity, and customer experience. We have this wonderful digital ecosystem which we want to build on, make it resilient and adaptable to the clients' needs change, so we will continue to invest in operational targets, in new banking products, in building a complete digital offer for local companies and most important, cybersecurity. In that matter, at group level we explore cutting-edge technologies like artificial intelligence (AI), machine learning (ML), autonomous databases, or cloud-based solutions.
Customer behaviour in the digital area analysed by customer segment: individual level, SMEs (their openness to online products and exclusively online operations), the approach from the corporate customer area
Individual customers' use of digital banking services has significantly increased in Romania in recent years, has been sped up by the pandemic and the trend towards digital adoption is expected to continue in the future. Our data for 2022 shows that the number of users of OTP Bank's SmartBank service has increased by 35%, and client's usage behaviour seems to ride the same wave, both for individuals and for companies. Consequently, individual clients that chose digital banking have done 96% of their transactions online, while companies reached 98%. It is a high level of digital activity, which we want to support and make even more seamless, first by further optimising the digital onboarding platforms and procedures.
The fintech area and the relationship with banks
This dynamic, between banks and fintech companies has been very complex and ever changing, as at first they considered each other as competitors. The reasons are obvious, but over time, we have seen that common grounds lead to collaborations that have brought wonderful and very well-built products and services to the market. OTP Bank has also seen this potential, to strengthen our digital services offer and customer experience, and at group level we have developed an acceleration program called OTP Bank Startup Booster. The initiative aims to encourage creative companies in the financial sector and assist them in expanding and scaling their operations. We see the potential here and we also develop local initiatives, one of the most important one in Romania being our partnership with RoFin.tech, the association that reunites 21 fintech start-ups that we want to work with and develop new financial technology solutions.
Innovation area – AI and RPA
Digital innovation has made its way into banking long before it was visible for the general public. At first, the change took place in the back office, dealing in automating and integrating numerous data and process flows, or internal apps. This was later translated in great digital payment solutions, in the easiness of opening a digital bank account or contracting an online credit, things that the client sees and appreciates. Now, the RPA integration has been a thing for some years, and it has been put to use especially on the digital client interaction channels. We believe further investments and developments are needed here, to increase efficiency of these channels, the efficiency of chatbots and all the conversational instruments we employ. A great deal of innovation will come from involving the collaboration of fintech's', developing these new technologies and involving AI in resolving the new banking challenges, as most main financial institutions see the benefits and invest heavily to advance it. We have done it through our partnership with SambaNova, for creating the most cutting-edge software, hardware, and solutions in the market to run applications for artificial intelligence.
---
Trending Now
You may also like