Transelectrica held bilateral meeting with officials of the Government of the Republic of Moldova for cooperation projects regarding energy interconnection
Posted On January 27, 2023
---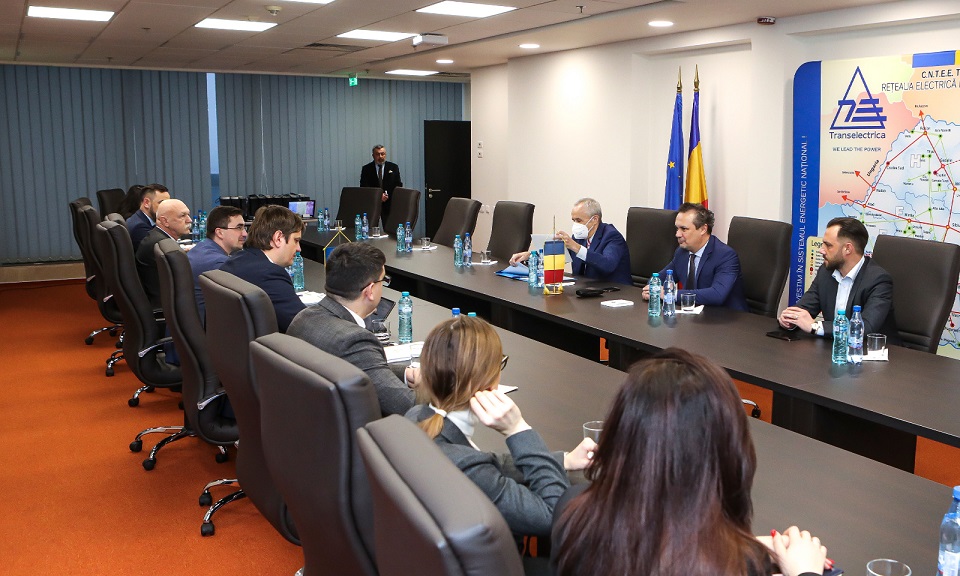 The National Electric Power Transmission Company Transelectrica SA received the official delegation from the Republic of Moldova, led by Andrei Spinu, the Deputy Prime Minister and Minister of Infrastructure and Regional Development, in a visit on the topic of strengthening collaboration in the energy field.
During the meeting, the analysis of the opportunity to expand OPCOM (Operator of the Romanian electricity and natural gas market), a subsidiary of CNTEE Transelectrica SA, on the electricity market of the Republic of Moldova was discussed, thus agreeing the following steps for OPCOM to become the electricity market operator in the Republic of Moldova. The discussions were attended by Gabriel Andronache, the president of the CNTEE Transelectrica SA Board, Bogdan Toncescu, a member of the Board, as well as Victor Ionescu, the general director of OPCOM.
The visit to the headquarters of CNTEE Transelectrica SA follows the discussions hosted on Wednesday, January 25, 2023, by the Ministry of Energy, regarding the development of energy cooperation between Romania and the Republic of Moldova through concrete projects.
The President of the Directorate Gabriel Andronache participated in the meeting at the Ministry of Energy, dedicated to energy interconnection projects, supporting the main bilateral priorities in terms of electricity transport. On the table of discussions with the Moldovan partners were the urgent solutions for the project of the 400 kV Overhead Power Line interconnecting Suceava (RO) – Bălți (MD), as well as the solutions for developing a new interconnection through a 400 kV line. These will be included in an update of the Memorandum of Understanding between the Government of Romania and the Government of the Republic of Moldova regarding the interconnection of energy systems (natural gas and electricity networks).
At the same time, among the subjects dealt with was the stage of integration of ÎS Moldelectrica within ENTSO-E, a process for which Transelectrica reaffirmed its support by providing the transmission and system operator from Moldova with the necessary expertise to fulfill the compliance steps.
The visit of the high-level delegation from the Republic of Moldova reconfirms the strong partnership and the support that Transelectrica is prepared to give to the neighboring state in the efforts to ensure energy security.
Alongside Deputy Prime Minister Spînu, the Moldovan delegation included Constantin Borosan, Secretary of State, Eliza Postolachi, Chief of Cabinet of the Deputy Prime Minister, Carolina Novac, Advisor to the Prime Minister, Victor Bînzari, Acting General Director of SA Energocom, Sergiu Aparatu, Acting Administrator SE Moldelectrica, Alexandru Săndulescu, EU High Councilor in the field of energy, Mihaela Manoli, Minister-counselor, and Roxana Samson, First Secretary.
---
Trending Now