Future of Organizations, the largest coaching and leadership conference in Southeast Europe takes place in March in Bucharest
Posted On January 16, 2023
---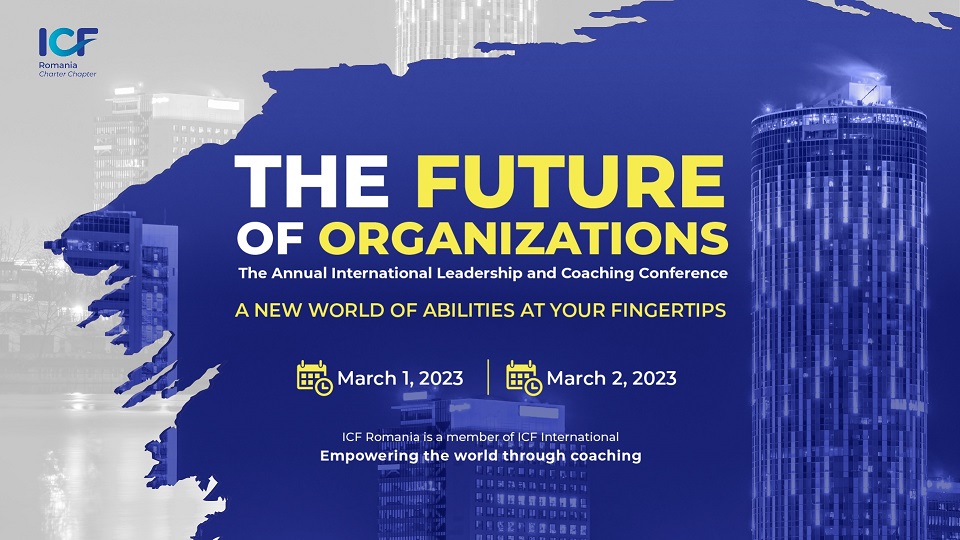 A quarter of the organizations in Romania use coaching services
70% of people who have benefited from coaching services have improved performance at work
35% of Romanian respondents declare that they have participated in coaching sessions
In Romania, coaching is popular among members of the Millenials generation, who are in the workforce
A quarter of the organizations in Romania use coaching services that help improve employees' communication skills, increase productivity at work, increase individual and team performance, as well as finding a balance between personal and professional life, shows an analysis carried out by the International Coaching Federation (ICF) Romania. According to the ICF, over 70% of people who have benefited from coaching services have improved performance at work, in relationships and more effective communication skills. 86% of organizations that have used coaching services believe they have return on investment from the process.
In addition, according to an extensive study recently carried out by ICF International, research that included 30 countries, including Romania, 35% of Romanian respondents declare that they have participated in coaching sessions, 86% of them being satisfied with the services offered, and another 61% stating that they would be interested in coaching.
Most organizations in Romania use coaching services to develop their employees' personal and professional skills, but also to improve their job performance. In the current context dominated by labor shortages, border war and inflation, organizations turn to such services as retention tools, to keep their best and talented employees in order to build solid businesses, on long term, because after all nothing can be done without good employees. Our studies show that there are significant improvements in the engagement and retention indicators of those companies that believe in coaching, says Madi Rădulescu, Vice-President of ICF Romania.
Future of Organizations, the largest coaching and leadership conference in Southeast Europe takes place in March in Bucharest
In the context in which the interest of organizations in coaching in Romania grows from year to year, ICF Romania organizes between March 1 and 2 in Bucharest, Future of Organizations, the largest coaching and leadership conference in South-Eastern Europe. Having as its main theme how organizations will have to adapt to the future, by developing new skills for its employees, the conference is addressed to the business environment, HR professionals, executive directors, coaching specialists, but also to anyone interested in coaching or who wants to explore new tools to improve their personal and professional skills. The Bucharest conference will bring together experts, coaches with extensive local and international experience.
In Romania, coaching is popular among members of the Millennials generation, who are in the workforce
Both women and men in Romania are equally interested in coaching. The differences become more visible when it comes to age or occupation. There is a much greater interest among active, working people who are part of the Millennials generation (25-42 years old), with almost 50% of those surveyed in the ICF study mentioning that they have participated in coaching sessions. However, most coaches are over 55 years old, followed by the 25-34 age group.
Four benefits of coaching that organizations in Romania must take into account
According to the ICF, coaching is a creative and stimulating thought process that inspires people to maximize their personal and professional potential. The goal of coaching is to unlock people's potential and maximize their own performance.
Effective coaching supports people to change their way of thinking and establish new strategies to deal with various challenges. Asking open-ended questions and encouraging clients' autonomy to take some reasonable risks will help build their self-confidence so that they can find alternative solutions to work and life problems.
In the presence of a quality relationship, people being coached will feel valued and involved because someone is giving their time and expertise to help them, in this case the person facilitating the coaching sessions. In addition, coaching helps people discover their own motivation.
The coaching market in Romania is approaching the threshold of 50 million euros, after annual increases of approximately 20%, according to the estimates of specialists in the field. However, the coaching market in Romania is far from the level of developed countries, which shows that there is great potential for growth. In addition, the pandemic and the war in Ukraine put pressure on managers and entrepreneurs, who, in this context, increasingly turned to coaching services.
About the International Coaching Federation
ICF is the global support network for professional coaching. Whether it is Life Coaching, Executive Coaching, Leadership Coaching or any other type of specialized coaching, ICF is at the forefront of the global community in promoting and developing the profession. ICF contributes to the economic and social development of the world by using the creative, thought-provoking process of coaching to maximize professional and personal potential. ICF builds, supports and maintains this growing field by providing local and international connections through a global network of professionals. ICF Romania aims to promote professional coaching and develop the community of ICF members in Romania.
---
Trending Now