How to save up to 35 percent on energy consumption this winter and enjoy the holidays
Posted On December 9, 2022
---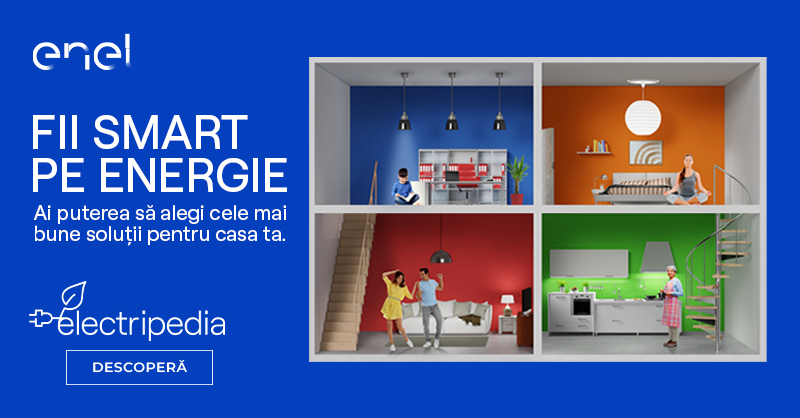 Whether we live in a studio or apartment block, or stay at home, there are multiple ways to use energy efficiently and keep costs under control, while maintaining the comfort we are used to. Even more so in December, when temperatures drop and electricity and gas consumption normally increases, and when we spend more time indoors and cook more.
10 simple ways to keep energy costs under control
We can apply a number of very simple and handy methods for everyone to immediately reduce energy consumption. Enel and Energy Policy Group (EPG) experts give the following advice:
1. Let's only use holiday decorations that contain LED bulbs, because they use six times less energy than incandescent ones;
2. To turn off all decorative lights when we are not at home or at night when we go to sleep. Let's disconnect, during the day, the lights from the Christmas tree;
3. To turn off the light bulbs when leaving the room, even if we plan to return in a few minutes;
4. Let's use the lids of the dishes while cooking. They conserve heat inside the container and help reduce cooking time as well as energy consumption by 10 percent;
5. When we cook and there are several people in the house, let's stop or reduce the heat, because the heat generated by the oven and the large number of people is enough to keep the temperature at an optimal level;
6. Start the dishwasher only when it is full;
7. To close the doors and windows of the rooms to prevent heat loss;
8. Let's not turn on the heat before airing the house. Airing should not exceed 15 minutes;
9. Let's use a smart thermostat or thermostatic valves to heat only the desired rooms, and in the rest of the rooms to maintain a minimum temperature;
10. Let's set the washing machine to a maximum of 30ºC to save up to 15 percent of energy consumption.
If we put these recommendations into practice around the winter holidays, we can save up to 35 percent of energy consumption.
How much energy does a Christmas tree light installation use?
During the holidays, we must pay more attention to various light installations, such as the one for the Christmas tree. A classic Christmas tree installation of 100 bulbs, with an average consumption of 0.45 watts per bulb, ends up consuming about 7 kWh per month. An installation with similar specifications (100 bulbs) but with LED bulbs will have a consumption of 0.0075 kWh. Using it for about five hours a day for a month, it will have a monthly consumption of just 1 kWh, say Enel and EPG experts.
Electripedia, the energy efficiency advice platform for all
Many more tips on how to consume energy intelligently, without giving up comfort, can be found on Electripedia, a platform with original content, generated by Enel with partners. Numerous useful information are published there about what we can do concretely to reduce energy waste, myths are dismantled, consumption scenarios based on real calculations are presented, all to respond to the need to be energy efficient. Based on the presented scenarios, a household can calculate which type and how many consumers to use in a certain period, for example if it aims to have a monthly electricity consumption of up to 100 kWh or 255 kWh, in order to benefit from measures to cap energy prices.
Home insulation, smart lighting, the type of heating plant to choose, along with accessories for smart home systems are just some of the concrete solutions that we find described in detail on Electripedia and that help us consume energy intelligently.
How to get billed for the actual energy consumption of a month?
Along with all the efficient consumption measures presented above, in order to keep energy costs under control it is also necessary to transmit the index monthly in the allocated period. We thus avoid the differences between the actual and estimated consumption in the absence of read indexes. To do this, we find out what the index transmission period is right from our invoice. Enel Energie and Enel Energie Muntenia customers can find this information on the competitive market invoice, on page 3. In this way, it will be possible to issue invoices that reflect the actual consumption of each consumer.
It is equally important to allow access to the meter to the representatives of the distribution operators, where the measuring device is located on the premises of the place of consumption.
How can you contact Enel suppliers?
All of Enel's operational activities in Romania are and will continue to be carried out normally, without affecting end customers who will continue to benefit from all the services and products they are used to.
We have at our disposal an entire digital ecosystem of interaction, designed to accompany us throughout the experience with the Enel companies. Thus, we can receive the electronic bill for electricity or natural gas, as soon as it has been issued: in the MyEnel application (which can be easily activated either online, on my.enel.ro, or by downloading it to your mobile phone from the App Store, Google Play and directly on Huawei phones), by email or by SMS, or we can choose to download the copy of the invoice here.
In MyEnel, we can also pay bills, register our index, or check our payment balance, among other useful functions. In addition, we also have access to a virtual assistant that offers support for several types of self-care operations that meet the most frequent requests: the current balance, confirming a payment, not receiving the invoice, activating the electronic invoice, how to obtain a copy of the invoice, zero balance certificate.
All Enel suppliers' contact details can be found here.
(P)
---
Trending Now