Telekom Mobile offers a 50-euro voucher to customers who choose any Unlimited subscription, from 7 euro/month
Posted On October 13, 2022
---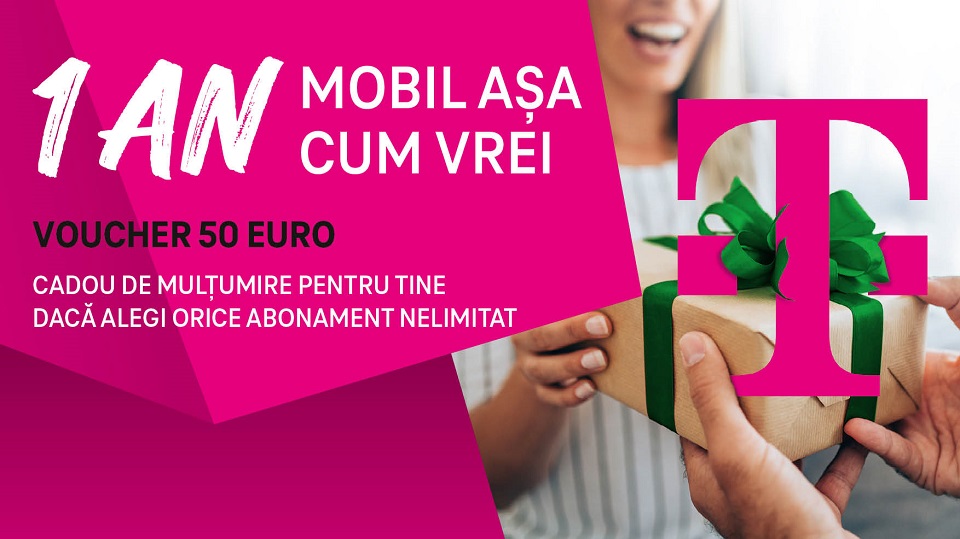 This autumn, Telekom Mobile is offering a 50-euro gift voucher (VAT included) to all customers, new or existing, individuals or residential, who choose one of the Unlimited mobile subscriptions starting at 7 euros/month (VAT included) or the internet portable Unlimited WiFi for 7 euros/month (VAT included) during the promotion period.
The voucher can be used in Telekom Mobile stores, in the next nine months, for the purchase of a smartphone together with a new subscription.
By porting to Telekom Mobile, customers can choose either the new T Phone smartphone or a Huawei Nova Y90, either included in Unlimited 14, subscription with unlimited national benefits and EEA roaming included all for 14 euros/month (VAT included) or they can opt either for the new T Phone Pro smartphone or for a Samsung Galaxy A33 5G, either included in the Unlimited 18 subscription, all for 18 euros/month (VAT included). The offers are valid both for existing customers (residential and business), who renew their subscription or purchase another one, as well as for those who transfer to Telekom Mobile a subscription from another network.
Since launching its new brand promise a year ago, Telekom Mobile has rewarded its customers' loyalty. Thus, when they renew their subscription or purchase another one, loyal customers can benefit from the same phone porting offers available to new customers.
At the same time, if they still want a subscription without a phone, individual customers benefit from a 1-euro discount (VAT included) on the monthly rate.
On the other hand, 100 percent of Telekom Mobile antennas are now upgraded to the 4G / 4G+ standard, providing an extended coverage of data services. In total, in the last year, network quality improvements were made in 1,200 localities, totalling 10.6 million inhabitants.
In addition, in August 2022, Telekom Mobile introduced VoLTE (4G) voice calls. As a result, customers can enjoy a better mobile voice experience and faster data transfer speeds.
Focus on providing a better customer experience: more than 80 percent of customers who have interacted with Telekom are very satisfied with the services received
Delivering on the promise of an improved experience also meant finding ways to resolve customer issues better and faster. "Feedback from our customers motivated us to persevere in creating the offers that Romanians appreciated so much and that made a relevant difference in the market for Telekom Mobile. Now, over 80 percent of customers who have interacted with us say that they are very satisfied with our services*", said Andreea Cramer, Chief Commercial Officer, Telekom Romania Mobile.
Telekom Mobile's customer support team collects and processes their feedback through the dedicated internal "Voice of the Customer" platform. The consultants in the call center call those who give negative feedback because of the interaction with Telekom Mobile, to resolve the reported situations. As a result, 75 percent of customers whose issues were resolved became promoters. The number of promoters – customers turned into supporters of Telekom Mobile – increased by 9 percent in September 2022 compared to the same period last year.
"This year involved a constant effort, made day by day, with consistency and dedication. All these achievements are a solid confirmation of the fact that Romanians appreciate honest offers, without hidden costs, but above all that they appreciate fair treatment", said Dina Tsybulskaya, CEO of Telekom Romania Mobile.
(P)
---
Trending Now