Yugo Neumorni, CIO Council: "Digitalization is an opportunity for any company to reduce costs, to become agile"
---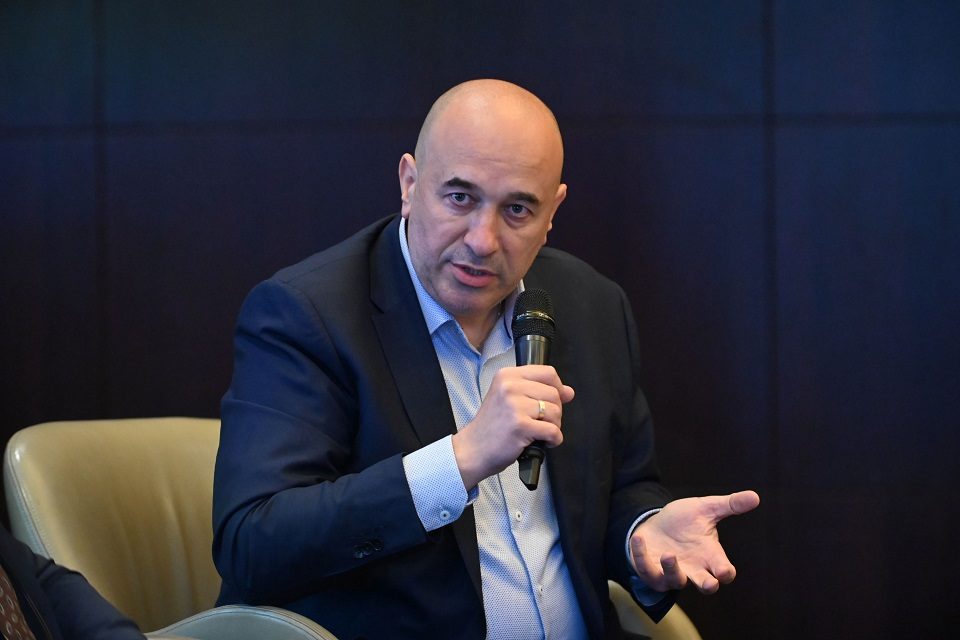 "We are in an extremely expansive period, of volatility. It's a sensational period from the perspective of digitalization, in the most serious way the world is digitalizing and sooner or later, this financial-banking sector, which is hard to say is conservative, is more regulated and then it is more insular, it is very clear that it is taking very big steps forward. What does that mean? That it goes after the client. If the customer is always with his nose in the phone, then the bank must always sit with its nose in the phone, if the client stays all the time on the internet, then the bank must also give up on any form of physical presence and go after the client. In other words, everything is digitalizing and even these institutions that are incorrectly named as conservative are going to the area of digitalization," Yugo Neumorni, President CIO Council said during Financial Forum 2022 organized by The Diplomat-Bucharest.
"If until now people in the market were talking somehow that financial and banking institutions have restrictions or constraints in moving to cloud services, in adopting cloud services, in adopting not necessarily BI services but, implicitly, these cloud services because the regulator prevents these things, that's not the case. All the European rules, the ECB and the BNR, force you to check very clearly where your data is going, and they are very welcome, but nowhere does it say that you cannot take your infrastructure to the cloud. And what we're seeing, at the CIO Council level, beyond our colleagues and what we're talking about, is that sooner or later, banks, along with other companies, including there's talk in energy that there are cloud restrictions, are going to adopt the cloud accelerated.
More and more banks are giving up on building data centres or data rooms because it's not their core business, and they're taking steps at least to carry out their disaster recovery, if not the non-core components, the testing-development environments in the cloud. And that's a sign that step by step, or maybe even accelerated, we're going to the digital zone.
I think the appetite for digitalization in Romania has increased a lot in the pandemic. The digitalization direction is clear. We have potential, we have human resources, I see that things are moving at the level of the authorities as well. We are good at copy-paste, we can take the Estonian model and adapt it to our needs and jump some stages.
People are talking everywhere about the lack of qualified personnel. That's a big problem and we know it. But there is, and that's a paradox, apropos of going in the direction of digitalization, we want to digitalize, but we don't have human resources. And it's not just about Romania, it's worldwide. Employees, from students to those aged 55-60, must be educated at least from the perspective of cyber-attacks. There's the so-called computer hygiene. It's an elementary, basic matter, not to click on a link that doesn't sound good. Unfortunately, we must make an effort and I know companies that have started doing mass training. Even if there are costs, they are lower than those of an attack.
Digital education, in order to be aware of what the cyber area means, is clear, but a digital education must be done in general and here the sky is the limit. It's our responsibility, as a society, it's the responsibility of the academy, the responsibility of the companies and the responsibility of the state, which must look at this phenomenon of education. Without large-scale education for the population, medium education, we're going to accelerate, we're going to bring artificial intelligence and all sorts of other metaverses and we're not going to know what to do with them.
As an energy company, as a banking company, as a listed company in the top 100 stock exchange, you must have a disaster recovery plan and a contingence plan that is made real, not on paper. Like now, honestly, they're done on paper. Maybe not in the banking area, but there are institutions with very high turnover that do not have a contingence plan.
Digitalization means adopting new trends. The banking area will also be debunked and will adopt cloud services, cybersecurity and so on more and more often.
The volume of data continues to grow very rapidly, it doubles to 1.3 years. Banks, now, and all companies in general, are sitting on a mountain of data that they don't use. That mountain of data is extremely valuable information to make business decisions, to understand your client's behaviour, to make the most informed decisions in satisfying your client's need. And they don't do that. The analytics area is still not well explored enough. Machine learning, artificial intelligence are some solutions that need to be adopted. Digitalization means adopting new trends, clearly set what the future should look like in 5 years. In principle, any company, especially in the financial-banking area, must be very careful, understand the mechanisms very well.
Education is very important, both digital and financial. Education in cybersecurity is absolutely essential.
Any crisis brings maximum tension, but it is an opportunity to somehow shake off all the ballast that has gathered and to put the economic environment back on another balance. Digitalization is an opportunity for any company, for the economic environment, to go through any form of crisis, to implement digital solutions, to reduce costs, to become agile."
Full recording of the conference: https://www.youtube.com/watch?v=8mKuoh09GM4
---
Trending Now