Orange, the first mobile network operator to include refurbished premium smartphones in its portfolio
---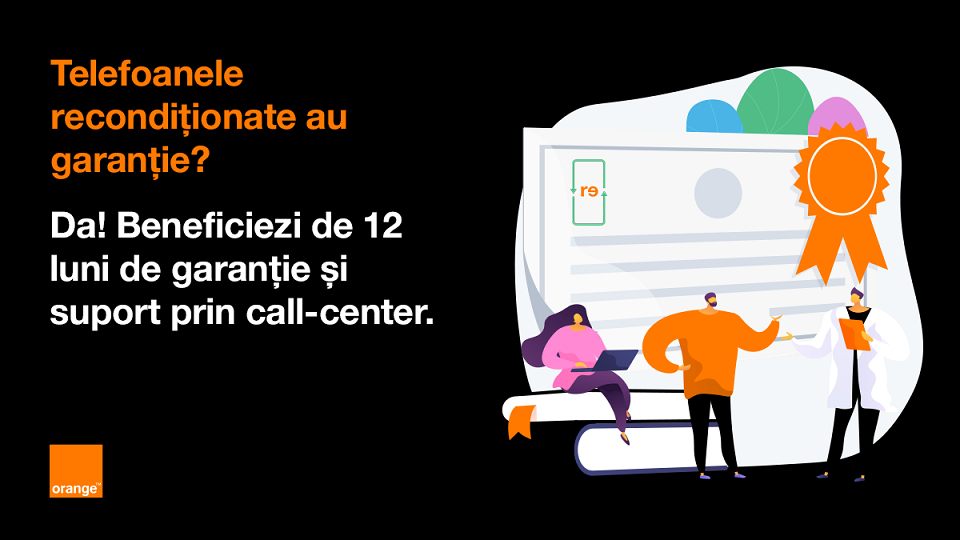 "Premium for me and for the nature" is the new campaign through which Orange and its new partner, Recommerce, offer the operator`s customers the opportunity to buy, exclusively online top, refurbished smartphones.
With attractive prices, the smartphones have a 12-month warranty, which ensures the user the comfort of a secure purchase.
The company thus aims to help reduce the impact of e-waste on the environment by increasing the portfolio of refurbished phones
Orange continues the series of green initiatives and emphasizes the business principles of a circular economy.
In a fast-changing context, consumers are increasingly looking for reliable products at better prices. Orange Romania launches a sustainable offer for customers to be able to purchase a premium smartphone, by expanding its portfolio of refurbished phones. After a careful, high standard reconditioning process, the smartphones are put back on sale, at a significantly reduced price compared to the new version of the same model. In other words, customers can buy the smartphone they always wanted of at a great price while helping to reduce the impact on the environment.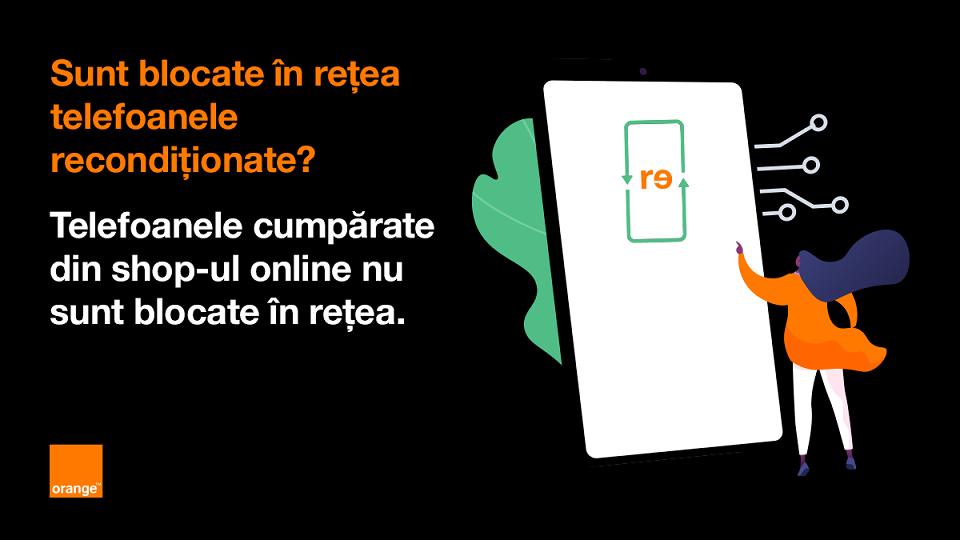 The "Premium for me and for the nature" campaign includes premium devices previously owned by other users, which have been refurbished and brought as close as possible to their original condition. "Diversifying our portfolio by including eco-friendly options is our contribution to a circular economy and responds to the need of customers to benefit from top phones at attractive prices. By choosing a refurbished phone, customers contribute to reducing the resources needed to create, transport and store a new phone ", says Pierre Etienne Cizeron, Chief Marketing Officer, Orange Romania.
For this campaign, Orange is in partnership with Recommerce, known for managing resource consumption by refurbishing devices and preparing them for safe use by new owners. "Romanian consumers are documented buyers when it comes to technological products, as they pay a great attention to quality, look at online reviews, scrutinize features, and compare prices. Our refurbished smartphones, which combine a perfect shape and working condition, as well as a 12-months warranty (but at a much lower price than a new device) consequently come as a very appealing option to smart buyers", said Grégoire Vigroux, Co-Founder, Recommerce Romania.
Refurbished smartphones, such as iPhone 8, iPhone Xs and iPhone XR are now available exclusively online, at prices starting from 9.5 euros/month. They can be purchased along with any Orange subscription from the Orange Online Shop.
What are the refurbished phones?
Refurbishing a smartphone consists of the process of bringing back a used product in a very good working condition, by cleaning, replacing and / or repairing the main components. The same process ensures that changes are made to the appearance of a product, so that the differences between it and a new phone are, if possible, imperceptible.
What are the advantages of buying such a phone instead of a new one?
• You benefit from a one-year warranty, in case you encounter operating difficulties;
• You enjoy an excellent quality-price ratio;
• You have the opportunity to buy your premium phone at a reasonable price.
• It is a gesture of responsibility towards the environment, as it reintroduces into circulation a used electronic device;
Orange`s "Premium for me and for the nature" campaign is available exclusively online, for all of the company`s customers and not only. More details about the available products can be found online. The campaign continues the series of initiatives through which Orange aims to encourage environmentally responsible behavior and promote the principles of the circular economy: Reconditioning, Buy-Back, Repair through Orange Service center, Recycling.
---
Trending Now
You may also like