CEZ in the top of Community Index, the only competition in Romania dedicated to projects that contribute to the development of local communities
---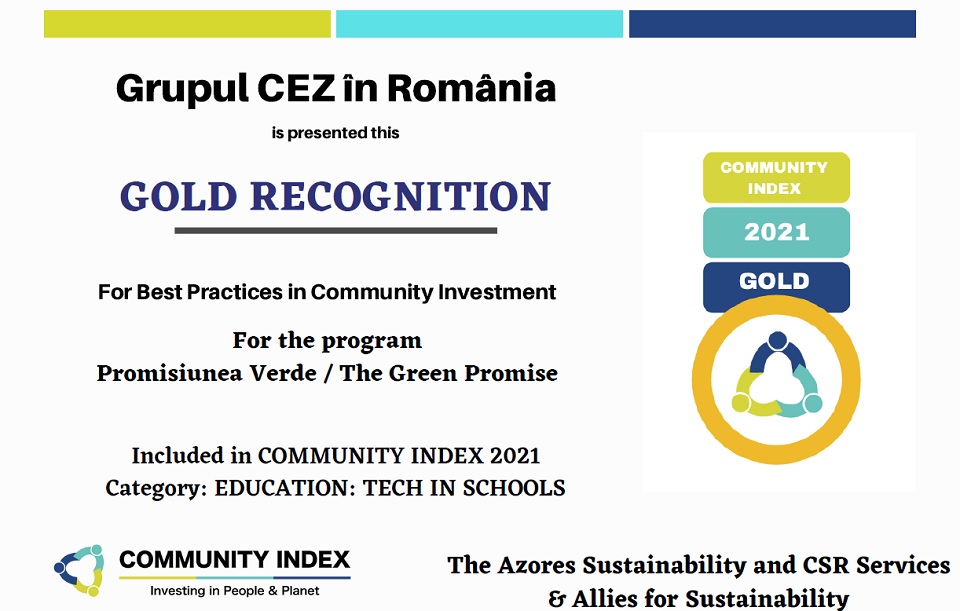 The campaign that connected the stakeholders to #energiepentrubine network in the fight against the pandemic, the 9 photovoltaic panel systems that brought innovation to high schools in Apprentice Electrician and beyond, the project that promotes some of the most valuable constructions in Oltenia and the platform which provided access to digital education for children from disadvantaged backgrounds – all have been awarded with Gold Recognition in the Community Index.
The projects obtained distinctions for the following categories: Emergency Relief COVID-19 – CEZ supplies its energy network for good; Sustainable cities – Photovoltaic panels at 9 high schools preparing # GenerationFuture; Art, Culture and Traditions – Cule in Lumina; Education: Technology in schools – The Green Promise.
"The year of 2020 has anchored us even more in reality, a fact proven by every initiative awarded for the impact brought to the community. We have implemented traditional projects or initiatives at the beginning of the road at a fast pace, in a different context, without losing our substance and optimism. I thank those who have made a good impression in these projects and I assure them that 2021 also reserves ambitious targets for us, " said Angelica Barbu, Communication & Marketing Director of CEZ Romania.
In 2020, the CEZ Group in Romania invested 4,175,898 lei in social responsibility projects dedicated to the beneficiaries from Argeș, Dolj, Gorj, Mehedinți, Vâlcea, Teleorman, Olt, Constanța, Caraș-Severin, Iași, Timiș.
The strategic directions of CSR (health and wellbeing, education, environment and local development) were complemented by constant actions aimed at supporting the local community and vulnerable groups to overcome the challenges of the pandemic.
The Community Index focuses on best practices and strategic projects that focus on issues such as stakeholder involvement or measuring medium and long-term impact.
The scorecard is based on three international references considered to be among the most important in the field: The Business for Societal Impact Framework (a global standard in measuring and managing corporate community investment), International Finance Corporation – Strategic Community Investment Guide and GRI Sustainability Reporting Standards (GRI Standards).
---
Trending Now
You may also like