Smart Hospital Technology: mastering the healthcare challenges of today and tomorrow
---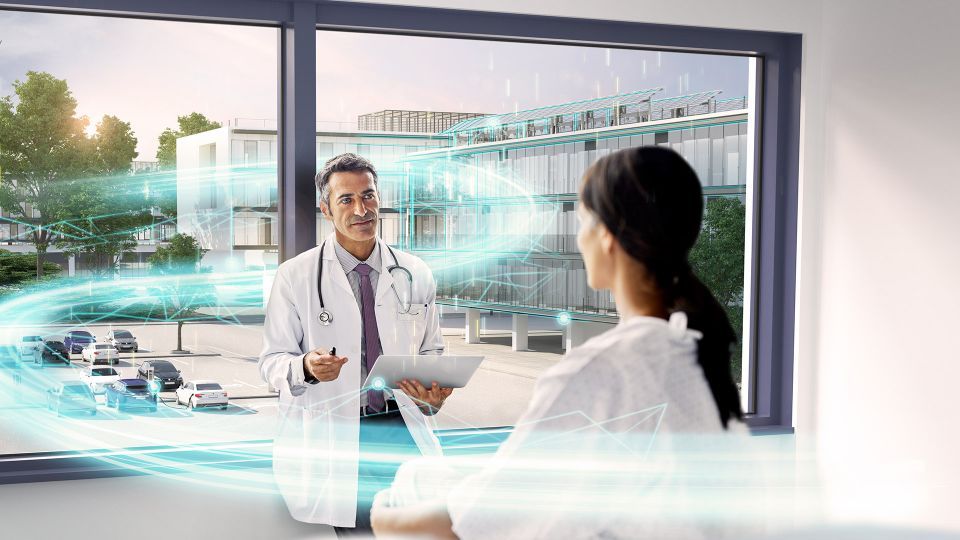 The reality of more than a year and a half showed us that the medical sector all over the world is the one that should be continously improved for being able to face the unexpected challenges like the COVID-19 pandemic. Furthermore, a wide range of external challenges such as ageing populations, public and political pressures points out the constantly growing demand for healthcare services. Also, patients have ever-increasing expectations about the safety and quality of healthcare treatments and services.
The transition to new normal is based on digitalization which requires smart solutions and services deployed in the long term. Also, the medical field is part of this comprehensive transformation process. To make this transfer and meet the current and future requirements of hospitals means to revolutionize them on a human, financial and operational level. Smart hospitals offer lower infection risks, enhanced security and improved air quality while at the same time improving patient satisfaction and optimizing staff and energy efficiency. An essential point is represented by smart infrastructure from Siemens that helps hospitals master this digital transformation by collecting, analyzing and making use of data. It provides both the hardware and software needed to get the most out of a hospital's infrastructure in order to create a safe environment that supports the entire healing process.
Smart answers to hospital challenges
By implementing smart solutions within the hospital, internal factors such as resource constraints, significant staff shortages and funding challenges will no longer be obstacles neither for the institution infrastructure or for the medical staff, being ensured optimum working conditions and sustainable a environment.
Smart hospital solutions focus on optimizing cost and energy efficiencies, improving patient outcomes, increasing staff productivity, complying with changing regulations, and implementing campus extensions. Therefore, smart infrastructure technology for hospitals will make work easier for hospital staff and will better support the patients' healing process.
Integrated smart hospital solutions
The holistic approach turns smart hospital solutions into the answer for mastering the healthcare challenges of today and tomorrow. Building environments that heal means using state of the art technology for improving both staff efficiency and the patient experience.
The staff workload in hospitals is enormous. Nurses spend an average of 72 minutes per shift searching for assets, coworkers and wandering patients. Real Time Location Services (RTLS) increase staff productivity by helping them track assets and coworkers, control patient throughput, and find wandering patients.
Making the work environment more comfortable is becoming an important factor as well. Desigo Total Room Automation (TRA) puts staff in control of their workspace with personalization options like access control, lighting adjustment, temperature setpoints and airflow via RFID key.
Energy consumption is the second major field of action. Hospitals consume about 2.5 times more energy than an average office building, while 40 percent of healthcare emissions come from electricity, gas, heating or cooling. Therefore, increasing energy efficiency is key to reducing costs and emissions. The Desigo CC integrated building management platform and Navigator provide transparency on consumption and help hospitals realize energy savings.
The hospital room plays a significant role in creating a healing environment that speeds up the patients recovery. Individual room control of building systems such as room temperature, lighting and shading is among the top 5 factors for improving patient satisfaction. Desigo Room Automation (DRA) allows patients to easily control all systems from one single unit. To make sure that patients do not catch new infections while in the hospital, pressurized rooms and isolation rooms are essential. Desigo pressurized room and fume hood control ensures that bacteria and viruses remain contained and do not spread within the hospital itself. This helps create a safe healing environment.
Whether someone is starting with new construction or existing infrastructure, Siemens can help them get started on the path to a smart hospital today as tomorrow is closer than we think. The era of the smart hospital has just begun.
More on: www.siemens.ro/spitale-inteligente  
(P)
---
Trending Now