The future of the European capital markets at ARIR Annual Forum
---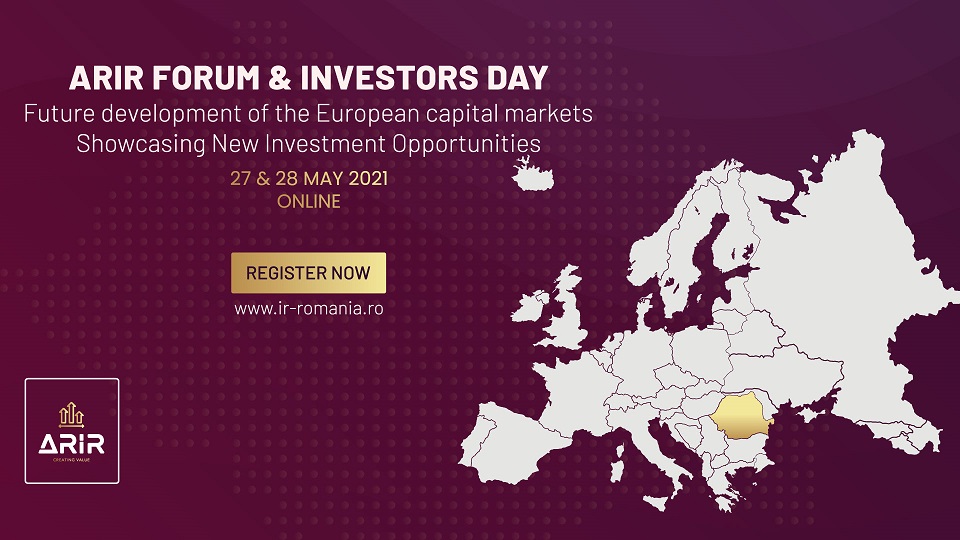 The Romanian Investors Relations Association (ARIR) organizes between 27th & 28th of May 2021, online, the third edition of ARIR Annual Forum. For the first time, the representatives of the European Commission and EuropeanIssuers are present at the event opening to convey directly from the source the regulation and development perspective of the European capital markets, implicitly for Romania. The representatives of the Financial Supervisory Authority and of the Bucharest Stock Exchange will present in detail the development strategy of the local market. In addition, the top management of the main listed companies, ARIR members, will join the discussion to share their business perspective and post-pandemic lessons.
For the first time, we plan to bring in front of the listed companies new investors, international and local ones, within a new concept – ARIR Investors Days. 6 listed companies, the Bucharest Stock Exchange, BRK Financial Group, MedLife, Purcari, Romcarbon and TeraPlast, will connect with medium-sized investors interested in new investment opportunities.
Daniela Șerban, ARIR President & Co-founder:
"Together with EuropeanIssuers, the European association of listed companies and national associations of which ARIR is a part of, we have initiated a national action plan to draw attention to the fact that many European companies will face difficult challenges in the next few years. Many of them are affected by financial imbalances and trade restrictions that threaten their very survival as a result of the restrictions imposed in the pandemic. Thus, we rely on the expertise and knowledge of one of the most important actors in Europe for a consistent dialogue with the European Commission and the national authorities to support maintaining a stable regulatory framework that allows for medium-long term planning, but also providing incentives for wider access to capital markets."
The event brings over 10 international and local speakers, representatives of institutions, top managers of the largest Romanian companies, experts in finance and European legislation who will address the future development of capital markets, trends and opportunities.
The following experts and company representatives confirmed their presence as speakers:
Tatyana Panova, Head of Capital Markets Union Unit la DG FISMA, Comisia Europeană
Gerrit Fey, Head of Capital Markets Department la Deutsches Aktieninstitut & Co-Head of the Capital Markets Union working group la EuropeanIssuers
Adrian Tănase, CEO Bucharest Stock Exchange
The representatives of the Romanian Financial Supervisory Authority
Alexandru Stânean, CEO TeraPlast
Alina Popa, CFO OMV Petrom
Corina Popescu, CEO Electrica
Eugen Comendant, COO Purcari
Marian Năstase, Chairman of the Board of Directors, ALRO
Mihaela Nădășan, Deputy CEO FI & Financial Markets, Banca Transilvania
Paul Ichim, CFO Nuclearelectrica
Adina Ardeleanu, Co-founder FinancialIntelligence.ro
Daniela Șerban, ARIR President & Co-founder
Register here ARIR Forum & Investors Days 2021 to join the event.
The strategic partners of AR&IR Forum are: Bucharest Stock Exchange (organizes and manages the regulated markets of financial instruments, ARIR Founding member) TeraPlast (parent company of TeraPlast Group, the largest Romanian producer of construction materials, ARIR Founding member), ALRO (one of the largest vertically integrated aluminum producers in Europe, by production capacity, ARIR Founding member), Purcari (one of the leading wine producers in CEE, ARIR Associate member).
ARIR Investors Days event is organized with the support of BRK Financial Group which will pre-validate the process.
Media partners are: Radio Romania Actualități, Financial Intelligence, Money, The Diplomat, JURIDICE.ro, IR Magazine, Bizis, România Durabilă, Club Economic, Economistul, Piața Financiară, The Romania Journal, Club Antreprenor.
Monitoring partners are Klarmedia, Issue Monitoring.
About Romanian Investors Relations Association (ARIR):
ARIR is a non-governmental and non-profit organization that was set-up to provide current and potential issuers a platform for the development of Investor Relations (IR) professionals and contribute to the implementation of best practices in investor communication and corporate governance. It was established in November 2018 and has as members listed companies, companies with potential to become listed companies, fund managers, IR professionals as well as consultants. The founding members are BVB, ALRO, Electromagnetica, Franklin Templeton Management – Bucharest Branch, Hidroelectrica, Nuclearelectrica, Teraplast, Transelectrica, Daniela Șerban, Cosmin Răduță and Tony Romani, while Electrica, OMV Petrom, Antibiotice, Idea Bank, BRK Financial Group, Banca Transilvania, Transgaz, Biofarm, MedLife and Romcarbon joined as Associate Members and INNOVA Project Consulting, ENVISIA, RTPR, Intercapital Invest, eVote and Mazars as Affiliate Members.
---
Trending Now
You may also like