The NOMINATIONS are OPEN for THE ENERGY CEO FORUM & AWARDS GALA, 2021!
---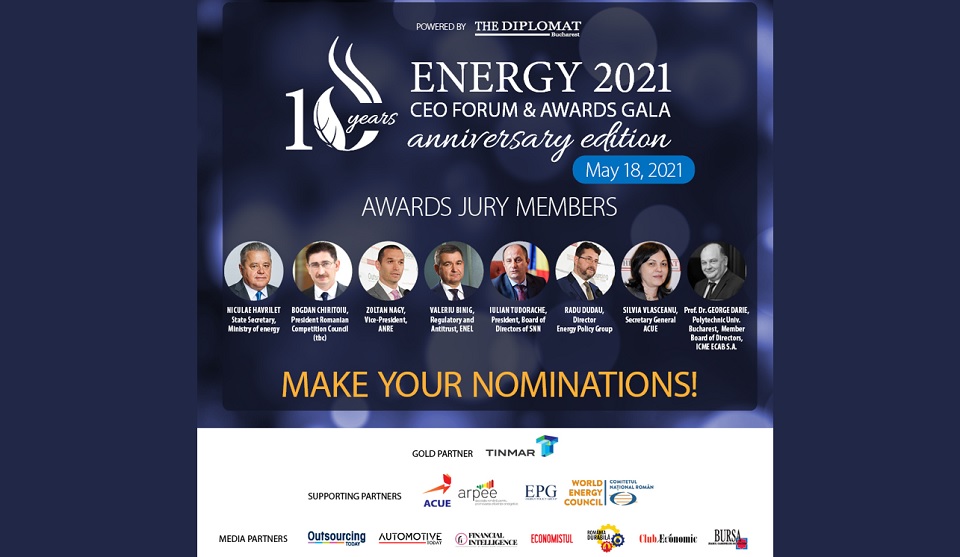 The NOMINATIONS are now OPEN for the 10th anniversary edition of THE ENERGY CEO FORUM & AWARDS GALA to take place on May 18th in a special event.
NOMINATE THE BRAND OF THE YEAR IN ENERGY HERE: NOMINATE THE BRAND OF THE YEAR IN ENERGY, 2021 Edition, May 18th! (google.com)
NOMINATE FOR GENERAL CATEGORIES HERE: NOMINATE FOR THE ENERGY AWARDS GALA, 10th Edition, May 18! (google.com)
THE LANDMARK EVENT in ENERGY SECTOR
Starting as an Awards reception in 2012, Diplomat Media Events developed the Awards Gala event into a more complex platform, featuring the energy industry's CEO FORUM followed by an AWARDS GALA to highlight the performance of Romanian energy firms, live streamed on the online platforms of the event and The Diplomat-Bucharest.
ENERGY CEO FORUM & 2021'S SPECIAL ANNIVERSARY EDITION acts as a dialogue and knowledge sharing information platform dedicated to leaders, companies and managers acting in the industry, with the aim of depicting the latest updates and the perspective of the energy sector.
The CEO Forum brings together the decision makers at the Governmental level and civil society and C-level business leaders in the energy sector. The Forum joins on the same stage senior figures, experts and the most knowns specialists in the field, to discuss some of the most pressing aspects of the industry today.
THE AWARDS GALA EVENT is a stage designed for knowledge sharing, voice expression and objective recognition of the performance proved by professionals and projects, while celebrating and raising the profile of your achievements. The Romanian Energy Awards recognizes the personal contribution and commitment of the most experimented individuals and the added-value projects in the energy industry in Romania.
AGENDA TIMELINE
15:00 – 15:45 WELCOME GUESTS & OFFICIAL OPENING
15:45 – 17:30 | CEO FORUM | THE 10 YEARS' PERSPECTIVE IN THE ENERGY SECTOR
The special anniversary edition of this section will highlight the Leaders' perspective for the energy sector in Romania, within a 10 years' horizon.
17:30 –17:45 Q&A
17:45 – 18:30 Networking cocktail
18:30 – 21:00 | ROMANIAN ENERGY AWARDS GALA
18.30 – 21.00 Awards Ceremony
Find more on the event here: Romanian Energy CEO Forum & Awards 2021 – power by The Diplomat Bucharest
---
Trending Now