Nestlé reports organic growth of 3.6 percent for 2020
Posted On February 18, 2021
---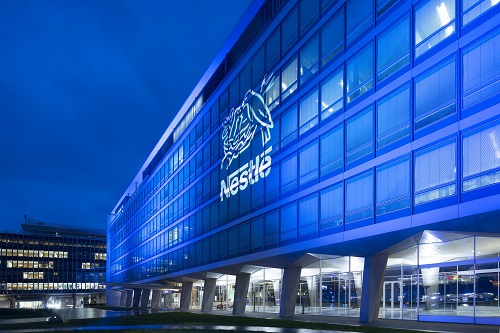 Nestlé, the largest food and beverage company in the world, announces financial results at group level for 2021, reporting an organic growth of 3.6 percent.
Foreign exchange reduced sales by 7.9 percent due to the continued appreciation of the Swiss franc against most currencies. Divestitures had a negative impact of 4.6 percent. As a result, total reported sales decreased by 8.9 percent to CHF 84.3 billion (2019: CHF 92.6 billion).
Underlying earnings per share increased by 3.5 percent in constant currency and decreased by 4.5 percent on a reported basis to CHF 4.21. Earnings per share stayed unchanged at CHF 4.30 on a reported basis. Free cash flow was CHF 10.2 billion. Return on invested capital increased by 240 basis points to 14.7 percent.
Board proposes a dividend increase of 5 centimes to CHF 2.75 per share, marking 26 consecutive years of dividend growth. In total, CHF 14.5 billion were returned to shareholders in 2020 through a combination of dividend and share buybacks.
Continued progress in portfolio management. Nestlé divested the Yinlu peanut milk and canned rice porridge businesses in China and agreed to sell its regional spring water brands, purified water business and beverage delivery service in the U.S. and Canada. Portfolio rotation since 2017 now amounts to around 18 percent of total 2017 sales.
2021 outlook: continued increase in organic sales growth towards a mid single-digit rate.
Mark Schneider, Nestlé CEO, commented:"2020 was a year of hardship for so many. Our nutrition expertise, digital capabilities, decentralized structure and innovation engine allowed us to adapt quickly to changing consumer behaviors and trends. We advanced our portfolio transformation, continued to build Nestlé Health Science into a nutrition powerhouse and expanded our presence in direct-to-consumer businesses. At the same time, we remained focused on sustainability and set out our path to achieve net zero greenhouse gas emissions by 2050. This journey is expected to support future growth and be earnings neutral – it will generate value for society and our shareholders".
Zone EMENA recorded its best organic growth in the last five years. Each region saw broad-based positive growth, with strong momentum in Russia, Germany, the United Kingdom and Israel. The Zone continued to see market share gains, led by pet food, portioned and soluble coffee, as well as vegetarian and plant-based food products. Organic growth reached 2.9 percent, with robust real internal growth (RIG) of 3.3 percent and pricing decreased by 0.4 percent.
In Romania, the financial results for 2020 were in line with those obtained globally, with an organic growth of 3.5 percent supported by the complexity of the portfolio on the local market. This allowed to compensate the negative evolution of the categories working in the out-of-home sector, but also of the investments made in 2020 in support of the local community – donations in money, equipment and food, measures to support HORECA partners.
"The year 2020 has been an unusual year for all of us, with unimaginable challenges at home and at work. Our main priorities were the health and safety of our people, while also accomplishing our company's mission to deliver high quality food to our customers, as well to support communities – the healthcare system, the frontline employees and families in need. In terms of business, the challenges came from all domains – making sure logistics and distribution run smoothly in the context of borders closing, ensuring necessary protective equipment for field employees, switching to work from home or smart working for the offices. We've managed to stay agile in front of challenges and succeeded in continuing our business almost completely as planned, with new product launches and investments in society, from a CSR perspective. Through an admirable solidarity of all our colleagues, retail strategic partners and suppliers, we adapted our strategy very quickly and we did our best to build sustainable business practices and strong partnerships. The resiliency of Nestlée business is given by our diverse portfolio, which allowed for offsetting the out-of-home drop, enabling a double digit growth in line with Z-EMENA results. In 2021 we will continue to invest in launching products and surprises for our 25th anniversary in Romania", stated Leszek Wacirz, Country Manager Nestlé România.
---
Trending Now