Camelia Ene, MOL Romania: "Our flagship project in 2020 was to further prepare ourselves for the electric revolution"
Posted On February 2, 2021
---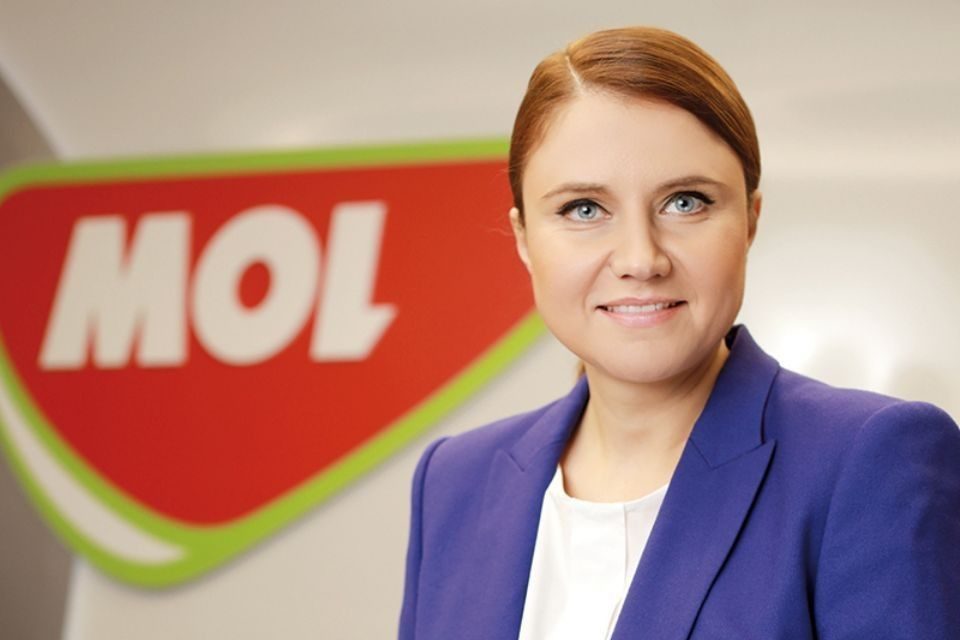 "Our vision for the next 10 years is that fuel stations will become integrated service stations for those who travel – whether we are talking about grocery shopping, coffee breaks or charging electric cars. The objective of MOL Group is to become the leader when it comes to EV charging services in Central and Eastern Europe, using our existing capabilities, financial means, and solid market position," Camelia Ene, CEO MOL Romania, told The Diplomat-Bucharest.
"In Romania, MOL has been investing since 2017 in the construction of an electric vehicle charging infrastructure under the brand MOL Plugee. Besides the investments from the company's own funds, MOL is also part of NEXT-E, a unique project whose purpose is to create the first interoperable and non-discriminatory EV charging network, as a viable alternative to the combustion engine vehicles."
What do you think will be the main business drivers for business growth in your company in 2021?
MOL has been an active player on the Romanian market for over 25 years, during which the company built one of the largest and strongest networks of service stations. Relying on a sustainable business model was key for the company's success along these years. More than any other period or event, the Coronavirus pandemic has shown us how important it is to rely on a strong and resilient business model. In our case, it made us able to quickly adapt to new and unexpected challenges. It also allowed us to take all necessary financial and operational measures to mitigate the impact of the crisis on our operations.
The Coronavirus pandemic changed our lives forever. But even before this event, it had become obvious that the oil and gas industry was in a process of transformation. MOL Group answered to this changing environment with the 2030 Strategy – Enter Tomorrow, adopted back in 2016. Through this strategy, the company vowed to deliver long-term growth and offer the financial community a best-in class investment case.
If we are talking exclusively about 2021, we forecast a return in fuel demand, as authorities lift travel restrictions. But if we look beyond 2021, on long term, we expect a fall in the regional fuel demand. From this perspective, one of the most important pillars of the MOL 2030 Enter Tomorrow strategy is to gradually diversify away from fuel production towards more Petchem feedstocks and higher value Petchem products, as well as increasing company's footprint in consumer services (rather than simply focusing on fuel retail) and to grow in the E-mobility business.
Also, on a medium and long term, we will be witnessing a paradigm shift in consumer trends. From this point of view, MOL aims to become one of the primary sources of mobility solutions and innovations in the region, and to branch out from commodity seller to service provider.
All of these will influence our growth engines, but it is important for us that we have the people and the skills to confront with whatever challenge the future may bring and to turn it into an advantage.
Will we assist to a Great Reset-oriented strategy in business or returning to business-as-usual?
Undoubtedly, this crisis will be a catalyst for change on all levels – economic, corporate, societal, and even personal – on a scale we have not seen for decades.
Beyond the short-term economic impact, the current medical crisis has accelerated trends that were already underway, especially in the digital segment. Particularly for us, this was a confirmation that the investments made at the level of the MOL Group and MOL Romania in the area of digitization in recent years have been the result of a correct strategy. Our investments in digitalization focus on two main pillars: streamlining internal processes and streamlining customer interaction.
As a relevant example in the area of ​​streamlining customer interaction, we can mention the launch shortly before the pandemic began of the MOL myISA mobile application, through which corporate customers can place and manage orders for the full range of wholesale petroleum products from anywhere and at any time.
In recent years, the evolution of the company was based on a massive focus on development, digitization, and efficiency. Thus, we continued to develop the logistics system, and in 2018 we inaugurated the first LPG terminal in Romania at Tileagd, an investment that followed two other major projects in the development of our logistics system – fuel warehouses in Giurgiu and Tileagd. At the same time, we continued to expand the network of stations nationwide, which has now reached over 240 units.
At MOL Romania we brought innovation and state-of-art technology to the next level in so many fields. We are ready to take things to a whole new level. In general lines, the development strategy of MOL Romania is focused on three main pillars that follow the strategy of MOL Group: Digitalization, Development and Diversification. At the same time, we set out to further develop our logistics system and network of service stations nationwide, while diversifying the products and services in our portfolio, so as to meet the ever-changing needs of our customers.
Customers who choose to fill their cars at our stations can enjoy the EVOTECH experience. The MOL EVOTECH formula is a package of additives included in the MOL EVO fuel recipe, available throughout the MOL Romania network. The additive package contains intelligent cleaning, anti-friction and anti-corrosion elements and ensures optimum fuel consumption, extended engine life and improved performance.
Over time, MOL Romania has introduced new retail concepts such as the Fresh Corner gastro concept launched in 2015, that addresses customers need for fresh food and freshly brewed coffee assortments. In December 2020, MOL Romania inaugurated a new service station in Bragadiru that incorporates a new concept – Fresh Corner Drive Thru. This allows customers always on the move to order their favourite coffee or hot dog faster and easier, while remaining comfortably in the car and saving time.
MOL Romania started investing since 2018 in the development of an electric vehicle charging network, under the MOL Plugee brand, within the European NEXT-E project, but also from own resources. Customers can already access electric car charging services at 21 MOL stations in Romania.
At the same time, clients have been beneficiaries of a wide variety of services and programs: MultiBonus loyalty program, car-wash services, money transfer, Ro and Hu toll payment options, used oil recycling service. MultiBonus is the first loyalty program on the oil & gas market, being launched in Romania in 2005. Due to its successful implementation, the program's loyal customers base increased by four over the time.
MOL Romania serves its customers through two fuel terminals in Giurgiu and Tileagd and an LPG terminal in Tileagd. Also, corporate clients involved in activities covering domestic and international travel benefit from a complete fuel cards portfolio, allowing them access to an extensive European acceptance network of 7,000 stations. Thus, they can easily control cost efficiency, safety, and fuel consumption. MOL Romania's offer for legal entities is completed by lubricants, bitumen, petrochemicals, and LPG.
What is the flag-ship project of 2020 in your company?
The flagship project of MOL Romania in 2020 was to further prepare ourselves for the electric revolution. Our vision for the next 10 years is that fuel stations will become integrated service stations for those who travel – whether we are talking about grocery shopping, coffee breaks or charging electric cars. The objective of MOL Group is to become the leader when it comes to EV charging services in Central and Eastern Europe, using our existing capabilities, financial means, and solid market position.
In Romania, MOL has been investing since 2017 in the construction of an electric vehicle charging infrastructure under the brand MOL Plugee. Besides the investments from the company's own funds, MOL is also part of NEXT-E, a unique project whose purpose is to create the first interoperable and non-discriminatory EV charging network, as a viable alternative to the combustion engine vehicles.
Under the NEXT-E project, 40 fast charging stations for EV are available in Romania, 21 of which implemented by MOL Romania and 19 by E.ON Romania. The stations are located on the main European road corridors in our country, on the routes: Suceava – Bacau – Călărași, Constanta – Bucharest – Timisoara and Iași – Tîrgu Mures – Alba Iulia.
What kind of workspace culture & values is to be consolidated in your company in 2021?
 A few years ago, we launched a Group program, Culture 2030. The aim was to align our organizational culture with our 2030 Strategy – Enter Tomorrow. Specifically, we realized that, in order to achieve our ambitious and unconventional strategy, we need the right people with the necessary skillset in order to implement the new plans and lead and sustain all the paradigm changes in our organization.
From our perspective, this crisis reconfirmed our company values:
– through our constant focus on our colleagues' health and safety, but also through our involvement in the community in this period, by helping with materials and equipment where needed
– through the demonstrated care and respect by taking the necessary measures of safety for their protection while interacting with us, but also by maintaining business continuity and remaining a reliable partner
– through the way in which the entire team reacted to this dramatic change in our lives and we managed to adapt with new solutions and ways of working
– through the responsible way in which we put at the center of all our actions our colleagues, our clients, and our communities.
We believe that overall, the crisis pointed to our innate ability to change, and to move away from prescribed approaches and standardized solutions. COVID-19 is a catalyst to reinvent the future of work and for companies to look at things differently.
If we see this period more than just a challenge, at the end of it we will be able to have a stronger business, based on a more resilient model, ready to meet and overcome new challenges.
In more specific terms, MOL Romania will do its best to be the customers' first choice by permanently adapting and improving its portfolio of products and services. We are aware that we cannot achieve this ambitious goal without our highly skilled and diverse team of professionals, whom we thank dearly for their commitment and hard work.
Last year has put us all to the test, through challenges never faced before, from the personal and professional points of view. 2021 will bring us many more challenges. We will face new consumer expectations, but we anticipate our colleagues to have, on their turn, new expectations from their leaders. More than ever, leaders are trusted to act as facilitators for change.
5. What is a manager's role and skills in order to maintain and enhance a team's cohesion?
Leaders play a critical role in any organization during a crisis. To be effective, they need to put employees at the center of their approach. Quality communication is critical during these times. Keeping teams well-informed on relevant updates and changes will reduce uncertainty and ensure leadership teams are visible and proactive.
Communication also involves listening to your employees to ensure they know they are valued. Organizations can do this by gathering and analysing real-time feedback from employees on their work experience in the current circumstances, such as sensing whether employees feel safe and supported, whether they have what they need, and to take actions quickly so employees can be productive and engaged. Regular check-ins with the team, not just on work but on how they are feeling, will go a long way in managing employee concerns and anxieties.
Employees need to feel that their leaders are empathetic about the new challenges many are facing such as juggling career, family, and household duties.
Managers play an important role in creating a sense of community. Instead of falling into the trap of micromanagement, leaders must empower their teams while still being available for support.
Leaders must make sure that their team members feel valued and keep in focus diversity and inclusion. There will be for sure diversity through the mixed teams working partially from home, partially from the office, but leaders need to remain inclusive even though a team member works from home due to being in the risk category for health or age reasons or due to the children at home. It is important that the leader sends signals that there is one team where each member is equally important.
It is fair to say that the pandemic changed forever the role of leaders in organizations. The leaders are now required to act, more than ever, as change facilitators and role models in the new context generated by the pandemic. Leaders must have the power and the skills to adapt the teams to a wave of new requirements and it is up to them to turn these challenging times into opportunities for further growth and success.
What kind of skills and capabilities need to be improved in your company / team in 2021?
Our Group program, Culture 2030 was the instrument we used to bring our organizational culture in line with our business Strategy for 2030. It helped us better shape our team of skilled and passionate professionals. The employees are one of the pillars on which we build further success, and I am proud to say that MOL Group and MOL Romania have the resources but, most importantly, have the right people in their team. Together we can achieve success and we are on the good track to turn MOL into customer's first option.
The Coronavirus pandemic has been a challenging period for all the teams. We had to rapidly adapt and address sensitive topics like work from home, flexiwork, childcare responsibilities etc.
However, our main concern was related to the healthcare and wellbeing of our employees, while staying true to our organizational values, the care for our people being the first of them. This will remain the focus in 2021 as well.
On another note, the new pandemic context has created a lot of discussion around the need for our workplace to be more inclusive than ever. For us, it's very important to foster a culture of diversity, listening, sharing, and learning across our workforce of four generations from 32 nationalities, working in 30 countries.
In term of general business & teams' core-values, which are your 3 power words for 2021?
Our power words and also part of the core pillars of our growth strategy are the colleagues, customers, and the community.
Our colleagues from MOL Romania have been the professionals without whom the company could not have delivered solid results every year. We will continue to invest in training programs for sustainable development and thus we hope to maintain our solid and motivated team of professionals.
When we think about our customers, the goal is to keep up with innovation and make sure we are their first choice when they are on the move.
Our development would never be complete without the community. MOL Romania is not only an important economic actor and a serious employer, but it has also been a reliable partner of communities for more than a quarter of a century. MOL Romania has been involved in social responsibility projects that meet real needs of society in key areas, such as health, education, sport, culture, and the environment. Many of these are pioneering projects in the local market, take place annually and have become a tradition.
During the pandemic, we joined forces with the Daruieste Viata Association in the fight against COVID-19, supporting the association with 400,000 Euros. Part of the funds went to the purchase of protective equipment and medical equipment for hospitals in the country, and another part is allocated to cover the costs of building the Modular Hospital 1 Elias, for the treatment of patients with COVID-19. We also donated equipment of about 100,000 euros of the hospitals from Sfântu Gheorghe, Miercurea Ciuc and Odorheiu Secuiesc.
---
Trending Now