Veronica Rossi, Sustainability Manager, Lavazza Group: "It's crucial to help coffee farmers become resilient to climate change"
Posted On December 11, 2020
---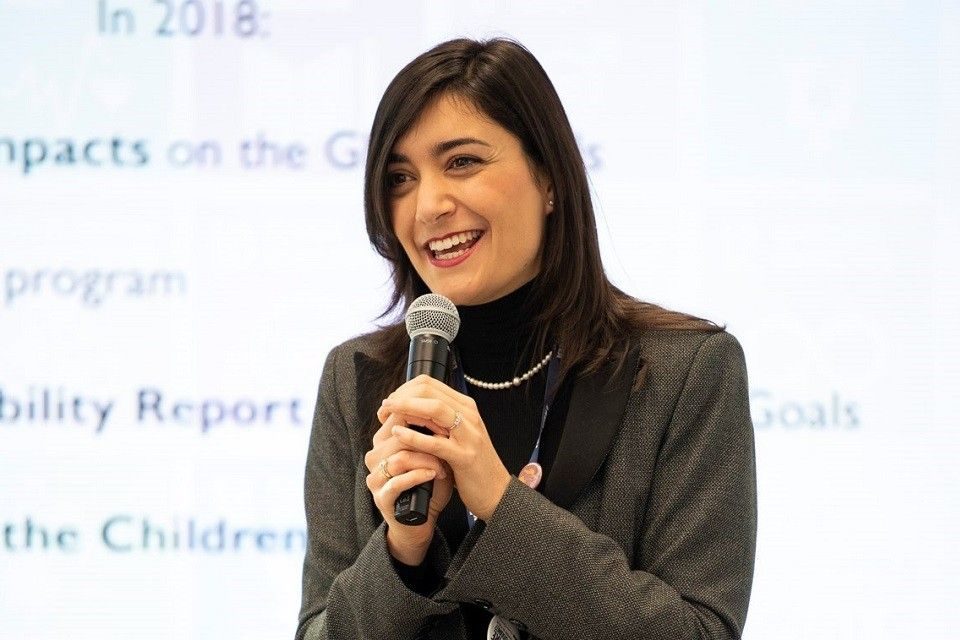 For Lavazza, 2019 marked the end of a very challenging decade: ten years ago, it was an Italian company that was looking towards international markets, while earning more than 60% of its revenues in Italy. Today, Lavazza is a global Group that has doubled its turnover and consolidated its presence on international markets, the source of most of its sales.
Once a single-brand company, Lavazza now has four important coffee brands and a workforce of over 4,000.
To prepare for challenges such as climate change, which is threatening coffee plantations and coffee-growers, Lavazza has identified four pillars of sustainability that are a priority for the company: gender equality, decent work and economic growth, responsible consumption and production, and climate action.
In 2019, Lavazza placed 38th in the RepTrak ranking, which measures companies' global reputations, while in the same study focused on corporate responsibility it ranked among the top ten companies worldwide, the number-one in Italy and the number-one in the world's food sector.
The Diplomat-Bucharest talked to Veronica Rossi, Sustainability Manager, Lavazza Group to find out more about the company goals and its sustainability projects.
What are the sustainability and CSR projects that the Lavazza brand is currently supporting?
In the last years we structured our approach to CSR and we created a department with different units. We work on different projects on two big levels. One refers to the projects for the company or done by the company and it's mainly about the production of coffee. It concerns the use of energy, the use of resources and the right policies for suppliers. And we also have the projects led by the Lavazza foundation and I am part of the Lavazza Foundation management too.
The foundation has been established in 2004. Today we have 24 ongoing projects in 17 countries. They are all focusing on working together with coffee communities to have coffee which is sustainable.
Coffee can last only if communities are happy to produce it and if nature around it is happy to support it. When I say sustainable coffee, I mean coffee which is profitable, a good opportunity for communities and a coffee which is resilient to climate change. This has become a very big issue in the last 5-10 years because coffee is really fragile. One night of freezing temperatures or long exposure to sun can ruin the crops of coffee for that year. The climate change plan is now really high on the agenda of sustainability for coffee. What we are trying to do is to work together with communities and train them in becoming resilient to climate change.
It's really one pillar for us to work with them and local NGOs on training of farmers. The main actions that we finance as Lavazza Foundation is training on good agricultural practices. One focus of this system of smart agriculture that we promote is to apply simple agricultural techniques that they can use in their daily lives. It's crucial to help coffee farmers become resilient to climate change.
Why is sustainability an important element in Lavazza's strategy?
It's important because it's a part of the message that a company needs to send and the values of a company needs to show to all the stakeholders. You really need to respond to the expectations of all who are part of your value chain, from farmers to consumers passing through employees. Business practice today needs to go hand in hand with sustainability. Sustainability is an investment, it's part of our strategic pillars, it's not marketing, it's not communication or procurement. You are out of the market if you don't have CSR as one of your propositions to consumers. We do projects with public donors or other companies to leverage the money that we put in. For example, we have a project in Ethiopia where we invest 100,000 Euro per year but this amount is doubled by banks, other companies. For this year, total investments for sustainability projects reach around 15 million Euro, most of them linked to Covid-19 emergency.
What sustainability projects is Lavazza preparing for 2021?
We have two big challenges or opportunities for next year. First of all, we will communicate our path to carbon neutrality. We have started building a plan toward carbon neutrality by 2030 and we will reveal our next steps. If we look at the Foundation, we work always on a multi-year basis. We don't finance a project for one year and that's it. We always work with a minimum of three years commitment and we usually renew for 6-years projects. Next year we will confirm the majority of projects already in place in 2020, so we will have 24 projects in 17 countries. If we add the 'Covid-19 relief' projects we reach a total of 34 projects this year. We worked mainly on food security relief and health support.
What were the lessons you have learned this year and how did Lavazza's projects adapt to this pandemic?
Resilience is one of the most important lessons. Resilience for farmers is one of the pillars of sustainability. Resilience to climate change is one of the main issues we are trying to face. Interconnection is another lesson learned for everybody. It's no more us and them, north and south of the world. We are all interconnected and we all suffered during the lockdown. We need to stop acting like individuals and we need to work together in a better way. We really believe in partnerships and that you cannot go alone.
---
Trending Now