---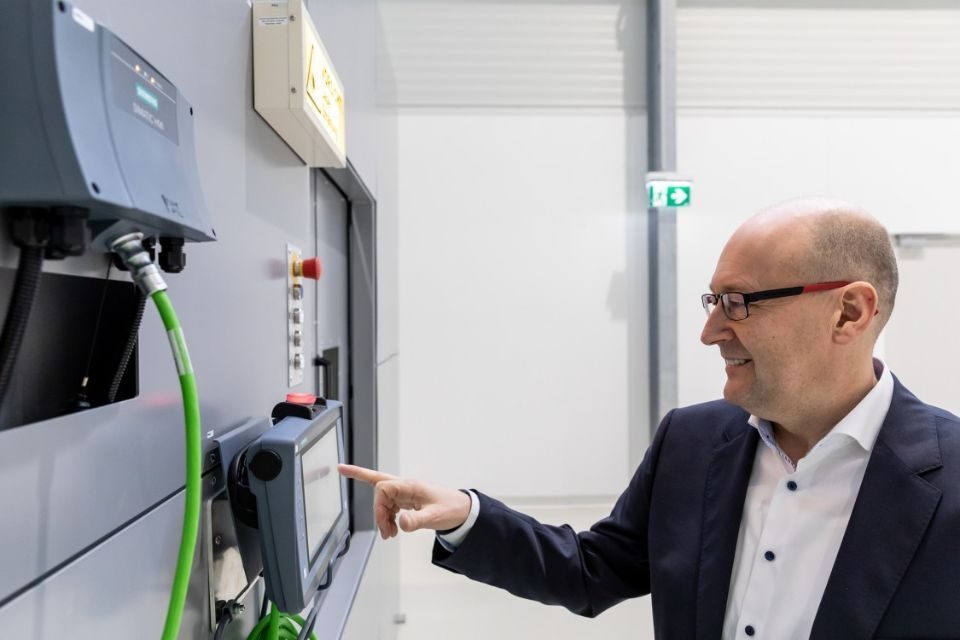 Want to get better solutions onto the market faster and be even more competitive as a result? "Digitalization can make it possible," says Siegfried Altmann, CEO of Rosendahl Nextrom, the global supplier of battery, cable and wire, and optical fiber manufacturing technologies. The company uses digital twins to simulate new ideas and workflows in virtual space – launching it ahead of its competitors.
Digitalization lets Rosendahl Nextrom turn new ideas into reality, Altmann observes. In its Battery Machines Business Unit, Rosendahl Nextrom produces machines that "achieve a totally new level of output, quality, and performance."
The new machines used in manufacturing lithium-ion batteries are now a matrix of manufacturing cells rather than a series of interlinked plants. The individual process stages are separately automated, and automatic guided vehicles (AGVs) supply the cells with raw materials and semi-finished products. This means that they can flexibly increase and decrease their production capacities and so respond extremely quickly to changing market requirements. That's an important factor in the field of battery manufacture, due to the boom in electromobility and the rapidly growing demand for lithium-ion batteries.
Much more efficient development process
The time it takes to produce battery machines is also a lot shorter. "Simulation lets us skip whole stages in the development and manufacturing process and takes us to the desired result much faster," Altmann notes. "We've succeeded in producing an entirely new generation of products within 12 months, whereas it would have required 18 months to two years in the past."
Simulation saves on prototyping
Of course, customers are very happy to be able to put new machines into operation more swiftly. They also like being able to see and "walk through" their future machine in virtual space and incorporate any special requirements in the process – without having to tweak the prototype later or make improvements at the time of commissioning.
In Altmann's view, the customers' enthusiasm has already impacted the developers. "If we generate added value for the customer, our development teams pick up on that enthusiasm and take it with them," says Altmann.
Thanks to digitalization, the way the employees work together is totally different now across many different disciplines and fields of expertise, Altmann affirms. "The simulation process means that tasks are perceived more as a whole – and that helps our team generate unique solutions."
Putting false beliefs to rest
But there are still potentials awaiting discovery in traditional lead-acid batteries, thanks to the digital twin. "For 30 years, the industry believed that the physical limits were reached once the lead terminals of a lead-acid battery were cast on," Altmann explains. "But simulating the entire process helped overcome the limitations of lead casting and creates a much higher-quality product with 25 percent more output."
More efficient engineering
Guido Bom is a mechanical engineer working in the R&D department of the Battery Machines Business Unit at Rosendahl Nextrom. He uses the NX interactive CAD/CAM/CAE system and Mechatronics Concept Designer (MCD) to develop and refine machines and plant. "In the past, machines first had to be built if we wanted to add new processes," he comments. "When it was time for commissioning, we had to test to see if the machine worked as planned. In most cases, that required a month to six weeks to incorporate the necessary improvements. We can save that time now."
"To increase the cycle time of our BMR 10 enveloper from 140 to 160 plates per minute it didn't need improvements of the mechanical components alone, but also in automation technology. Rosendahl Nextroom therefore utilizes the proven Totally Integrated Automation portfolio and the efficient Engineering framework TIA Portal," Bom says.
Machine downtime was also significantly reduced.  Bom describes the machine efficiency rate achieved in the process – up to 95 percent – as "very, very good" by battery industry standards.
Ahead of the competition thanks to simulation
"Using the Mechatronics Concept Designer, we can simulate new processes in advance and minimize any difficulties that could potentially arise," Bom comments, adding, "Thanks to this software, we can be confident about incorporating all kinds of new processes into the machines. And it also means we're always one step ahead of the competition."
Copyright: siemens.com/stories
(P)
---
Trending Now