New speakers confirmed at LeaderTalks in ENERGY: Keeping the business safe and strong, e-conference to take place on April 9
---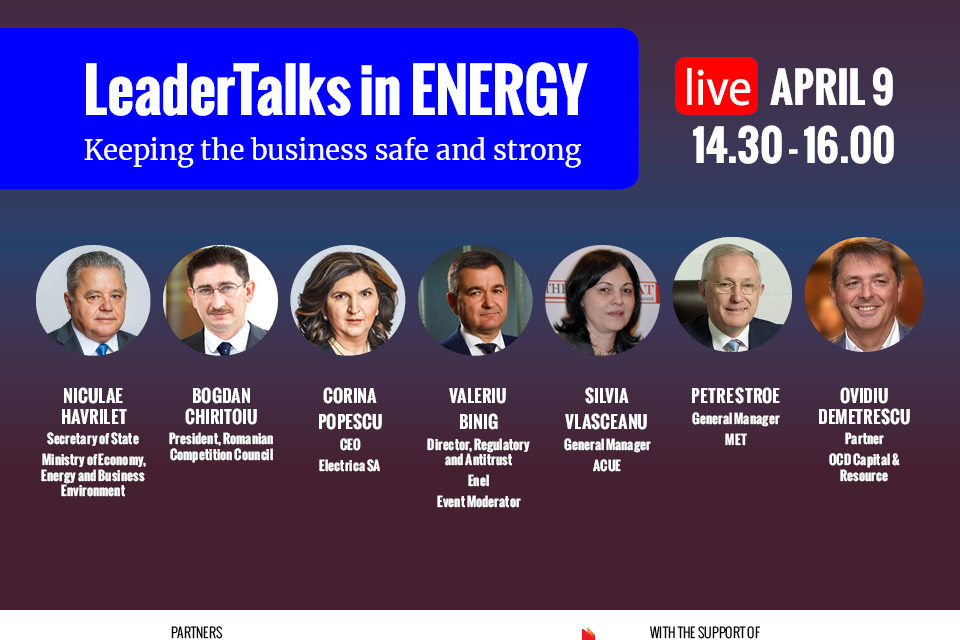 The Diplomat-Bucharest organizes on April 9 (Thursday)  the online conference dedicated to the energy sector, by taking a glimpse inside the industry within the current global and regional context and delivering the insights of its leaders and decision makers.
The online conference will take place on April 9, on Thursday, between 14.30 – 16.00 (Romania's hours) and it will be held in Romanian language.
Find all the details on the event's official website: https://e-conferences.thediplomat.ro/leadertalksinenergy.
For registration please go to https://us04web.zoom.us/…/register/WN_SSpV9KfpQxexrFaBXaHBZg
The e-conference will be live on www.thediplomat.ro, The Diplomat-Bucharest's Fb page and also, on our partners' Fb pages: ACUE, Financial Intelligence and Invest Energy.
The event is supported by business and industry associations: World Energy Council, Competition Council, ACUE (Federation of Associations of Energy Utility Companies in Romania), ARPEE (Romanian Association for the Promotion of Energy), AFEER (Association of traders with electricity in Romania), CNR-CIGRE (National Romanian Committee of CIGRE association) and media partners Outsourcing Today, Financial Intelligence, Energy Industry Review, Invest Energy and Focus Energetic. 
The conference discussions will be moderated by VALERIU BINIG, Director, Regulatory and Antitrust at Enel, joining NICULAE HAVRILET, Secretary of State within the Ministry of Economy, Energy and Business Environment,  BOGDAN CHIRITOIU, President of Competition Council, CORINA POPESCU, CEO Electrica  and SILVIA VLASCEANU, General Manager, ACUE, (Federation of Associations of Energy Utility Companies), PETRE STROE, General Manager MET and OVIDIU DEMETRESCU, Partner, OCD Capital& Resources
Discussion AGENDA
The business continuity management plan in energy
Has the current context changed the business relations of the energy producers, suppliers and consumers and how?
Impact of Govt. initiatives in the energy sector
Addressing the perspective of helping local economy and population in overcoming the financial difficulties. Assessing further different effects in the industry
Business safety and the human factor
Remote work approaches, protecting employees and the working environment, particularities in energy sector
LeaderTalks in ENERGY is your ideal online stage for knowledge sharing, voice expression, asking questions and getting answers from the leaders and decision makers in the industry.
The e-CONFERENCES series powered by Diplomat-Bucharest is a brand new media product designed to deliver easy and fast, directly to the core audience, the valuable insights of senior figures, experts and the most known specialists in the strategic industries, to discuss some of the most pressing aspects in today's economy landscape.
---
Trending Now
You may also like