How can a business survive in the age of digital disruption?
Posted On October 1, 2019
---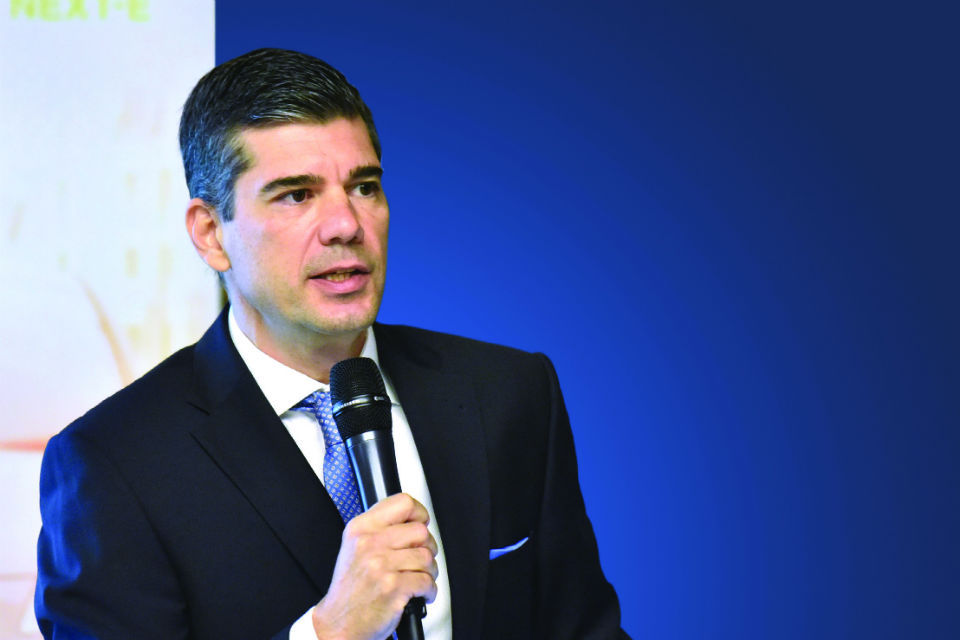 Interview with Panagiotis Pantazis | Sales Director, Applications | Oracle Romania, Greece, Bulgaria, Cyprus, and Malta
How can a business survive in the age of digital disruption?
Today, every business in every single country and every single industry faces a digital challenge. The competition is higher than ever before, as not only you need to continue compete with your well-known competitors, but you also need to compete with new players, and even some that will appear in the next days and months that you are not aware of yet (start-ups and growing businesses). Romania is no exception to this rule. Business leaders are under pressure like never before. Pressure to execute fast, produce short-term results, having virtually zero patience from the shareholders. Most of our customers know they must bridge this digital divide, moreover they understand they need the right technology to do it now. In fact, 81% of CEOs agree that technology is the key global trend that will transform business over the next 5 years (Source: PWC 17th Annual Global CEO Survey).
But what does it mean to become a Modern Business? It means becoming both highly efficient and dynamic. To become more efficient, you need to have intelligence embedded in the context of the business, automation to quickly transform all your data into real-time insight, and finally you have to be available 24/7 to run your entire business and to secure your most important asset, which is your data. More dynamic means you need to be fast and capable of processing massive amounts of data in record time, adaptive to be capable of changing business models, processes and decisions based on real-time market changes, and finally innovative in order to easily drive differentiations with unique capabilities brought by you or your business network.
Automation was always at the heart of the modernization of the economy. It used to be mechanical, it is now digital. Back then, companies were mainly managing the physical flow of assets, today the businesses that will, not only survive, but win and lead, are the ones that are best at managing the digital flow of data. And the leading companies will be the ones that are capable of doing this very fast. Data is the new oil, however unlike oil, the more it is consumed the more its value increases. Data and its consumption sits right at the heart of the digital economy and every business needs to master it.
What do digital disruptors have in common?
In his book "The Fourth Industrial Revolution" which was published in the beginning of 2017, Professor Klaus Schwab, Founder and Executive Chairman of the World Economic Forum, describes an era where is not about the big eating the small, this era is about the fast eating the slow. The slow will disappear as change has become the new norm. But speed of change is even more important. The emergence of a new class of businesses which are faster than their competitors and, as a result, better suited to creating and introducing to the market new and innovative products and services, has marked the beginning of the digital transformation processes. Disruption can come from new companies that attack the vertical elements of a value chain, but it can also come from established companies that have been around for decades but managed to successfully re-engineer their businesses to enable continuous and bold innovation.
Companies leading the digital age are fast and agile, however there are two other key factors they have in common: Firstly, they are extremely customer-focused and secondly, they manage to have exceptional employee collaboration. Digital disruptors tend to have fairly flat organizational structures and are capable of pulling together multidisciplinary project teams very fast. Finally, a core element the digital disruptors share is the cloud computing IT infrastructures they have decided to deploy and the way they use data to deliver amazing experiences to their customers. Therefore, data is critical to business success.
How do they use cloud-computing technology to their advantage?
In a wider context, I would like to emphasize that using cloud computing is more than shifting capital expenditures and reducing costs. It is about overall business optimization. Cloud computing can give an enterprise flexibility it never had before to respond quickly to new market opportunities, deploy new business models, scale up fast to meet growing customer demands, and grow its business. At the same time, of course it can dramatically reduce expenses for hardware, maintenance, and IT staffing. Rather than having to hire armies of experts and assemble the supporting infrastructures to deploy artificial intelligence (AI), big data, blockchain and other emerging technologies that will support their digital shift, companies can simply subscribe to a cloud service which has all the necessary advanced technologies with the very latest capabilities built in.
How would you describe SaaS (software as a service) and how it can be used for improving customer experience?
Subscription-based services certainly are not new. But the model that has evolved in the last few years is more robust and widely applicable than any previous one. In enterprise IT, subscription cloud computing services, with their flexibility, cost savings, and availability of latest innovations are increasingly replacing on-premise software. Today, a modern cloud suite can cover back (financials, procurement, human capital, manufacturing, supply-chain etc.) and front-office (marketing, sales, commerce, service etc.) processes.
For me, the 1st thing you need to have as number one priority is customer experience. In order to grow, any business needs customers. This means you need to find new ones and also make the existing customers stay and, hopefully, buy more. This is the well-known acquisition and retention cycle. The main issue is that today we have all been spoiled by digital giants and we expect a flawless experience, with around-the-clock availability, real-time fulfilment, personalized service, immediate insight, and zero errors, and all that across every channel. In this context, customer experience has become a core pillar of business success. However, providing an individualized, seamless, predictive customer experience is more challenging than ever before. The average consumer generates a massive amount of data based on their interests, purchases, location etc.  Moreover, consumers are active across a huge number of channels, social, mobile and desktop, and even Internet of Things (IoT) devices. Every company needs to bring structured and unstructured data together without disrupting their internal systems. SaaS can support businesses to know their clients, as intimately as they would allow, to market to them products and services that they want and provide exceptional customer service, while guiding them, through all steps of interaction with the brand.
How does Artificial Intelligence help develop and grow a business?
Our common imagination as to what the world will look like in the future has been built for decades via popular books that often became very popular movies and major cultural touchstones such as the "2001: A Space Odyssey" by Stanley Kubrick questioning the role of an unknown machine intelligence in the evolution of humanity, "Star Wars" by George Lucas with its famous droids designed to help with diplomatic relations across the galaxy leveraging natural language processing, or "A.I." by Steven Spielberg showing an advanced robotic kid longing to have real human emotion.
And here we are today in late 2019 with the 2 big-letter acronym AI, in one of these inflection points when science fiction joins reality, when we are truly crossing the chasm to create a new world. Every single day, we use AI in our lives, but we do not stop and think about it. AI has the power to change the nature of work itself, and this is happening right now. I would like to remind you that for the last few years, global GDP growth is less than 2%. Accenture predicts, after a research on the impact of AI in 12 developed economies, that AI could double the annual economic growth rates in 2035 by changing the nature of work and creating a new relationship between humans and machines, and this is exactly why we see such unprecedented market excitement today as the impact of AI technologies on business is projected to increase labor productivity by up to 40% in every single industry and function.
Let us take the finance area as an example. According to a recent study conducted by Oracle (ERP Trends Report), we found that nearly half (43%) of 400 Finance and IT leaders surveyed globally are already exploring this area. The benefits of AI are compelling. It will help Finance Departments shift from filling out paperwork to focusing on business strategy and decisions. AI will do this not by replacing humans, but by empowering them: taking on boring tasks and freeing employees for the more rewarding and strategic work. Second, AI can reveal new and predictive insights by allowing CFOs to ask not only "what happened?", but more importantly "what would happen if?", thus allowing them to make better long-term decisions. This approach improves over time. In every occasion a Finance Leader uses his/her expertise to accept or change a recommendation made by the technology, the machine learns from that decision and incorporates it into future analysis. In this way, the AI and Finance Leader work together for the smartest and most efficient outcomes. The trajectory of this shows incredible potential, with IDC predicting that global spending on cognitive and AI solutions will grow 54.4% annually through next year.
How many of your clients have implemented a Cloud-First strategy?
Altimeter Group reported in "The 2014 State of Digital Transformation" that, since 2000, 52% of companies in the Fortune 500 have either gone bankrupt, been acquired or ceased to exist. As we discuss with our customers in Romania, we see that they understand that the risk of not changing is simply too high. We see more and companies planning now to upgrade the technology choices that they have made over the last 20-25 years, which have now become an anchor weight, leaving them unable to meet their customers' rising expectations or respond to their competitors' new business approaches.
So, we see that the majority of the companies, at least in the private sector, are planning or currently undergoing some type of digital transformation today. The question is: are their business models, business processes and business systems capable of helping drive the transformation as quickly as needed? In this respect, there are customers with rapidly growing businesses that want to migrate everything to the cloud. But the most common scenario is the phased approach, meaning that LoB/Business Leaders, together with IT, will choose one or two strategic areas to modernize by migrating to the cloud, instead of upgrading the on-premise system, while letting the IT Department maintain their core on-premise IT infrastructure. Once they see the outcome and the benefits of these starting areas, they then migrate additional on-premise modules/systems to the Cloud. The long-term plan that some of our customers have, is to eventually migrate everything to the Cloud to fully embrace the benefits of the new computing era.
---
Trending Now
You may also like