From decarbonisation and digitalization to energy independency, prosumer revolution and energy cloud
---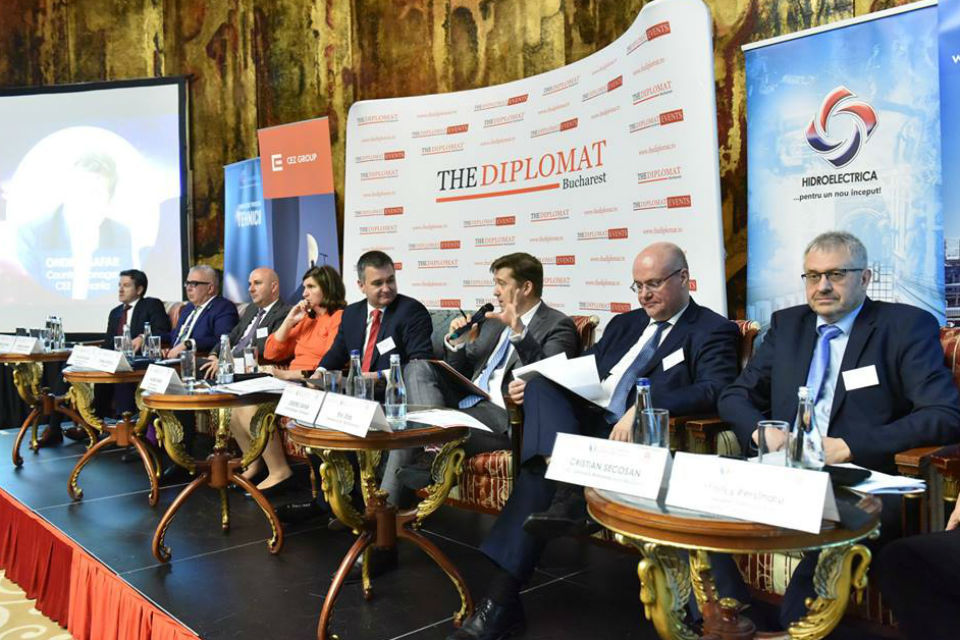 The Diplomat-Bucharest has organized the eighth edition of its CEO forum aimed at Romanian energy firms. With more than 125 confirmed participants and 30 CEOs in the room, we brought together once again some of the most important figures from Romania's business and civil society, the energy sector community, and top level in general, to discuss in a special CEO forum session some of the most pressing issues the industry faces today.
During a two-hour debate, some of the most important CEOs in the Romanian energy sector shared their insights on the future of their activities, but also their view on the development of the local sector.
In his opening speech, Valeriu Binig, Senior Advisor at EY Romania and session moderator, invited the players and the CEOs to discuss more about the afuture, about their plans, and about the challenges for the industry.
"Now, the energy sector is dominated by Ds: decentralization, decarbonisation, digitalization, disruptive behaviour, diversification," he said. "The newest word I have heard is depopulation which indicates that we are losing specialists. We hear some people saying technology will replace everybody who is leaving, while others say human knowledge cannot be immediately replaced by artificial intelligence or robot process automation," Binig added.
The Diplomat-Bucharest has tried to choose players from various steps in the value chain; some of whom provide services to the energy industry, and some who have oriented from delivering energy as a commodity to delivering energy services.
Valeriu Binig asked the speakers to discuss more about the future; how Romania sets itself in the frame of the EU energy sector, in the global environment, which are its plans, what can be done with the education system, and generally how to cope with the challenges of the future.
How do you see the energy sector in the next five years in Europe and in the world?
Eric Stab, chairman & CEO at Engie Romania, said "D" is his favourite letter in the alphabet and he really appreciated the interesting introduction made by Valeriu Binig.
"This is indeed what many are trying to achieve in the companies: decarbonisation, decentralization, digitalization, and so on. We are trying to achieve the transition towards a zero-carbon economy as a service," said Stab. "What does it mean? It means focusing more on decarbonising our economy. It is interesting to speak to customers and see what their expectations are. They also want to contribute to a better environment and to fight climate change. We want to be 100 percent carbon neutral everywhere, including Romania
When we speak about decarbonisation, we speak about energy efficiency, reducing the consumption of consumers There is always potential for energy efficiency," he added.
According to Stab, decarbonisation also means focusing on greener production of energy: "In most countries we've seen the development of renewable energies on a subsidized basis. For us, this has changed; we are no longer in that situation."
Where is the energy sector going to be in the next five years? Ondrej Safar, Country Manager of CEZ Romania shared his opinion: "Before I came to Romania I was working in Turkey and the approach there is very different to what happens here in Europe. Their main strategy is to be energy independent and this is the number one priority. I would say the main priority for the next five years is energy independency for Romania. Many of the strategies of the European countries are about energy independency. When it comes to Europe it all revolves around decentralization and decarbonisation. This is something which is driving us forward."
Safar said that the energy sector has serious challenges when it comes to CO2 emissions decentralization. He explained: "Eastern Europe has a different strategy of thinking compared to Germany, for example, which has set strict deadlines for the closure of coal powered plants, nuclear power plants and so on. When it comes to Romania and the clients, they really believe in sustainability but this is just a small group of consumers. Still, they believe in it and are willing to spend more money to go in this direction."
In the next five years Romania will face many challenges and will have to make some important decisions, according to Adrian Volintiru, CEO & board member of Romgaz: "The supply sources will be very different, but I want to underline the quality of the Romanian methane gas, which is very high. This means 99.9 percent methane which is very good for Romania. It's important for Romania to protect its resources in the upcoming years. From my point of view, the gas from Black Sea should be a protected resource, and it may be a better option for Romania to import more gas in the next five or six years."
Corneliu Bodea, CEO Adrem, argued that future belongs to electricity and decarbonisation will be the main task. "We are going to use more and more renewables, that is for sure. I agree that gas is a transition resource because our system is not prepared to receive a higher percent of renewables right now. This is actually telling us where to look and where to invest. We have to invest in smart grids, into increasing the level of control of the grids in order to reach that point where we can rely more on renewables. I agree that gas is playing a very important role and will probably continue to do so for the next ten to 15 years."
In Bodea's opinion, Romania still has time to work and invest but it will have to adapt and venture into more competitive environments in supplying the utilities.
Valeriu Binig then retook the floor by saying that the role of energy distributors becomes crucial: "The system transforms from a centralized one-way system into a system in which information and energy flow in two ways, from the system to the customers and from the customer to the system. The customer becomes a consumer but also has a smart meter which sends information to the utility operator, who then processes that information and comes back with better services. The integration of renewables into this equation generates enormous challenges for the distribution operators."
Corina Popescu, CEO Electrica, had an interesting approach by saying that prosumers will start a revolution in the energy market. "I really believe that prosumers will be the trigger to increase the supply activity from a supply of commodity to a supply of services. We need to change our mindset for the future. I think it's not only necessary to invest in distribution networks. We need to think a step ahead. We need to invest in innovation solutions because this could help our system," she said.
Romania will encounter difficulty in facing this decentralization and decarbonisation compared to other countries in Europe
Bogdan Badea, president of board of directors at Hidroelectrica, argued that there is a problem with energy policies between the European Union and other competitors such as China or the United States.
"This is one important aspect when we speak about decarbonisation," he said. "If we go to extremes, we have to see what is meant by a 100 percent decarbonisation. It is possible now in Romania or in Europe? This is a very important topic. Can we imagine Europe, let's say in the next five to ten years, without nuclear power plants, without coal powered plants? Realistically speaking, we cannot see Europe without nuclear and coal, this is a reality," Badea added.
He argued that Romania needs to find realistic objectives regarding decentralization and decarbonisation: "At the end of the day, one important trigger is the consumer. I think we should start from the consumer and define his needs. After that we can make a correct decision. We should discuss more about what clients want because it is important how they see the energy sector on a large scale."
Cristian Secosan, CEO Siemens Romania and Moldova, said that his company is focusing on three directions: electrification, automation, and digitalization. "This is actually the right order because without electricity we cannot have anything. One cannot automate, cannot digitalize without electricity," he explained. Secosan also said that C is a very important letter for him, because it stands for customers: "'Customer' means everything, from market to global trends. This is our task, to find solutions for our customers. We have to provide solutions and this is what drives us."
Energy trends are in fact coming from the customers, according to Marius Persinaru, Country President Romania & Republica Moldova at Schneider Electric. "Decentralization, decarbonisation or digitalization are not coming because we like it or because people like the sound of it," he said. "Sooner or later, it comes from practical needs. I started my career in the energy sector, then I moved into IT, and now I came back to energy. It is interesting because I now see concepts from IT coming into to the energy market. I would mention two of them: energy cloud and energy as a service."
Key words and challenges for the Romanian energy sector in the next five years
Corneliu Bodea said that energy generation is the main challenge for Romania. "I would say that creating a stable and predictive environment for the investments is what we have to focus on," he added. "We are talking about huge amounts of money and we really have to create the climate in which this money will be used in a wise way."
The first priority for Romania should be an environment of permissive regulation, according to Adrian Volintiru. He said the second one should be to diversify the sources in order to produce the energy: "This means green energy, gas extraction, CNG, all possibilities to increase energy efficiency, and for sure it means to continue to build the electrical infrastructure."
Bogdan Badea underlined that predictability will be the first big challenge for Romania in the next five years. "The second challenge is to reduce the bureaucratic barriers because it takes too long between the start and the finish of an energy project, while the third challenge would be the security of supply," he said.
According to Corina Popescu, investments should be the key word for Romania: "It doesn't matter if it's in production or any kind of services and of course everything that is linked with this subject. We should eliminate the bureaucracy, increase transparency and predictability. We also need a real definition of the vulnerable customers because not all customers can pay all that we put on the table. We need to protect these vulnerable customers in order to have a real liberalized market."
Ondrej Safar underlined the "obligation" that companies have to explore all technical possibilities for their clients and make it understandable for them. "It's not that easy to wait for the customers to tell us what they want, it will be too late because technology is developing so much. One of the challenges is to absorb all of these new technologies."
Eric Stab said that Romania will be facing three major challenges for the five years to come. First among them is investments, he added, while arguing that Romania still has to catch up on many aspects. "We need investments in electricity generation, in gas production, in all infrastructures, in customer solutions. This is what we need to achieve. This is the big mountain that is ahead of us. If we manage to climb that Everest, we can really achieve something great for this country," Stab said.
In his opinion, the next challenge is market design: "We are testing a lot and we have to look at what other countries have done with their energy systems. It wasn't easy anywhere and it took a long time everywhere. What is important is to have a plan and to stick to it. You have to walk the whole way, one step after the other."
The last challenge for Romania is the protection of vulnerable customers, according to Stab. Why? "Because it is our duty as a country and market operators," he explained. "The topic is the financing of this scheme. We believe the main hurdle is in the implementation of this scheme. The only way to really protect the vulnerable customers is to decentralize this activity to the municipalities. They need to get involved and take care of those customers who need support. If we need do manage to overcome this challenge we can move faster towards a fully liberalized market."
Cristian Secosan stated that the biggest challenge for Romania is predictability, specifically thinking about EGO 114: "These kinds of 'accidents' are not allowed to happen because if these things happen then challenge number two, which is investments, is under a question mark. Number three, to come back to what Ondrej mentioned, is not only to wait and to see, it's about anticipating whatever is coming out of this development towards automation and digitalization."
Marius Persinaru also tackled this question and said the challenge for Romania is the speed, readiness and willingness to implement all these changes. "I don't think we have it in us as a society. From my view, speed in implementing the changes, readiness in implementing the changes, willingness about doing that are the major challenges we have to face for the years to come," he explained.
Is your business affected by the aging of the personnel? What are the remedies?
Corneliu Bodea is managing a company with around 1,500 employees and this topic is of great importance for him. "We are completely in a deregulated type of business so it is not easy even to plan your cash flow. What is happening with depopulation is very dangerous because you cannot change or intervene fast," he explained. "A big number of people are retiring and very few are coming into production. This will create a crazy effect. I found out that the average age of my company is 47 years. I will call them young people because I am over this age but we have only 12 percent of people which are below 30 years old. This is not because we don't like young people, because every year we hire young people and we do internship for around 30 students. This is a situation which impacts our whole economy and will very soon bring huge trouble into Romania."
Depopulation is a real problem for all companies, according to Bogdan Badea. "We are very concerned about this shift of generations," he said. "We are trying to attract students through some protocols established between Hidroelectrica and universities but this is not an easy process and it will take a lot of time. The average age in Hidroelectrica is between 40 and 50. We hope that technological advance will help us cope with aging personnel through automation and digitalization in power plants. We have also started to invest more in the education because it is very important for us."
Eric Stab agreed that depopulation is the biggest challenge Romania is facing and he said it is the one we speak the least about, which itself is a matter of concern.
"We are not the only country facing that problem. It is true for many countries especially in Eastern Europe," he explained. "If we do not raise the awareness, if we do not realize the fight against depopulation indeed, we are going to face a big problem. We are clearly affected as a company. Remedies at our level are to try to retain our people, that we gain them back, that we can offer them the right career path. I have a dream that CEOs and senior managers of large companies would undertake a tour and convince a large proportion of the Romanian Diaspora to come back to the country, to tell them we need them and there are a lot of good things to be done here. This alone will not be sufficient, of course. There are more things to be considered, such as healthcare."
Marius Persinaru, the CEO of a technology provider, said Schneider has contracts with several universities and it invests in their labs. "We are doing this because our direction is clearly to go digital so we try to help to prepare future specialists in energy and digital. We also have interns and young employees. The problem is when you try to develop them and they leave. That is a clear issue. It is not about the salary; it is about all the rest of the issues with Romania."
Corina Popescu argued that depopulation is a problem not only for the energy sector, but for all Romanian industries. "I think it is a bit too late to invest in universities because high school kids are already dreaming about going abroad to finish their studies in another country," she said. "They have a different mentality. We have a lot of programs with high schools and universities but we need to understand their mentality and their expectations."
Cristian Secosan said the challenge for Romania is to understand what "we are looking for." He said that an electrician 20 years ago is different to an electrician today, so companies need to see how he can be trained for the job he needs to do nowadays.
"We are experiencing changes going from a technology provider to more of a software company. It's a big challenge for us to convince people to work for Siemens to do software compared with others that are software companies," Secosan said.
Describe the relationship between your business and the Romanian society
"We operate in a strategic sector for the country, a strategic sector for any other country," Stab said. "It is important we send the right signals to the community we live in."
He stated that not only Engie customers, employees, but also stakeholders are expecting the company to get involved in the community: "It is important that people know this sector cares about the community and the country. What we decided to do at Engie was to give the floor to our customers. We want to give something back to the community so we asked them how we can do that. It was interesting to see the points our customers were highlighting. Number one was healthcare, number two was education, and number three was environment. These are the areas we are trying to focus on."
Adrem is focusing on finding a way of encouraging young people to first choose a profession in the energy sector and then to retain them as much as possible, according to Corneliu Bodea. "This is not easy, but I think it is the responsibility of all of us working in the energy sector. We need to make sure that younger generations stay here in Romania and work in our companies and hopefully our industry."
Romgaz is also involved in CSR programs, especially in Medias – a small Romanian city with 30,000 inhabitants – where the company is located. "The needs of the citizens in Medias are a bit different because it is a small community. We are involved in education projects, but also in hospital modernization," Volintiru said.
---
Trending Now
You may also like