BCR debuts on the Bucharest Stock Exchange with the first international issue of green Eurobonds by a Romanian bank
---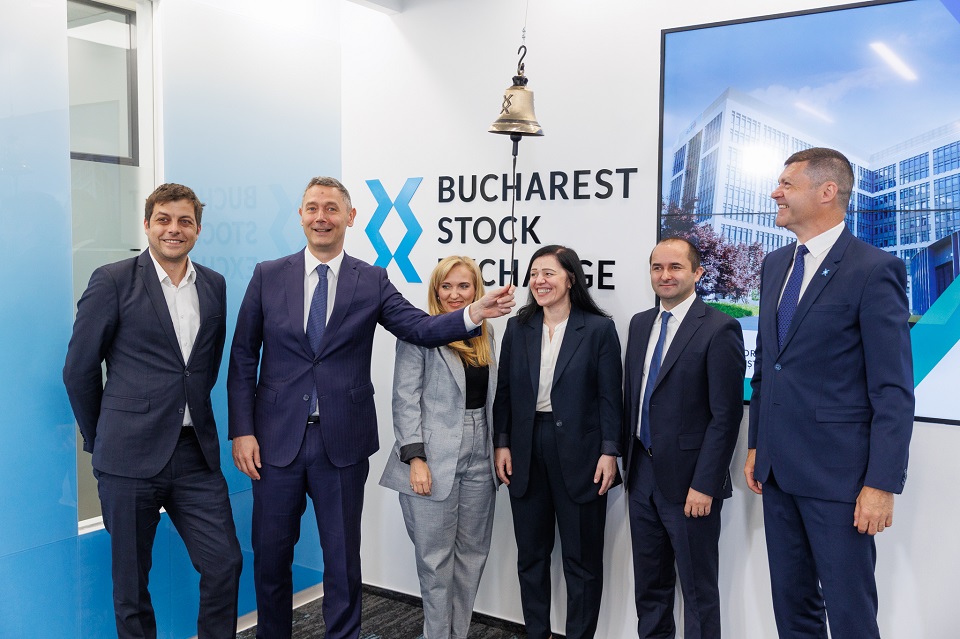 Banca Comerciala Romana (BCR), one of the most important financial groups in Romania, lists on Tuesday, May 30, the first international issue of green Eurobonds of a Romanian bank, under the stock symbol BCR27E, totaling 700 million Euro. It is BCR's first listed bond this year, and the total value of BCR bonds available for trading is over 7.5 billion RON.
"I would like to thank our investors for their trust in us in a challenging market environment, as well as our customers for everything that BCR means today. It is a recognition of the bank's strategy, through which we try to build value, sustainability and financial resilience together with our partners, in an economy with great growth potential. All these things could not be possible without the unwavering effort of my colleagues, who contribute every day to building a strong business, regardless of the context and challenges. BCR has thus covered in advance a significant part of the total MREL eligible instruments target planned for 2023, which demonstrates our strong position and confidence in the market. The listing of the issue on the BVB also represents our commitment to support the development of the local capital market, and investments in Romania, for Romania, remain a strategic priority for us", stated Sergiu Manea, CEO BCR.
"Today we mark a new premiere at the Bucharest Stock Exchange, with the listing of the green Eurobond issue of Banca Comerciala Romana, after the issuance in 2021 of its first green bonds on the local capital market. Banca Comerciala Romana thus overtakes its record set 2 years ago when it issued the biggest bond issue at that time, with a value of RON 1 billion, repositioning itself as the issuer with the largest both corporate and green bond issue. Banca Comerciala Româna shows us, once again, that it respects its commitment and implements visionary projects which integrate ESG criteria into capital allocation decisions, supporting sustainable economic development. Through these initiatives, the Romanian economy takes a new step towards the alignment with European standards, on which occasion we congratulate the entire team of Banca Comerciala Româna for this performance", said Radu Hanga, President of the Bucharest Stock Exchange.
"Banca Comerciala Romana has listed the first issue of green Eurobonds issued by a Romanian bank, with a value of EUR 700 mn, a new record set at the Bucharest Stock Exchange. Banca Comerciala Romana continues to be one of the most active issuers in the financial-banking system, with 8 issues of bonds tradable on the stock exchange, of which 3 are green. These sustainable practices make us optimistic, as it is necessary to have as many bond issues as possible which contribute to a sustainable local economy. The issue listed today is even more significant since we are talking about the largest financing of a private sector issuer in Romania, achieved through a green bond issue. Banca Comerciala Romana has thus shown investors' interest in this segment at the local and European level, with a direct impact on sustainable economic development, nationally and internationally", said Adrian Tanase, CEO of the Bucharest Stock Exchange.
The BCR green Eurobonds issuance, which entered trading today, May 30, at the Bucharest Stock Exchange under the stock symbol BCR27E, marks the bank's debut on the international capital markets. BCR issued 7.000 green Eurobonds, having a unitary nominal value of EUR 100,000, maturing on May 19, 2027, a fixed annual coupon rate of 7.625% in the first 3 years, and a floating interest payable quarterly starting in May 2026 according to 3-month EURIBOR, +4.539%. The bond issue that enters trading today is the first issued by BCR this year and the 9th listed by BCR on the local stock exchange. The first BCR bond issued has reached maturity, currently being traded 8 corporate and green issues. The second bond issue, worth RON 600mn, is available for trading starting in December 2019 under the stock ticker BCR26. Last year BCR listed three bond issues, one of which was of green bonds: BCR28, BCR28A and BCR28B.
---
Trending Now