Minister Burduja: "We will start a national digitization caravan on October 1"
Posted On September 23, 2022
---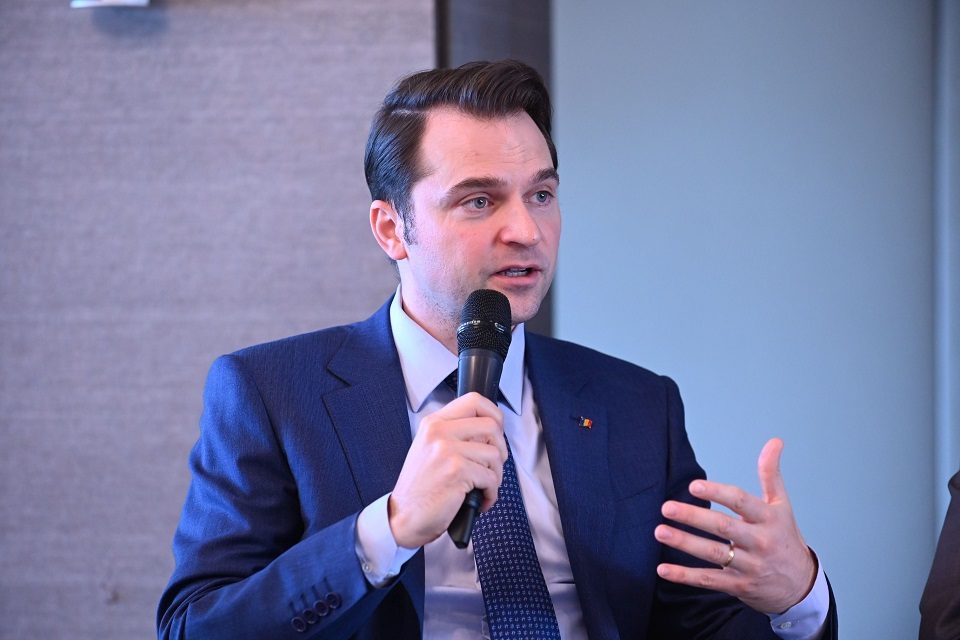 The Minister of Research, Innovation and Digitization, Sebastian Burduja, said that together with the UEFISCDI representatives, a virtual exchange hub of good practices, of learning, of "smart" public policies was put in place for cities that aim to become climate neutral.
"We have at least three cities that have succeeded in a European competition of 100 climate neutral cities. Three are from Romania and managed to do this: Suceava, Cluj-Napoca and Sector 2 in Bucharest. At the level of the Ministry of Research, Innovation and Digitization, together with UEFISCDI, with Mr. Adrian Curaj, we thought of a hub for these cities that proposed to become climate neutral, but not only for them, because they were also other cities in Romania that have applied, but also for other cities that want to evolve in this direction. It is a virtual exchange hub of good practices, of learning, of smart public policies," Minister Burduja said during Smart Transformation Forum organized by The Diplomat-Bucharest.
"We at least try to be a place of ideas, a place where we can facilitate these exchanges of experience, for example with our friends from the Association of Municipalities in Romania and other associations of local authorities
At the same time, in the PNRR there are some programs, some investments that should probably help in this regard – from the area of ​​smart libraries, which are addressed to local authorities, and here we are not only discussing large libraries, county libraries, which will have reasonable funding to be rehabilitated – 5 county libraries, but also rural libraries. Because if we don't come from both directions where, on the one hand, we have new technologies, on the other hand, we have digital skills development programs, we haven't done anything.
On October 1, we will start a digitization caravan at the ministry level together with our partners from ADR (Authority for the Digitization of Romania and the Romanian Post), in which we will go at the local level – of course, it is mainly about smaller communities -, in which to find out the needs of local authorities, to see why they do not enter the ghiseul.ro platform, to help them, to support them and also to understand the need for digital skills at the root.
We have a working group on the topic of expanding fiscal facilities for IT-scientists, for programmers, better said, from the state, from the public sector. I know it's an older topic, we're trying to unblock it together with the Ministry of Labour, the Ministry of Education, the Ministry of Finance, because even smart city solutions, after all, must be implemented with people from the administration. It is an extra help, and it is a matter of equity that a programmer from the state should benefit from the same facilities as a programmer from the private sector."
Full recording of the conference: https://www.youtube.com/watch?v=0x-6UL914eE&t=67s
---
Trending Now