Keeping the promise: Telekom Mobile continues its network coverage and quality improvement, for an even better customer experience
---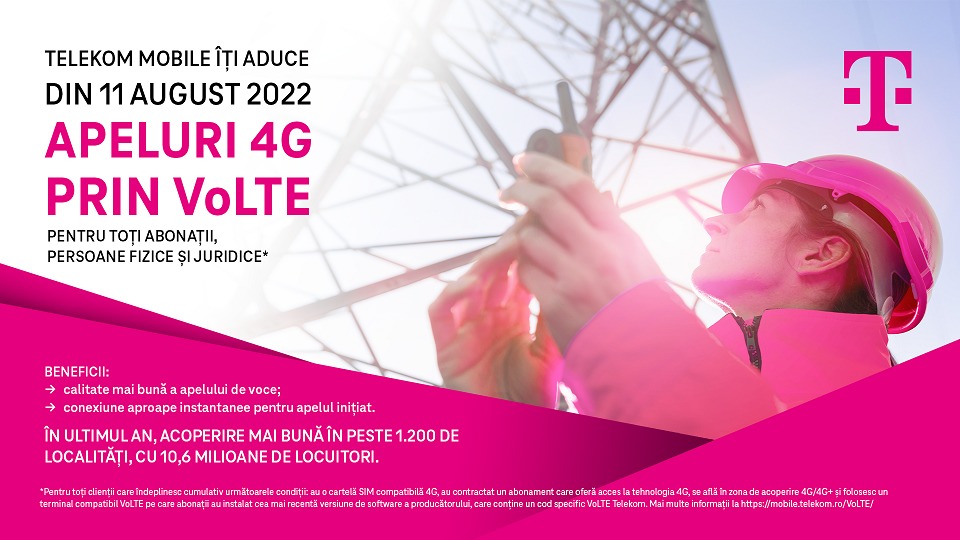 Telekom Mobile has been constantly improving its 4G network in the last year, with an accelerated pace since launching its new brand promise: "Mobile as you want. Simple and fair". Presently, 100% of the network nodes are upgraded to 4G / 4G+, providing extended coverage for data services, comparable to voice coverage in 2G technology.
In the last six months, the upgrades have resulted in better coverage in more than 440 urban and rural areas with a total of 345,000 inhabitants. The counties with the highest number of upgrade works are Mures, Prahova, Gorj, Buzău and Constanța. In total, in the last year, network quality improvements were carried out in 1,200 localities with 10.6 million inhabitants. In 42 remote localities, Telekom Mobile is the only mobile operator present in the area. As a result of these efforts, customers enjoy a better mobile experience or have access to Telekom Mobile services (in newly covered areas). They also enjoy faster data transfer speeds. The company will continue to invest in the network, aiming to provide better coverage and service to its subscribers.
Furthermore, from August 11, 2022, the operator is introducing VoLTE (4G) voice calls for all of the company's existing and new subscribers, individuals and businesses, who cumulatively meet the following conditions: they have a 4G-compatible SIM card, have taken out a subscription offering access to 4G technology, are in the 4G/4G+ coverage area and are using a VoLTE-compatible handset on which they have installed the latest version of the manufacturer's software, which contains a Telekom VoLTE-specific code.
All subscribers with 4G-compatible SIM cards who have a subscription offering access to 4G technology will be automatically transferred to the new technology, which they will be able to use together with compatible terminals when in the 4G/4G+ coverage area. A list of these compatible handsets is available on the Telekom Mobile website at https://mobile.telekom.ro/VoLTE/. For example, the Samsung Galaxy S21, S21+ or S22 are some of the smartphones compatible with the new service.
The benefits of switching to 4G calls are: better voice call quality and almost instant connection for the initiated call.
VoLTE will be available for free. VoLTE voice calls will not be charged extra or differently from mobile voice calls; call minutes will be counted as mobile voice calls and data usage will not be charged extra.
Subscribers can check if they have VoLTE activated via the Selfcare service by dialing *100#, in their MyAccount, or via the Corporate Portal if they are business customers.
"VoLTE is an example of our brand promise of 'Mobile as you want it. Simple and fair' and certainly unlimited. And we won't stop there with technological progress and surprises," said Alexander Jenbar, Chief Technology and IT Officer, Telekom Romania Mobile Communications S.A.
The introduction of VoLTE has been an extensive technology and business development effort, which has been supported by Samsung as an implementation partner. All efforts were focused on delivering yet another promise delivered to enhance the Telekom Mobile customer experience.
---
Trending Now