Outsourcing Today celebrated excellence at the 8th edition of Romanian Business Services Awards 2022
---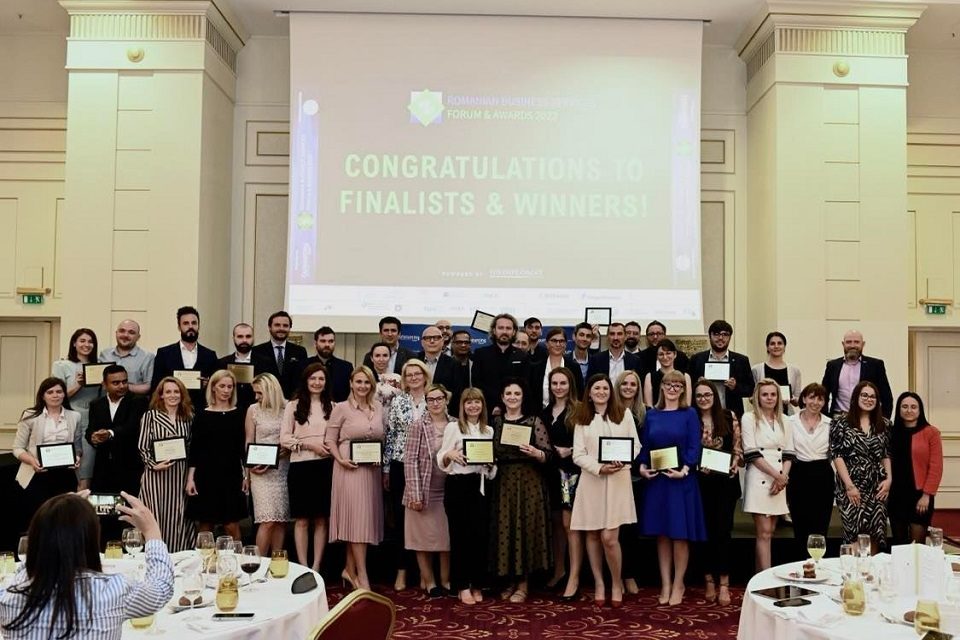 A special evening for the business services sector at the 8th edition of the Romanian Business Services Forum & Awards organized by Outsourcing Today and The Diplomat-Bucharest.
The iconic event celebrated excellence in business services and the impressive achievements of the winners at the JW Marriott Grand Hotel in Bucharest.
These things would not have been possible without the support of our great partners, to whom we would like to say a big thank you: Diamond Partner Wipro; Gold Partners Majorel, Societe Generale GSC, SCC, Lovering & Partners; Partners Teleperformance, Stefanini Group; Supporting Partners ADAA, BRCC, BEROCC, ANIS, Cluj IT.
Romania's business services champions were decided by the esteemed jury committee, comprised of 9 top professionals: Francesca Postolache (Partner, PwC Romania), Andrada Iliescu (Advisory Director, KPMG), Gabriela Mechea (Executive Director, ANIS Romania), Andrei Romanescu (Managing Director, VEEAM Software), Andrei Craciun (Head of Digital Transformation and Data Analysis, West University of
Timisoara), Dan Zaharia (Senior Leasing Consultant EXTIND Management), Carmen Adamescu (Partner EY), Maria Butcu (Director, Leader for Business Process Solutions, Deloitte Romania), Colin Lovering (Chairman BRCC)
A special thank you to our jury members for supporting this amazing event organized by Outsourcing Today and The Diplomat-Bucharest!
And now it's time to reveal the list of winners at the Romanian Business Services Awards 2022:
BUSINESS SERVICES COMPANY OF THE YEAR (over 800 employees)
The winner of this category is a leading information technology, consulting and business process services company. The company's facilities in Romania serve more than 30 customers in Eastern Europe, supported by over 1500 employees. Also, their customers in Romania span across the retail and consumer goods, healthcare, manufacturing and telecom industries, among others. During 2021, the company has followed a fast road full of transformations on all areas: process redesign, tools conversions and deployment, talent transformation and development, company growth and many others.
This award goes to WIPRO TECHNOLOGIES.
Finalists: SCC, Genpact, Societe Generale GSC, Majorel, Accenture, Endava, Cognizant Softvision.
BUSINESS SERVICES COMPANY OF THE YEAR (less than 800 employees)
For the winner of this category, 2021 in figures and facts meant:
– increasing operational revenue by 60% and the team with 27%
– leveraged their main advantage: flexibility. In only two weeks, over 700 people were moved to home office, and they were fully operational by the end of this high-speed switch.
The company also doubled their operational team in 8 working days for the
e-commerce and delivery projects where the volumes grew by 80% in a very short time. Enhancing the collaboration with clients, 3 new finance dedicated campaigns were implemented in only 10 days. They also added new services to their portfolio, such as: RPA service and Video onboarding (video identification service).
This award goes to VALORIS CENTER.
Finalists: Deutsche Telekom Services Europe Romania, Zitec, Tremend Software Consulting, Cegeka, Pentalog.
EMPLOYER OF THE YEAR (over 800 employees)
The winner of this category said their main HR objective is always to focus on the people, to improve their work experience, to contribute to their professional and personal development and wellbeing.
Some Key Facts for 2021:
– Fast growing: they hired 1072 new people, and at the end of the year they reached 2094 employees.
– they had 150 people that got promoted within the company.
– Referral program: 50% of new hires came from employees recommendations.
– Trainings & Professional development programs in order to: Improve management skills of existing team managers; Enhance and identify ways to cope with internal and external stress; Enhance operational skills; Improve online training and presentation skills; Enhance communications skills.
This award goes to MAJOREL ROMANIA.
Finalists: Societe Generale GSC, Teleperformance, Endava, Cognizant Softvision
EMPLOYER OF THE YEAR (less than 800 employees)
The winner of this award states that they are the first-choice service provider by realizing the Future Telco and driving business profitability with happy customers and dedicated employees. In their day-to-day operational activity, the company serves 12 countries in services such as: HR (Inquiry Management, Employee Data Administration, Recruiting, Learning & Training, Compensation & Benefit), Financial and Reporting. In order to achieve this vision and to keep up their performance, they invest as often and as much as possible in trainings, workshops and different programs for the employees. In 2021, on top of all internal programs and development opportunities, they assigned over 40.000 euros for their employees to develop further. These are just few of their accomplishments.
This award goes to DEUTSCHE TELEKOM SERVICES EUROPE ROMANIA.
Finalists: EBS, Valoris Center, Softbinator Technologies, Pentalog.
MOST TRANSFORMED WORKPLACE
Companies that want to win the war for talent need to embrace optionality by creating an environment that supports both heads-up and heads-down work, whether in the office or remotely. For the winner of this category, focusing on the employee and client experience was central to their strategy in the designing of their human centric, hybrid approach to work: Studio eXperience. With more than 2000 employees in studios like Bucharest, Baia Mare, Cluj, Iași and Timisoara, the company unveiled a new initiative in 2021 that allows current and future employees in Romania to work anywhere in the country. This initiative enabled them to offer the flexibility to work from one of our 5 studio hubs, from home or anywhere else employees would feel comfortable.
The award goes to COGNIZANT SOFTVISION.
Finalists: Deutsche Telekom Services Europe Romania, Zitec, Societe Generale GSC, SCC, Webhelp, Endava.
NEW ENTRY ON THE MARKET AWARD
This company opened in 2021 its second European campus following the successful launch of its Barcelona operations almost 2 years ago. The new campus is their first in Eastern Europe, in Bucharest, Romania. For the company, the move signifies their continuous ascent from Asian region award winning BPO to a global leading business services provider to the world´s most valuable brands. The company also employed upwards of 100 people within its first year of operations in Bucharest. The city ticked many boxes for them to perfectly complement the multi-lingual campus in Barcelona. Bucharest is not only one of the best locations in Europe but also offers a rich pool of exceptional and experienced digital talent, they say.
The New Entry on the Market award goes to TDCX.
Finalists: Procesio, Rabit, iBanFirst.
CEO OF THE YEAR
2021 was the year of many changes for the winner of this category. The company almost doubled the number of employees in one year, reaching 2000 employees, while continuing the work from home set-up for the entire team. Also, 2021 was the year when their CEO, has become a mother. All these changes translated into a quite challenging environment that demonstrated the true qualities of our leader.
The CEO of this year's edition always puts a focus on quality, adaptability, but the key business driver for her is definitely the people. Trusting and empowering people, she managed to thrive as a team even in COVID times, building trust amongst our employees and clients. Being a skilled negotiator and a successful stakeholder manager, holding tight to our values and always striving for perfection, this CEO won the trust of partners and managed to grow the company portfolio with 3 new global brands.
This award goes to DANIELA MICUȘAN, CEO of Majorel Romania.
HR MANAGER OF THE YEAR
The winner of this category has Over 20 years in HR Management experience with 3 greenfield start-ups. HR is in the driver seat these years and, as she says, nowadays, we are competing for talent. This is a challenge for all companies, as the companies feel that they hire and release employees with same pace. Work-life balance, wellbeing and personal life are the employee's top motivators. To maximize the company offer to meet employee expectations, the company where this HR performs, has implemented multiple programs on employee Assistance, Personal & Financial wellbeing, Flexible benefits covering offering Teleworking support and more.
This award goes to MIHAELA POPA, Associate Vice President, HR Lead, Wipro Technologies.
TEAM LEADER OF THE YEAR
The winner of this category has also been nominated by 6 colleagues for 3 categories in the company's internal Recognition Program. – People-First, Recognition, Strive to Enjoy Every day. The winner was recognized internally as a great team leader for his people first attitude and for having a WOW factor, the one that goes extra-mile to reach the team goals.
What did his colleagues tell us about him? – "Even from his first day as a manager he showed great interest in the wellbeing of the teams (not only his team). Ever since then, every one of his colleagues know that their time, their energy, their investment, their work as well as their efforts are noticed. He has genuine conversations with every colleague and provides honest, real-time feedback. He is not only a team leader, but also a People manager and he is valued for everything he does every day."
This award goes to ROBERT-LUCIAN BIGU, Senior Supervisor at Webhelp.
CSR INITIATIVE OF THE YEAR
The winning project of this category aimed to contribute to counteracting a local reality harshened by the pandemic: only 10% of the Romanian population has higher digital skills, while 90% of the EU jobs require digital know-how. Such gaps prevent people, especially from rural or small urban areas, get a good job in our digitalized society. To fight this, the program gave over 1.400 Romanian children, of age from 8 to 13 years old, from rural & urban areas, with hearing problems & healthy, the occasion to develop their digital skills to further have better hiring chances and a successful adult life. For this, the project included free online lessons during which children learnt from specially trained volunteers both digital/programming skills and soft skills (financial education, public speaking, how to make a good presentation, how to offer feedback, cyberbullying and so more.
The winner of this category is SOCIETE GENERALE GLOBAL SOLUTION CENTRE for Hack the Future project.
Finalists: Wipro Technologies, Majorel, Valoris Center, Cognizant Softvision, Deutsche Bank.
DIGITAL TRANSFORMATION INITIATIVE OF THE YEAR
The winning imitative at this category started as a deeply human-centric concept, built on optionality, flexibility and mobility for our talent. With this, the company established an opportunity for people to live, explore and connect as they see fit. However, it proved to be more than that, making an impact on our overall operational efficiency and our business model. Their offices, called studios, have always represented communities and clients. However, this new one emphasizes the need to change the work environment into spaces that facilitate engagements that matter, transforming our spaces into experiences. The company also developed an app that would enable the employee access to studios space to work for the day, depending on projects or activities while supporting the social component of the professional lives.
The winner of this category is COGNIZANT SOFTVISION for Studio eXPerience concept and StudioGo application.
Finalists: Wipro Technologies, Zitec, Endava
L&D INITIATIVE OF THE YEAR
The winning L&D initiative stands as an acronym for Training, Environment, Redesign, Reduction, Availability, the pillars that sustained the COVI-19 online movement for talent development across the company. The project stems out of the need of making remote learning more interactive and convenient for learners and trainers alike through features such as virtual classrooms, video conferencing, and discussion boards and content that was more engaging, more impactful, more relevant and relatable. The initiative relies on a series of actions that have led to an increase in training participants, trainings delivered, and hours of training, cost savings and consequently a lower environmental impact which means a reduction of Carbon Footprint in 5 dimensions:
• Training improvement
• Environment friendly training delivery
• Redesign of old programs to address the needs of WFH context
• Reduction of office costs as all trainings were moved online
• Availability for more Wipro EU employee
This award goes to WIPRO TECHNOLOGIES for TERRA project.
Finalists: Societe Generale GSC, SCC, Scoala Informala de IT, Cegeka, Qualitance.
EMPLOYEE ENGAGEMENT INITIATIVE OF THE YEAR
The winning initiative of this category is a program that represent the voice of the company's employees – they are volunteering employees from local teams. Based on the feedback the ambassadors of this program get from their teams, they create events and activities that focus on three main pillars: Body, Mind and Soul. Also, ambassadors have an important role in raising awareness, boosting engagement and more important, listening to what our colleagues need and want, supporting our communities to thrive at their jobs. Under this program, various initiatives are taken on a regular basis: competitions, sport challenges, special campaigns, workshops, webinars, training programs and plenty more. Only in 2021, the company implemented more than 30 initiatives in which they engaged more than 1750 employees.
This category is won by MAJOREL ROMANIA for the Feel-Good program
Finalists: Webhelp, Stefanini, CGS, ATOS & EY, Cegeka.
BEST UNIVERSITY-BUSINESS COOPERATION PROJECT OF THE YEAR
The winning partnership of 2021 is awarded to the first first 5G lab in Romania, a hub in which the academic environment, startups and companies can test solutions based on 5G technology. The lab is equipped with 5G technology and its development is part of an extensive program of developing nine such 5G Labs in Europe. Researchers, companies and startups will be allowed to test their solutions and services, discover new 5G uses in an ecosystem based on co-innovation, which will help them transform their business model and processes.
This award goes to ORANGE and University POLITEHNICA of Bucharest's Campus Research Institute for the Orange 5G Lab.
Finalists: SAS, Aliant & Tailent & Faculty of Economics and Business Administration from Iasi, RAU ACCEL
BEST WELLBEING INITIATIVE
The winning initiative has been created last year to stand for the company's health and well-being program designed to offer support and care for colleagues mental and physical well-being in and out of the workplace. The program consists of 3 key areas: mind, body and nutrition and integrates three projects: WELLNESS MATTER, a series of initiatives designed to support mental health as well as educate on the seriousness of the topic, KILOMETER CHALLENGE that encourages exercises via a variety of sports and COOKBOOK, a showcase of healthy cuisines from the countries where the company operates.
The award goes to WEBHELP ROMANIA for their WebHEALTH program.
Finalists: Majorel, Wipro Technologies, Endava, Societe Generale GSC.
BEST CUSTOMER CENTRIC INITIATIVE
The winning project is one of the company's successful M&A projects of a software development company counting apx. 500 employees. The acquisition targeted to enhance their current portfolio by adding a new flavor from IT services perspective. The project main goal was to align the acquired company people processes to the company's people practices while building a strong employee's engagement and maintaining their customer centric focused approach. The exercise was done entirely remote, which was an additional challenge. The synergy between all stakeholders needed to work without any flaws, so that the success of the project to be guaranteed.
This award goes to WIPRO TECHNOLOGIES.
Finalists: Valoris Center, Webhelp, FLOWX.AI Partners & UiPath.
TOP DIGITAL TRANSFORMATION SERVICES PROVIDER
For this company, the digitization of HR workflows has a long history and it began with the development of one of the most known human capital management solution – Charisma HCM. This solution has been validated by hundreds of customers ever since. Also, starting 2020, the company focused on innovating and revolutionizing the employee experience, while increasing the efficiency of the work environment. The pandemic merely accelerated this process by imposing a full-digitalized or a physically limited interaction between the employee and the employer. This is how they developed a chatbot launched in a record time and became the virtual colleague from HR who solves over 70% of employees' requests. It supports a text-type conversation based on which it responds to HR requests from employees and uses Machine Learning and Artificial Intelligence, so it grows with the business, it learns and becomes smarter every day.
This award goes to TOTAL SOFT.
Finalists: Ringhel, Wipro Technologies, Zitec.
DIVERSITY & INCLUSION IMPACT AWARD
The winner of this category developed a multi-phased concept called "Recruit for a better tomorrow" through the CEO for One Month program and planned until it became reality. This initiative was focused on connecting people with disabilities with the labor market, with the objective of creating a more inclusive society. If people with disabilities get the chance to become assets for our society through the work they do, the world will start noticing and therefore adapting to their needs. The first stage has been achieved by hiring people with disabilities to work within the company. By observing and analyzing the adaptation process of employees with disabilities, the company can further on provide consulting services to enable the recruitment, hiring and integration process of persons with disabilities within the companies – clients of the company.
This award goes to ADECCO GROUP.
Finalists: Deutsche Telekom Services Europe Romania, Valoris Center, Societe Generale GSC.
BRAND OF THE YEAR IN BUSINESS SERVICES
This year, more than 4000 votes have been submitted online for THE BRAND OF THE YEAR IN BUSINESS SERVICES category. This shows the yearly increasing interest of this category. But it also stands for the meaning and impact of developing a relevant and strong brand and reputation in a field that is empowered and changed by its people. It's true that a company's name attracts when it comes to recruitment process. But more than that, the public references, the company values, benefits and maybe more important – the management style and employee engagement make the people stay.
This year, the BRAND OF THE YEAR IN BUSINESS SERVICES goes to MAJOREL ROMANIA.
---
Trending Now