Electric mobility paves the way for a green future
Posted On October 5, 2021
---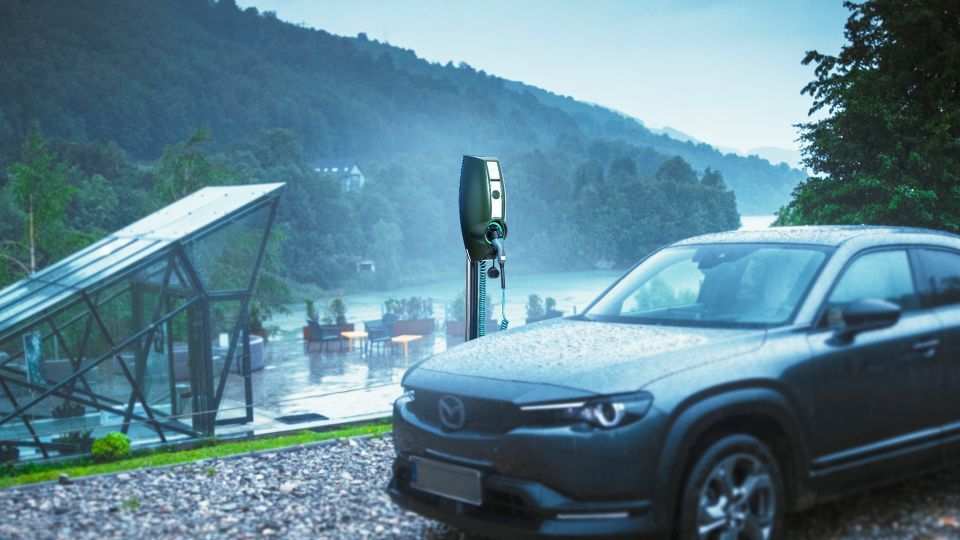 Essential for decarbonising the energy sector and reducing carbon emissions, renewable energy is currently a hot topic on the companies' agenda, playing a key role in the energy transition.
In the context of accelerating the transition to energy sources with minimal impact on the environment and the increasing use of renewable energy technologies, the incorporation of green solutions into a business model is a strategic priority for more and more companies.
The decarbonization of road transport is one of the trends that is becoming more and more pronounced both at European level and in Romania. Climate change and the impact of greenhouse gas emissions, including the use of fossil fuels in transport (public, commercial, personal), are the most important challenges of the era we live in and have generated a major change in terms of auto mobility.
In order to reach the emission targets set by the European Green Pact, which envisages transforming Europe into a climate-neutral continent by 2050, the mobility strategy states that by 2030, approximately 33 million of zero-carbon cars will run on European roads, and 100 cities will be climate-neutral. Also, by 2050 almost all new vehicles will have zero emissions, and the trans-European multimodal transport network (TEN-T) will be fully operational for sustainable and intelligent transport with high-speed connectivity.
In this context, the automotive industry around the world is increasingly focusing on green mobility, and more and more companies are deciding to integrate electric vehicles into their fleets. In fact, electric vehicles are considered to be the true pioneers of the new era of mobility. Car manufacturers are currently being challenged to rethink the construction process of vehicles, with an emphasis on increasing performance and, at the same time, increasing energy efficiency.
In Romania, the transition to electric mobility, although taking place at a slower pace than in Western European countries, is accelerating every year. The number of purchased electric vehicles and installed charging stations are constantly growing, being encouraged by the bonuses granted by the state. Another positive signal comes from local authorities, which are starting to replace vehicles in their own fleets with electric cars.
In the first 8 months of 2021, purchases of electric and full hybrid cars in Romania almost doubled (+ 97.3%) compared to the same period last year, according to a report of the Association of Car Manufacturers and Importers (APIA ). In this context, it is worth noting the strong growth of plug-in-hybrid cars (+ 255.3%).
According to the same study, the "electrified" cars, respectively the electric ones (100% and plug-in hybrids), as well as the full hybrid ones (which also have electric propulsion without charging from an external source), have, after the first 8 months of 2021 , a market share of 11.5%, which is 1.8 times higher than the one they had in the same period last year (6.3%).
The installation of electric charging stations accelerates the race to a pollution-free world
The number of charging stations for electric cars is constantly increasing. Currently, in all major cities in the country there are at least a few medium power charging points (22 kW) and at least one fast charging station (50 kW). Romania, however, needs a solid infrastructure of charging stations for the future of electric fleets. This means that the number of stations must increase and become more accessible for the electric revolution in the near future.
At European level, approximately 6 million publicly available charging stations would be needed to reduce carbon dioxide emissions by 50% by 2030, according to data provided by the European Commission. Given that less than 225,000 charging stations are currently available, according to the European Automobile Manufacturers Association (ACEA), this means that an increase of 27 times should be achieved in less than a decade.
An efficient solution for businesses is to purchase their own charging stations. Fleet managers can use them to charge their own cars, but they can also be available to customers or visitors. Charging stations can be installed inside public institutions, restaurants, and hotels, in private parking lots and shopping malls.
Electric mobility represented by electric vehicles is here and is a growing industry. The choice between an electric motor or one with internal combustion will soon become an obvious choice, and technological advances will eliminate the various challenges of today: increasing autonomy and high-performance charging stations.
ENGIE e-XPLORE Business, the integrated electric mobility solution from ENGIE Romania
On their way to the energy transition, ENGIE Romania wants to be alongside its clients, as a long-term partner, supporting them in this endeavour through the integrated solutions it offers.
ENGIE Romania's objective is to accelerate the transition to a carbon-neutral economy through low energy consumption and environmentally friendly solutions.
As a sustainable alternative to conventional fuels, ENGIE Romania has developed the integrated solution for electric mobility ENGIE e-XPLORE Business. With this solution, customers benefit from multiple advantages in the process of transition to a clean fleet: from consulting and initial planning to the provision of charging stations, installation, maintenance, and ongoing management of infrastructure.
Find out more here.
About ENGIE
The ENGIE Group is present in Romania in three sectors of activity: natural gas, electricity, and energy services. The group's main subsidiary in Romania, ENGIE Romania, operates in the following key sectors: distribution and supply of natural gas, supply, and production of electricity from renewable sources, energy services. ENGIE Romania and its subsidiaries serve a portfolio of 1.9 million customers, operate a distribution network of about 20,000 km and have 4,000 employees. ENGIE Romania currently operates 113 MW of renewable energy in wind and photovoltaic capacities. The company owns two wind farms, located in Braila and Galati counties, and two photovoltaic parks, in Harghita and Teleorman counties.
ENGIE's ambition is to be a leader in the transition to an economy with a neutral impact on the environment, a global trend characterized by the development of clean energy, reduced energy consumption as a result of the implementation of energy efficiency measures and the digitization of information. To this end, ENGIE develops integrated, intelligent, energy-efficient solutions for its customers.
(P)
---
Trending Now