Travailler avec la France- Event organized by CCIFER on April 21
---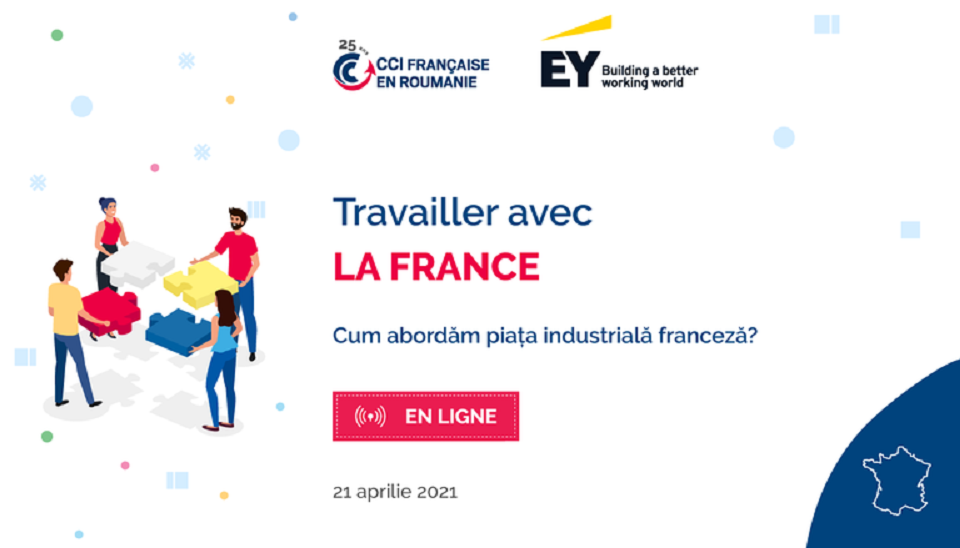 CCIFER, together with its partners, is pleased to invite you to the event Travailler avec la France – How do we approach the French industrial market?
Please register here: Inscriere | CCI Française en Roumanie (ccifer.ro)
As a Romanian industrialist, do you have a strategy for diversifying your customers in the market?
France plays an important role in the European industrial landscape, with strong clusters in the automotive, aeronautical, agri-food industries, and an ambition to become a world-class industrial platform.
To achieve this goal, the quality, proximity and innovation of its partners and suppliers are essential for the competitiveness of French industrial groups.
But how do you identify an opportunity? How do you assert your competitive advantage? How to get a date?
Participate in this event to get more information and plan a meeting with our advisors to identify the best solution, tailored to your case.
In the Agenda:
The landscape of the French market in the field of industry; The success stories of Romanian societies in France; How to identify business opportunities
Moderator: Adrian Sandu, Secretary General, ACAROM
Speakers
Gabriela Goran, Economic Secretary, Trade and Economic Promotion Office in Paris, Romanian Embassy in France
Vincent Raufast, Associate Partner, Ernst & Young
Ludovic Daguerre André, Investment Advisor, Business France
Nina Mazauric, International Sales Manager, Global Industry
Paul Cherciu, General Manager, Qfort France
---
Trending Now