CONAF launches the "Performance through practical education" project
---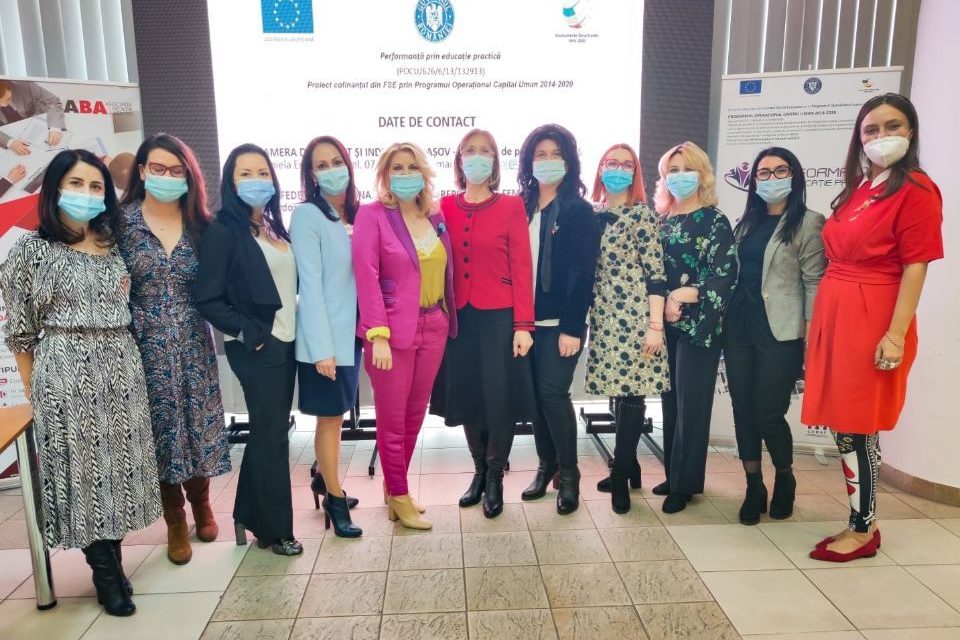 The Pact for Labour project (PPM) continues in a form designed to support the implementation of labour market stimulus measures identified during the two years of business debates. In this context, the Brasov Chamber of Commerce and Industry (CCI BV), together with the National Confederation for Women Entrepreneurship (CONAF), launched the project "Performance through practical education", a project co-financed by the Human Capital Operational Program (POCU), with a value of 4.65 million RON.
The general objective of the project is to increase the opportunities for insertion on the labour market and the relevance of practical training for 245 students and master students through an integrated program of guidance, career counselling and internships organized in companies in economic sectors with competitive potential identified according to CNS and smart specialization fields according to SNCDI.
Cristina Chiriac, CONAF President and project partner coordinator, said: "Performance through practical education" is a pilot project born from the PPM debates initiated by CONAF in the last two years and structured on the identification of solutions. We aim to think of medium- and long-term development strategies aimed at attracting European funds with which to contribute to the flexibility of the labour market and to the delivery of specialized labour in areas of interest to employers."
"We mark a new beginning, we show that there is a real, lucrative partnership between CONAF and CCI Brașov meant to support the business environment, thus fulfilling our mission with integrity and responsibility to create levers to make the labour market more flexible and to support young people, giving them the opportunity to find a job suitable for professional training ", concluded Cristina Chiriac.
"Performance through practical education" is a project co-financed by the European Social Fund through the Human Capital Operational Program 2014-2020, whose elaboration was coordinated by Rodica Lupu, member of the CONAF Board, founder of the innovation and financing consulting company Loop Operations.
---
Trending Now