Herbalife packaging solutions for a sustainable future
Posted On February 18, 2021
---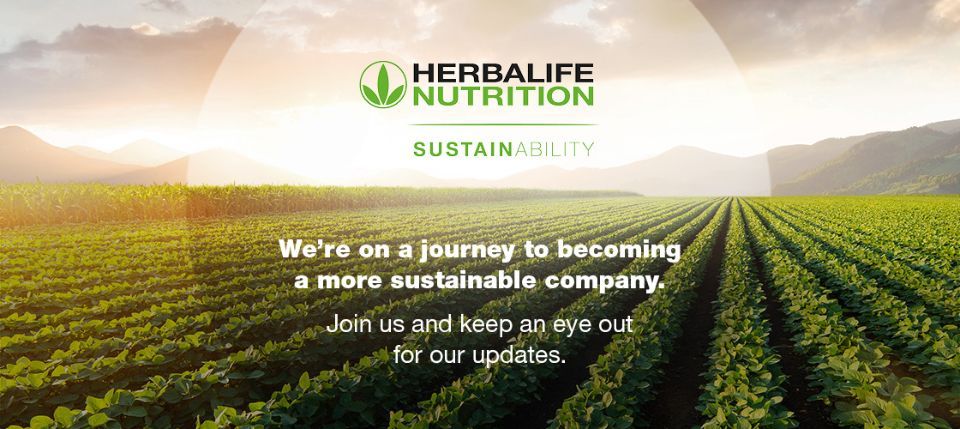 Herbalife Nutrition sustainability journey is just starting! As a global nutrition company, environmental sustainability is an integral part of Herbalife Nutrition innovation strategy. The company is focused on developing new product packaging solutions that are safe, functional and environmentally friendly to support the efforts in promoting a sustainable future and reducing plastic waste.
While plastic has many valuable uses, the challenge is that only a small amount of plastic packaging is currently recycled, recyclable, or reusable. Plastic waste is expected to quadruple from 2010 to 2050 and global recycling capacity will only cover 1/3 of the waste.
Nicole Maizes, Vice President, WorldWide Product Innovation Marketing at Herbalife Nutrition underlines that Herbalife commitment to environmental sustainability can help mitigate the significant economic loss for society, the economy, and the environment. The concept of a circular economy looks beyond the linear consume-waste industrial model and focuses on a positive design framework that reduces waste, extends the life of products and packaging materials, and regenerates natural systems.
"We are evaluating where we can make the greatest impact is for the environment, based on our unique supply chain, manufacturing, and distribution model. We are excited to present innovative packaging solutions, as part of a larger sustainability journey, ensuring our company continues to thrive, as does the environment we live in. As part of our journey, we're proud to now include 25 percent of Post-Consumer Resin (PCR) plastic in our product packaging, starting with our flagship Formula 1 Healthy Meal Nutritional Shake Mix canisters in the North American region and later expanding globally'', said Nicole Maizes.
With over 77 million Formula 1 canisters sold annually, there is great potential to significantly reduce Herbalife plastic waste and move even closer towards a circular economy.
In his turn, Romeo Căzănescu, Country Director Herbalife Nutrition Romania, Moldova, Hungary and Bulgaria believes that 2021, as well as 2020, will further highlight the importance of sustainability. "At Herbalife Nutrition, we are passionate about protecting the future of our planet by making the right choices. We focus on packaging lifecycle, waste reduction, water management, ingredient sourcing, and food waste. For instance, in our effort to become an even more sustainable company, since 2008, we have removed 1,600 metric tons of plastic by reducing plastic used in our F1 canisters globally. Also, at the end of 2019 we eliminated single use plastic bags, switching to 100% recycled paper bags. Thus, 4.7 million single use plastic bags were eliminated. It's the little things that we do, that will make a difference", said Romeo Căzănescu.
How is 25 Percent PCR Formula 1 Canister Produced?
Post-consumer recycled resin (PCR) is a material made from recycled plastic bottles, providing a more sustainable source material than virgin plastic material for packaging food products.
When consumers recycle these packaging materials, they are sent to the recycling facilities and are sorted into different categories. The plastic material is then put through a process where they get melted into small plastic pellets called post-consumer resin or PCR. The PCR pellets are then mixed into a molder with virgin plastic to create a brand-new canister.
Then, they are put through a cleaning process, so each canister is ready to be filled, weighed, labeled, and shipped to a local Herbalife Nutrition distribution center. From there, the Formula 1 canister is ready to be sent to or picked up by an Herbalife Nutrition distributor and available for their customers.
What Is the Impact of PCR on the Quality of Our Formula 1?
Nicole Maizes, Vice President, WorldWide Product Innovation Marketing said that Herbalife top priority is to ensure the quality of every single product we put into market for the millions of people who choose these products to be a part of their daily nutrition. That includes sourcing the best ingredients, adhering to strict manufacturing standards and relentless testing.
This commitment to quality also extends to the packaging. Herbalife 25 percent PCR Formula 1 canister offers a high level of protection and strength since PCR plastic has the same capacity to block light, oxygen, and toxins from penetrating the package layer and getting into the product.
"By safely incorporating PCR plastic into the Formula 1 canisters, we are able to accelerate our efforts to make a significant impact on the environment, without compromising the quality of our packaging or products", underlines Nicole Maizes.
What Is the Environmental Impact of the PCR Formula 1 Canister?
While Formula 1 canisters are already recyclable, Herbalife is going further by incorporating PCR materials. The 25 percent PCR Formula 1 canister contributes to better environmental sustainability in three different ways:
Smaller carbon footprint

Reduced plastic use

Less waste
Nicole Maizes, Vice President, WorldWide Product Innovation Marketing emphasizes that: "by incorporating PCR into our Formula 1 canisters, we are helping our company reduce its carbon footprint and lessen its impact on landfills. Through this step of including 25 percent PCR, we will remove 500 tons of plastic from the waste stream. To date, we've eliminated 150 tons of plastic from our Formula 1 canisters since 2015. The higher percentage PCR we can include in our products, the higher impact we can make on protecting the environment. Therefore, we are planning to expand PCR packaging into other high-impact products including Herbal Tea Concentrate and Herbal Aloe Concentrate. We are committed to increasing the percentage of PCR used in our packaging and expanding into different markets worldwide to grow our plastic reduction impact globally".
She also mentioned that with Herbalife global reach, the company has the ability to mobilize their customers and distributors to become changemakers in their own communities and make a positive impact on the environment by recycling or upcycling canisters after use.
"I'm proud to work with incredible teams across the company spanning packaging engineering, quality, sourcing, supply chain, project management, manufacturing, regulatory affairs and product marketing, who are bringing forth innovative solutions to protect our environment. This is only the beginning of our sustainability efforts and we're excited about the journey ahead", said Nicole Maizes, Vice President, WorldWide Product Innovation Marketing.
(P)
---
Trending Now