Murielle Lorilloux, CEO Vodafone Romania: "We aim to be a key contributor to the digitalization of Romania"
Posted On February 4, 2021
---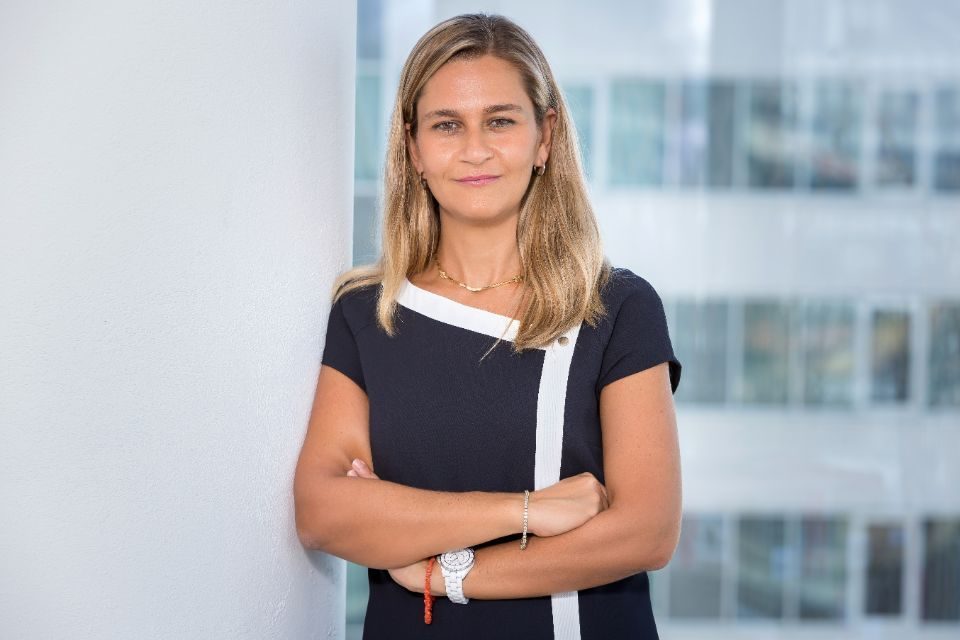 "The digitalization, as an enabler for the individual and society development, next to a responsible behaviour towards our Planet are our key priorities. For us, digitalization goes beyond our business strategy and speaks about our social contract and mission to connect people for a better future. We truly believe in an inclusive digital society, in which consumers of all ages and backgrounds, companies of all sizes must be able to draw maximum benefit from technology for a better life and way of working, and for more prosperous and sustainable businesses," Murielle Lorilloux, CEO Vodafone Romania, told The Diplomat – Bucharest.
What do you think will be the main business drivers for business growth in your company in 2021?
We will continue to best respond to the growing connectivity needs of our customers, both businesses and consumers, who have been relying even more on our communications services, in the pandemic context, to do everything they need – run their businesses, work from home, stay connected with their family and friends, have access to essential healthcare services and education. Convergence will be one of our main business drivers this year and we will continue to focus on delivering a complete services portfolio to our customers, with convergent services bringing together the best fixed and mobile communications solutions.
The digitalization, as an enabler for the individual and society development, next to a responsible behaviour towards our Planet are our key priorities. For us, digitalization goes beyond our business strategy and speaks about our social contract and mission to connect people for a better future. We truly believe in an inclusive digital society, in which consumers of all ages and backgrounds, companies of all sizes must be able to draw maximum benefit from technology for a better life and way of working, and for more prosperous and sustainable businesses.
Vodafone is here to support the digitalization of the country, we can be a reliable partner in this journey and this is one of our strategic priorities, for this year as well and for the next to come. We aim to be a key contributor to the digitalization of Romania, for instance in key sectors like eEducation and eHealth. We will also support our business customers, with special focus on SMEs, by offering dedicated solutions and our expertise, on their way towards digital transformation.
Our focus will also include IoT solutions for the public and private sector enabling them to reduce energy consumption, optimize and speed-up their processes and support their digitalization through smart solutions. We have been seeing an evolution towards digital solutions that ensure companies' sustainability on the long term, through higher efficiency and increased productivity. Many companies, both large and smaller ones are increasingly looking for IoT digital solutions with high benefits in terms of efficiency, business resilience, process automation and optimization. We saw a solid growth of IoT and ICT solutions in our portfolio last year and this segment will continue to be an important driver for growth this year as well, as a key enabler of digital transformation within the economic recovery process.
Will we assist to a Great Reset-oriented strategy in business or returning to business-as-usual?
I believe the pandemic set the frame for us all to re-assess the flows, the processes, to identify and address vulnerabilities, to think of how to be better prepared for such situations and how to grow stronger and more resilient. Going forward, I think that we must learn the lessons that this pandemic crisis has taught us and wisely integrate these learnings in how we move forward and beyond.
For many businesses, this unexpected and unprecedented crisis has been also a good time to experiment new ideas, new lines of business or new ways of doing things, and we already saw examples of reinvented businesses in just few weeks or even days.
As far as we are concerned, despite the challenging and unpredictable context we are all facing, we stick to our strategic priorities and stay true to our mission, of connecting people for a better future, enriching their lives by means of technology and connectivity, contributing to building a more inclusive society with equal chances for all and contributing to Romania's digital development.
What this context has changed for us is the speed of execution and acceleration in some areas, like our digital transformation with the aim to better respond to our customers' needs in terms of digital experience and digital tools, increased flexibility, and best customer support.
What is the flag-ship project of 2020 in your company?
Despite how things have changed for all of us last year, we continued to deliver on our strategy and priorities, while managing unprecedented challenges. We had many projects that we can see as flagship, with remarkable results and impact and a lot of work, dedication, and resilience from all members of our team.
We have continued at full speed our integration project and made great progress in this area. On March 31st last year we announced the completion of the legal merger with UPC Romania, so we became a single legal entity, one company, Vodafone Romania. As part of the legal merger, we started a full rebranding process through which the UPC stores became Vodafone stores. Since then, we have been serving our customers in all retail locations, no matter the type of service they want to acquire. We have one common team working to solve all our customers' requests they raise in our call centers.
Last September we took one big step further towards convergence, by launching Vodafone TV, an innovative TV service, including the most extended linear TV grid and the largest collection of video on demand, using the first 4K media box on the market. Vodafone TV ensures seamless connectivity between screens, for a true multi-screen experience, and advanced features allowing users to choose when and where to watch favourite programs and content.
In 2020 we have focused even more on contributing to reducing the digital divide which has dramatic consequences in key areas like education. Our support for education extended across several initiatives, last year, such as "Together we leave no kid behind" campaign. We have given anyone the opportunity to join our initiative and donate any amount they want, so that together we could be able to support as many children as possible to have access to online education. And I am happy that many people have heard us and with the support of Vodafone Romania Foundation which doubled the amount up to 200,000 euros, we were able to equip, through "School in a Box" program, even more schools in rural areas with tablets, to which our company added the connectivity services, for free.
Also, I am particularly proud of our contribution for giving the opportunity to continue to study online for as many children as possible, providing more than 100,000 tablets within the auction coordinated by the Ministry of Education and Research. This delivery, next to many other educational projects that we have carried out at company level or with the support of the Vodafone Romania Foundation, demonstrate both our commitment and capability of being a partner of choice in the ambitious goal of achieving a successful digital transformation of education, to the benefit of all children.
What kind of workspace culture & values is to be consolidated in your company in 2021?
Our culture stems from what we call Vodafone Spirit, a culture which values collaboration and sharing experience and knowledge, encourages experimenting and learning, cultivates curiosity and enthusiasm. We are fortunate enough to work in an industry which creates the future and by the innovations and new technologies it brings it contributes to enriching our lives.
At Vodafone we are building an inclusive culture where everyone is respected, can be themselves and strive to be their best. Diversity and inclusion are at our core and driving principles sustaining a rich and vibrant workplace at Vodafone Romania. We strongly believe in this normality, of being ourselves in the workplace, no matter how different we are. Diversity is an engine for growth and innovation. It broadens perspectives, offers ideas that are more creative, a deeper understanding and ultimately higher-quality products and services, to the benefit of our customers and to the great satisfaction and fulfilment of all men and women inside who put their effort to this goal.
This is the kind of workspace culture and values that we will continue to consolidate, focusing on creating a place where everyone feels they belong and where each one can truly fulfil his full potential.
This year we have been certified Top Employer for the second consecutive year by Top Employer Institute and I am really proud of this recognition, which speaks about our commitment towards making Vodafone Romania a great workplace, about our honest care for the growth and wellbeing of each one of us.
What is a manager's role and skills in order to maintain and enhance a team's cohesion?
The manager's role is essential, not only in enhancing the team's cohesion, but also in driving people's engagement and commitment, in keeping up their motivation and nurturing their sense of belonging.
With the outburst of the pandemic, we have witnessed a sudden and radical change of our way of working, with people moving to work from home on a large scale, more than 80% of the employees in our case. In this new reality we have seen how the needs of our colleagues for more and constant interaction with the team, even if virtually, has increased. The same for an enhanced emotional support and care for their wellbeing, as well as for more proactive communication. Which is very understandable, because people had a higher need to feel safe, protected, supported, but also, they had a higher need for direction and focus. This new context has challenged to a great extent the leadership style and revealed essential skills that are needed to keep people connected to the organization, while not being physically present, like empathy and caring, active listening, more flexibility and agility, but also showing courage and confidence necessary to boost the team's morale.
What kind of skills and capabilities need to be improved in your company / team in 2021?
The dynamism of our industry, with technology evolving at such a fast pace, requires continuous learning and upskilling to enable our people not only to adapt quickly to change, but also to innovate and best respond to continuously evolving customers' needs and consumption behaviours. Being at the forefront of innovation, as a technology and communications company, we have a constant focus on anticipating new skills while consolidating an agile way of working.
In term of general business & teams' core-values, which are your 3 power words for 2021?
For us everything derives from our purpose of connecting people to create a better future, recognizing that we have a fundamental role to play in a digital society, aiming to generate positive change in areas where it is needed, to make things better for people and for the society in general. Everything we do, how we act, the values we believe in are fully aligned to this ultimate goal: getting things done together, experimenting, and learning fast and earning customer loyalty.
---
Trending Now