Minister of Economy visited the 75 million Euro worth Stejaru hydroelectric power plant
Posted On September 17, 2020
---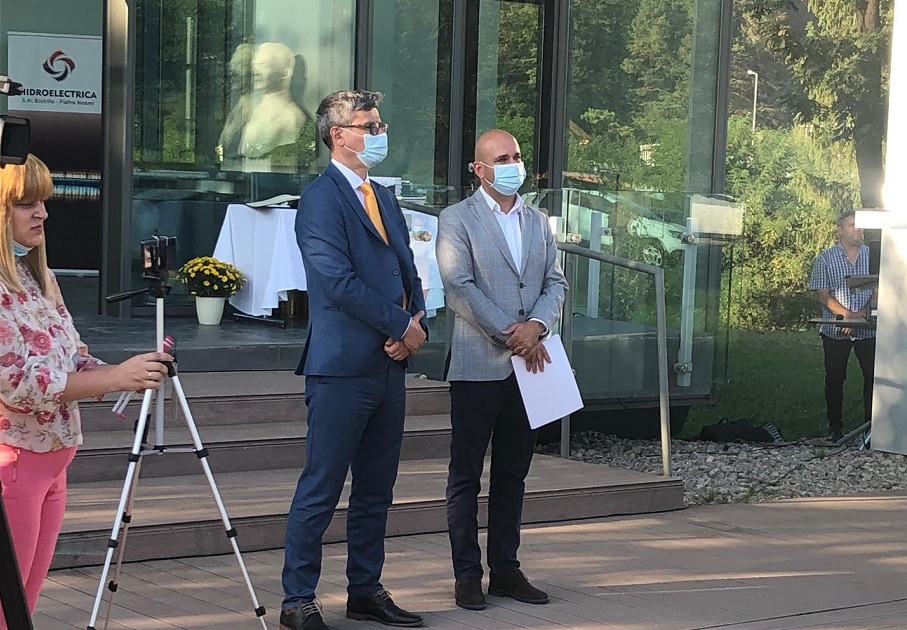 Recently, Virgil Popescu, the Minister of Economy, Energy and Business Environment, visited the Dimitrie Leonida hydroelectric power plant at Stejaru and met, during an anniversary event, with the hydro-energetics specialists who participated in the construction and commissioning of the first hydro-aggregates from Izvorul Muntelui, 60 years ago.
On the occasion of the visit to the plant, Bogdan Badea – President of the Hydroelectric Directorate, presented to the Minister the works carried out or under construction at the electricity production unit, respectively aggregate 6, completely refurbished and put into operation in March this year, the 220 kV substation, refurbished and put in operation in May this year Mister. The Minister was able to assess the state of works on hydro-aggregate 5, which is also in the process of being refurbished.
Referring to the company's investments, Minister Virgil Popescu stated: "I am here at a Hidroelectrica facility, which I consider the best Romanian company, the best company of the Romanian state, the jewel in the crown, as I call it. It is a green company and I want it to stay green, to produce green electricity, I want it to expand its activity and to move from the hydro electricity production area to the wind zone, to the onshore and offshore wind zone. from the Black Sea and on-shore, in the solar area, in the area of ​​pure hydrogen production. There are so many things to do and I think Hidroelectrica has the capacity and can do it all. "
For the refurbishment of the CHE Dimitrie Leonida – Stejaru, the works contract no. 2008/2015 was signed in 2015 between SPEEH Hidroelectrica SA and Asocierea Romelectro SA & Litostroj Power doo Slovenia. The EPC-type contract, (engineering, procurement, construction and commissioning) includes the refurbishment of all installations and equipment in the Stejaru operating perimeter, respectively: butterfly valve house and forced pipes, power plant and outdoor stations in the 220kV / 110kV system node. The total cost of carrying out the turnkey works is approx. 75 million Euro.
---
Trending Now
You may also like