Societe Generale European Business Services present at Business Shared Service Forum & Awards Gala
---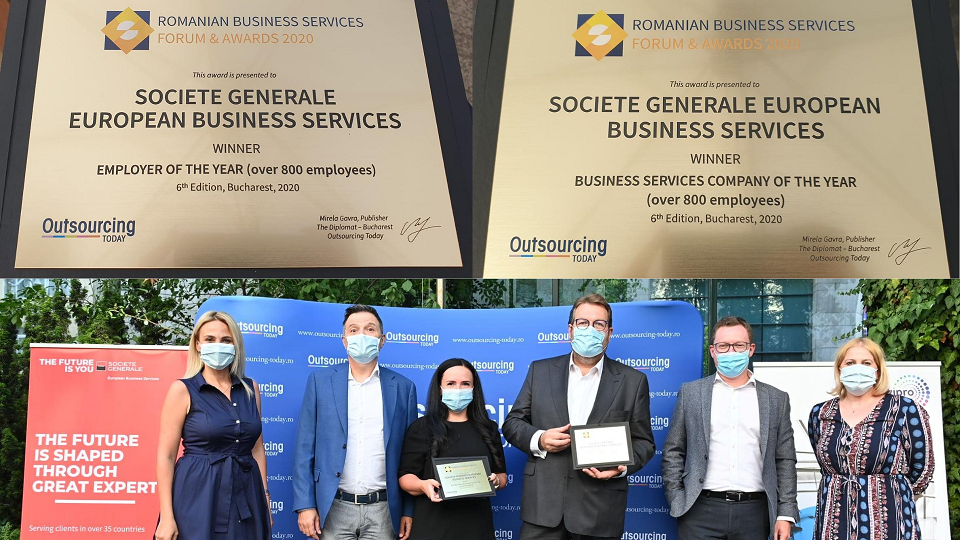 On 15th of July, Societe Generale European Business Services was present at the Business Shared Service Forum & Awards Gala 2020 organized by Outsourcing Today. It was the sixth edition of the Awards Gala, an elite event and a platform means to recognize, reward and celebrate the success of the most important companies, projects and individuals working the business shared service industry in Romania.
SG EBS was for another year, Gold Partner at this event and present in the CEO Leader Debate, where Matthieu Pasquier, the CEO of the company discussed about "The Leadership perspective in the changing business world". During the debate, Matthieu talked about the measures taken by the company during the COVID-19 pandemic, from offering to more than 90% of the employees the possibility to work from home, respecting all the measures and recommendations of the Romanian Authorities, imposing social distancing at the office, continuous cleaning of the office and most of all offering mental health support through online conferences & webinars, dedicated help lines in collaboration with Medicover and support for colleagues with children through online kindergarten & schoolers programs.
Another important topic was conveying the leader's vision throughout the company. In SG EBS there is a saying that is related to the company's internal management style: Trust first, control after. Meaning that the managers offer their trust to the employees, are aware of their skills and capabilities and are sure that they will work responsible in all situations. This way of thinking was of big help during the lockdown, when most of the colleagues had to work alone, at home. But besides trust, SG EBS also needed to offer mentorship and leadership models. The company worked on conveying its vision to everyone in SG EBS with the help of managers and leaders as direct sources of information for the employees. Through online meetings, sharing responsibility, empowerment and autonomy, they managed to transmit a clear vision and direction to all their colleagues in order to keep them in close contact with SG EBS and to offer them the mental support they needed to feel safe and maintain the sense of belonging within the company.
After the debate, the awards gala started and there, SG EBS had an amazing surprise by receiving two great awards: "Employer of the Year" & "Business Service Company of the Year".
It's an honor and a great recognition for the company considering all the efforts performed in becoming a responsible employer through diversity & inclusion programs, online communities, webinar & workshops support, plus many more activities dedicated totally to the employees. Besides being a responsible employer, the company has also strived to offer high quality services to its partners and to be a trusted supplier. All this was possible with the help, dedication and great skills of the employees.
SG EBS is really proud of these awards and would like to thank you and its employees for their constant involvement in transforming the company into a great and trusted partner.
---
Trending Now
You may also like