Renault Romania began works for its future headquarters in Bucharest
The works for the future headquarters building of Groupe Renault Romania in Bucharest - Renault Bucharest Connected (RBC) - have begun today in the presence of Yves Caracatzanis, Managing Director Groupe Renault Romania, Cecile de Guillebon, Global Alliance Facility Director, Dimitris Raptis, Deputy Chief Executive Officer and Chief Investment Officer, Globalworth, and Gabriel Mutu, Mayor District 6 Bucharest.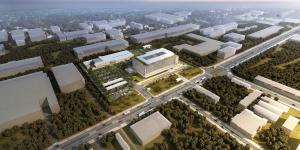 "RBC is more than a real estate project, it is a management project that contributes to the improvement of our staff's working conditions and to our efficiency," said Yves Caracatzanis. "It also meets our employees' expectations. In Mioveni, the two plants and the logistics hub have been modernized from a manufacturing point of view, in Titu there is the testing center, inaugurated in 2010. For the activities in Bucharest, there will be Renault Bucharest Connected. 3,000 workstations on a single site. Our Bucharest teams, currently split on several sites, will be able to better work together."
The future headquarters building, RBC, shall be developed by Elgan Offices SRL, a company equally owned by Globalworth and Elgan Group (represented by Simon Roth). It will be located on 3G Preciziei street, close to the means of public transit (metro, bus), but also to the highway to other Groupe Renault Romania sites: Technical Center Titu and the Mioveni plants, thus facilitating employees' mobility to and from the workplace.
The RBC site, ground floor + 7 floors, shall be built on a 47,000 sqm area (40,000 sqm first building, and 7,000 sqm - the second building), and will belong to the class A category of buildings.
RBC shall be equipped with a showroom for the Groupe Renault Cars, a 1,000 - car capacity parking lot, a 350-seat auditorium (for both in house and external events), restaurant, doctor's practice, IT infrastructure.
Given all the standard development phases for such a project, its conclusion deadline is 2019. It is for the first time since the arrival of Groupe Renault in Romania that the company brings together all its Bucharest teams and activities (design, engineering, business services, sales and support functions), on a single site.