INVESTMENTS
TransferGo attracts 8.6 million Euro financing for international expansion

2018-06-21 11:35:20
TransferGo, the international fast online transfer company, has attracted a round of investment of 8.6 million Euro, which is the biggest amount received in a single financing round by the compa...
REAL ESTATE
CTP appoints Daniel Paraschiv as business development manager for Transylvania region

2018-06-20 14:27:25
Industrial parks developer CTP has appointed Daniel Paraschiv as Business Development Manager for Transylvania, starting June. He will oversee the company's growth and strengthening in the Weste...
REAL ESTATE
Dutch office company Spaces opens first locations in Bucharest

2018-06-20 13:56:35
Dutch workspace company Spaces is opening its first two locations in Bucharest at Unirii View Tower and Campus 6. Constructions have already started and they are due by Q3 2018.
INVESTMENTS
World Bank signs new Country Partnership Framework with Romania

2018-06-20 10:18:04
The World Bank Group's Board of Executive Directors endorsed a new five-year Country Partnership Framework (CPF) for Romania that will prioritize investments in people, support for vibrant priva...
REAL ESTATE
AFI Europe Romania starts the construction of AFI City residential project

2018-06-19 15:28:57
AFI Europe Romania announces the start of the AFI City residential project construction. First phase is to end in 16 months and will deliver two buildings with 190 homes.
INVESTMENTS
Romania is the sixth most popular country for data centre investment, report shows

2018-06-19 11:53:27
Romania ranks 6th in the top destinations in the datacentres market in Europe, while the Nordics and the Netherlands occupy the first positions, according to Savills new Data Centre Investment I...
POLITICS
Romania and US held 6th meeting of the Strategic Partnership Dialogue

2018-06-19 11:27:23
The Governments of Romania and the United States of America held the sixth plenary meeting of the Strategic Partnership Dialogue in Bucharest, Romania, on June 19, 2018.
REAL ESTATE
H&M leases 1,000 sqm for future HQ in Unirii View project

2018-06-19 10:14:41
Fashion retailer H&M leases 1,000 sqm for its future HQ in Unirii View office project.
ENERGY
Consumers will lead the energy market in the future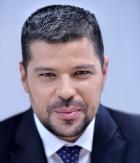 2018-06-18 14:14:36
Interview with Georgios Stassis, Country Manager Enel Romania
ENERGY
Romania fourth in Europe for natural gas production and reserves, report shows

2018-06-18 09:55:49
Romania is on the fourth place in Europe for last year's natural gas production and proven gas reserves, according to a report by BP.
INVESTMENTS
Renault to invest one billion Euro in electric vehicles production

2018-06-15 14:25:24
Renault will invest more than 1 billion Euro to increase electric vehicle production capacity in France and add new models.
ENERGY
Hidroelectrica to provide electricity for RATB and Metrorex

2018-06-15 13:44:12
Hidroelectrica has won two contracts for providing electricity services to RATB and Metrorex. Both contracts to be carried out for one year starting July 1 implies the delivery of a total of 297...
ECONOMICS
Romanian insurance sector doubles profit in 2017

2018-06-15 11:58:45
The insurance sector in Romania doubled its net profit last year to 508 million RON (110 million Euro) from 251 million RON in 2016, according to profit.ro.
INVESTMENTS
Ford to open social entrepreneurship hub in Romania

2018-06-15 10:18:00
Ford Motor Company Fund, the philanthropic arm of Ford Motor Company, announced that the first Ford Resource and Engagement Center (FREC) in Europe is to be established in Romania, with a focus ...
APPOINTMENTS
AFI Europe Romania appoints Doron Klein as new CEO

2018-06-14 15:08:26
AFI Europe Romania announces the appointment of Doron Klein as CEO of the company as of July this year. He currently runs AFI Europe Czech Republic operations. Doron Klein will replace David Hay...
INVESTMENTS
Alexandrion Grup acquires six new companies from Halewood's portfolio

2018-06-14 14:41:02
Alexandrion Group has announced that it has completed the transaction with the English group Halewood International Holding PLC for the acquisition of six new companies in Romania's wine product...
APPOINTMENTS
Catalin Radu named head of Bayer Pharmaceuticals in Romania and Moldova

2018-06-14 14:29:59
Bayer Pharmaceutical's operations in Romania and the Republic of Moldova will be coordinated starting this month by Catalin Radu, who will take over the attributions of Gerhard Waltl.
ENERGY
Energy producers sue Romania at ICSID Washington for reducing subvention scheme in renewable energy

2018-06-14 11:33:37
Energy producers from Austria, Germany, the Netherlands, Romania and Cyprus filled a request for arbitration proceedings against the Romanian government at World Bank's International Centre for ...
APPOINTMENTS
Andrew James Noble, the new UK ambassador to Romania

2018-06-14 11:29:00
As the current ambassador of the United Kingdom in Bucharest, Paul Brummell, is reaching the end of his term this summer after four years, he will be replaced by Andrew James Noble, who has most...
ENERGY
Blockchain to fundamentally change the energy market

2018-06-13 00:11:36
Blockchain will fundamentally change world markets, including the energy market, Daniel Pintilie, member of the Board of AFEER (Association of Electricity Suppliers in Romania) said at the Regio...
ENERGY
Electricity consumers to provide guarantees for paying bills, ANRE project shows

2018-06-12 23:47:42
Electricity consumers will have to provide financial guarantees for distributors to cover the risk of unpaid bills, Roxana Gheorghe, director with National Energy Regulatory Authority (ANRE), sa...
ENERGY
Hidroelectrica received two offers for Vidraru plant retechnologization

2018-06-11 11:44:25
Hidroelectrica received two offers for retechnologization of Vidraru plant, according to sources from the Ministry of Energy.
1 Comment
INVESTMENTS
Bucharest, Brasov and Constanta sign cooperation memorandum

2018-06-08 10:12:15
The mayors of Bucharest, Brasov and Constanta signed a cooperation memorandum for promoting tourism in the three cities and announced the creation of a tourism development association.
REAL ESTATE
Real estate developer Prime Kapital launches its first residential project in Bucharest

2018-06-07 13:02:25
Regional real estate developer and investor Prime Kapital announces its first residential project, Avalon Estate, offering approximately 800 residential units within a gated-community concept.
ECONOMICS
IMF criticizes Romania's low level of public investments

2018-06-07 11:00:09
A document published by the International Monetary Fund (IMF) after consultations with Romania says that a more cautious fiscal discipline would help rebalance Romania's economy and lessen the...
1 Comment
INVESTMENTS
Investments in Romania's economy rose 14.3 per cent in Q1 2018

2018-06-07 10:29:27
Net investments in Romania's economy rose by 14.3 per cent in the first quarter of this year compared with Q1 2017, to 3.4 billion Euro, due to higher investment in equipment and other assets, a...
1 Comment
REAL ESTATE
British investor puts 30 million Euro in new mall in Northern Bucharest

2018-06-06 16:11:19
Nova Imobiliare, the company that owns the Colosseum retail park in Northern Bucharest, will invest some 30 million Euro in expanding the project with a mall.
1 Comment
REAL ESTATE
Belgian real estate group finalizes one of the biggest land transaction in Romania

2018-06-06 13:39:09
Romanian broker specialized exclusively in industrial real estate Dunwell, and VGP, one of the main industrial parks developer in Germany and CEE, concluded a 230,000 sqm land transaction in Bra...
1 Comment
REAL ESTATE
Element Industrial invests 25 million Euro for new industrial project in Bucharest

2018-06-06 10:45:17
Element Industrial, a new real estate development company focusing on logistic projects, will develop a portfolio of industrial projects in Bucharest and Romania. The first is ELI PARK 1, to be...
1 Comment
REAL ESTATE
German IT company expands in Openville Timisoara

2018-06-05 13:45:47
A new multinational company has joined the United Business Center, the office component of the Openville Timisoara mixed-use project. Steadforce is a German software consultant and developer, it...
ENERGY
Transgaz starts working on BRUA pipeline Phase 1

2018-06-04 11:30:05
Transgaz started today the construction works for BRUA (Bulgaria - Romania - Hungary - Austria) pipeline Phase 1.
ENERGY
Romania's households pay the lowest gas prices and the 5th lowest electricity prices in EU

2018-05-31 10:51:43
The households in Romania paid in 2017 the lowest prices for gas and the fifth lowest prices for electricity among the 28 European Union member states, according to Eurostat.
ENERGY
Gas prices in Romania to reach new peak next winter due to soaring oil price, says E.ON

2018-05-25 11:45:37
The prices for natural gas will reach new high during the next winter, due to the surge in oil prices, E.ON Romania's CEO Frank Hajdinjak said. cited by Agerpres.
APPOINTMENTS
David Jordan named new CEO of Policolor-Orgachim group

2018-05-23 15:26:57
The board of the Policolor-Orgachim group has announced changes in its top management structure: David Jordan has been named the new CEO of the Group.
ECONOMICS
Vienna Insurance Group posts growing profit in Q1 2018

2018-05-23 15:22:22
Vienna Insurance Group (VIG) reports further improvement in all key figures for the 1st quarter of 2018 compared to the same period in the previous year.
ENERGY
E-Distributie Muntenia to modernise several electricity networks in Bucharest

2018-05-23 14:28:09
E-Distributie Muntenia will invest about 6.1 million Euro this year for the modernization of the medium and low voltage grids in Eminescu, Floreasca and Domenii areas in Bucharest, with the purp...
INVESTMENTS
Ford confirms second vehicle for Craiova assembly plant in Romania, 200 million Euro new investment and 1,500 new jobs

2018-05-22 14:19:56
Ford confirmed today it is investing up to 200 million Euro and adding an additional 1,500 jobs to manufacture a second vehicle at its Craiova Assembly Plant, in Romania.
ECONOMICS
Romania's new cars sales hit 10-year record

2018-05-21 14:08:29
Sales of new cars in Romania rose by 27.8 per cent in the first four months of this year, to 51,853 units, a 10-year high, according to the Automotive Manufacturers and Importers Association (AP...
ECONOMICS
Employees in Bucharest, Cluj, Timis and Ilfov best paid in 2018

2018-05-21 14:03:49
Employees in Bucharest and the counties of Cluj, Timis and Ilfov are the best paid this year in terms of net average monthly earnings. At the opposite end are employees in the counties of Bistri...
REAL ESTATE
AFI Europe Romania posts 13.6 million Euro net operating income, up 12 per cent in Q1 2018

2018-05-18 12:05:19
AFI Europe Romania published its financial results; The Net Operating Income from its income producing assets in Romania reached 13.6 million Euro during Q1 2018, representing 12 per cent high